MLBTR is re-launching its Draft Prospect Q&A series in order to give our readers a look at some of the top names on the board in this year's draft. MLBTR will be chatting with some of the draft's most well-regarded prospects as they prepare for the 2016 draft on June 9-11.
University of Louisville center fielder Corey Ray is rated among the top position players available in this year's draft. In a recent mock draft, Baseball America has Ray going sixth overall.
At 6'0″, 200 pounds, Ray made a name for himself in 2015 with a strong sophomore season for Louisville, recording a .325/.389/.543 batting line with 11 homers and 34 stolen bases. Over the summer, the left-handed batter led the U.S. collegiate national team in extra-base hits (nine), OPS (.971) and steals (11). After Louisville's weekend series against ACC rival Florida State, the 21-year-old is hitting .331/.396/.624 with 20 extra-base hits (including nine homers), 38 RBI and 28 steals as the Cardinals' leadoff batter.
According to MLBPipeline.com's Jonathan Mayo, Ray is "the epitome of the college performer. He just hits. He's got some power. He's performed well. If he continues to do that, he should be a guy who easily can go in the Top 10." Keith Law and Eric Longengagen of ESPN.com rated Ray third among draft prospects yesterday, praising his blend of power and speed.
Ray arrived on the Louisville campus after a stellar prep career at Simeon Career Academy in Chicago. Over his own objections, he went the college route after being selected in the 33rd round of the 2013 draft. Ray was kind enough to take some time out of his busy schedule to talk with MLBTR this week.
Chuck Wasserstrom: I know the draft is a couple months away – and you've been through the draft process before – but is it hard not to think about the draft right now?
Corey Ray: "No, it's not hard, because I'm in a college season. As a high Division 1 program, we have goals. And we want to accomplish those goals first and foremost. I put the team before myself."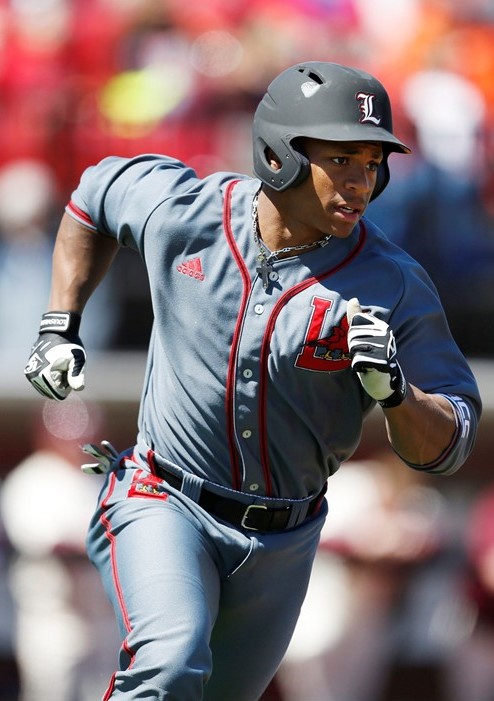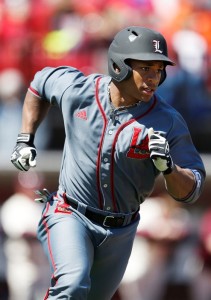 I like that answer. Let's go back to 2013. You were selected by the Mariners in the 33rd round of the draft, but your dad (also named Corey Ray) put his foot down and said you were going to college. Can you talk about how those conversations went down?
"They were intense. As a baseball player and as an African-American from the south side of Chicago, you love playing sports. The idea that you get paid to do it is a dream come true. That dream was knocking on my door, and those were some pretty tough conversations with my father. He told me I wasn't ready. All I was seeing was the dollar amount and not the big picture in the long term."
How hard was it for you to say 'No' to the Mariners?
"Very hard … I think I may have teared up a little bit."
You have said your dad was right. Can you tell me how the Louisville experience has changed you?
"I think it's made me a baseball player. I came here and I had some talent, but I didn't know how to play the game. I didn't know what hard work was. Being here under Coach Mac (Dan McDonnell) has taught me what hard work was. The players I have played with here have taught me what hard work was – and they taught me the game as well. It has also made me a more mature person – being in college … being on my own … finding out what it takes to be successful at this level."
Why did you choose Louisville?
"It was close to home, but not too close. My grandparents and my father can come and see me play when we have weekend series, but they can't come up here every day. They can't surprise me. I have enough distance between my parents and here that I feel like I'm on my own, but I see them enough not to get homesick."
For people who haven't seen you play, how would you describe Corey Ray as a baseball player?
"Versatile … can play all three outfield positions … can steal a base … can hit the ball in gap … if you make a mistake, can hit the ball over the fence. But I also can grind out at-bats and see pitches. Whatever that needs to be done, I can do it."
You made the huge jump forward your sophomore year, and then had a big summer campaign. You've followed up on that with a strong junior season. What do you see as the turning point in your college career?
"I think the turning point for me was, at the end of my freshman season, just being able to play and being able to get reps. But I think one of the best things for me was going to the Cape Cod League after my freshman year. I wasn't as successful as you'd like to be as a hitter, but the reps … I saw the best pitching that college baseball has to offer day in and day out. You learn what you can and cannot do on the baseball field. You learn the flaws and the advantages of your swing. I think I learned a lot about myself as a baseball player from just being unsuccessful in the Cape."
But you also got to see a lot of quality players and use a wood bat, so you were learning how the pro game is played.
"You're playing with some of the best players in college baseball and you're playing against some of the best players in college baseball. So I tried to pick up some things that other players do that I didn't do that could possibly help me with my game."
The old speed or strength question … Do you see yourself as more a leadoff hitter or a middle of the lineup batter?
"Leadoff hitter… I love leadoff. I practically had to beg Coach Mac to lead me off this year. Just being that table setter … I think in the leadoff spot I can be more dangerous because when I'm on base and there aren't any out, I can pick which pitches to steal and what situation I want to steal in."
Being a leadoff hitter all the time now, have you taken a different approach to the plate? Your strikeout total (17 in more than 150 plate appearances this season) rivals your walk total (16).
"Definitely. Not just because I'm the leadoff hitter, but because I want to grow as a hitter. I think I've become more mature. I'm starting to learn what pitches I hit best and what pitches I can't hit. And what pitches to swing at early in the count and which pitches not to. I also think that can be attributed to being more comfortable hitting with two strikes. Last year, I wasn't as comfortable and I'd swing early in the count. I would get myself out sometimes, or with two strikes – I'd sometimes swing at anything thrown. Now, I'm able to work counts with two strikes and get a better pitch to hit."
Defensively, if you're given a choice, what position do you think you should play?
"Center field."
Why center field?
"I think it's the easiest of all three positions, but there's more ground to cover. You're the leader of the outfield. That's the premier position to play. I think my speed and my jumps and my defensive ability profiles better in center field than the corners."
But you'll play anywhere they tell you.
"Yes sir. As long as I'm in the lineup."
As a Chicago native, I have to ask you this question: Cubs fan or White Sox fan?
"I like them both. Growing up, I lived close to [U.S. Cellular Field] and went to a lot of White Sox games – and I like the White Sox. But before my senior year in high school, I was blessed with the opportunity to play in the (Under Armour) All-American Game at Wrigley Field. Just being in that clubhouse and playing on that field … the history from that ballpark, you can't not like a team like the Chicago Cubs. It doesn't hurt that they could win the World Series this year."
What was it like being on a Major League field?
"I've been on a few different Major League fields before, but the two that stand out to me most are Fenway Park and Wrigley, just because of the history. They're old, but they have that historic feel. You can just tell you're in some place special."
Speaking of Fenway, I know you've listed former Red Sox center fielder Jacoby Ellsbury as someone you model your game after. Are there other players that you look up to?
"Yes, Jacoby Ellsbury … definitely. Oregon State … two national championships … first round pick … Boston Red Sox. He's made a lot of money in his career, and he's done it in many ways. By stealing bases. By defending. He also hit third for the Yankees one year. He can hit the long ball. He's very versatile. And then there's Curtis Granderson. He's from Chicago. I've talked to him a lot. He's a mentor of mine. He's a great guy. If I can have the career Curtis Granderson has had, I'd be pretty happy. I've also been watching a lot of videos on Tony Gwynn. One of the best hitters to ever play … the way that he did it was amazing."
Your Louisville bio includes the phrase "the greatest influence on his career is his grandfather because of his support." Tell me about your grandfather (Earnest, his paternal grandfather).
"Growing up, I can probably count on two hands the number of games my granddad missed. And that includes playing out of the state and all over the country. He's the reason I started watching baseball more. I've always liked playing it, but I've learned a lot about baseball by just watching it. I remember times when I was younger when we'd just sit down and watch whole White Sox games on back-to-back days. I could always count on him to be in the stands if I had a baseball game, cheering me on, telling me to hit the ball. He made it known from an early age that, if you want to do this, you have to work hard to do it. It's possible if you work hard enough."
I've read stories about your dad getting you started in baseball at a young age.
"His co-worker started a baseball team, and they needed one extra player. My dad signed me up and they stuck me in center field. The rest is history. My dad always told me that whatever it is you want to do, you've got to work harder. You're not only going against the people in your area in Chicago or even the Midwest, you're going against everybody else in the country. He always told me that there's someone out there trying to take your spot. And that guy's working hard, so you have to work harder to keep up. He would tell me to go and run the hill. The ironic thing is he would never watch me. He said 'if you're working hard and you're really doing what you're supposed to do, it will really show on the field. So I don't have to watch the process. I want to watch the result.' "
If you don't mind, tell me a little bit about this legendary hill (a 40-foot-high hill at Robichaux Park in Chicago).
"There's a hill that was basically behind my house that I would run on. I would run sprints up it and run sprints down it. Do some push-ups. And then run a 50-yard sprint. At the end, run up the hill and sprint down backwards. Some agility, some speed, some conditioning."
Did you do it by yourself or with friends?
"I did it by myself. Sometimes I would take my puppy to run with me (laughing)."
There hasn't been a city of Chicago product picked in the draft's Top 10 since 1989. Do you think about that at all? Is that a goal for you?
"I think a goal for me is to play the game of baseball as long as I can and to give back to Chicago baseball as much as I can, whether that be as a Top 10 pick or being just a draft pick at all. To be able to get into professional baseball and hopefully to get into Major League Baseball and leave my mark on Chicago baseball – to be an ambassador for Chicago baseball."
So if you are a high draft pick, will your dad be OK if you turn pro?
(Laughing) "Definitely. I don't think he's the decision maker this time."
Does he know that?
"Yes. He knows."
– – –
Chuck Wasserstrom spent 25 years in the Chicago Cubs' front office – 16 in Media Relations and nine in Baseball Operations. Now a freelance writer, his behind-the-scenes stories of his time in a big league front office can be found on www.chuckblogerstrom.com.
Photo courtesy of University of Louisville Sports Information.