TODAY: The Nationals have formally announced the deal, confirming it's an eight-year contract with a pair of club options for 2031 and 2032. The full financial breakdown isn't known, but Barry Svrluga (Twitter link) reports that the deal is somewhat front-loaded. Ruiz will receive a signing bonus, and he'll earn $7MM in 2028, and $9MM in each of the 2029 and 2030 seasons. The second year of the extension also "has a higher salary than he would normally receive in a last pre-arb year."
MARCH 10: The Nationals are in agreement with 24-year-old backstop Keibert Ruiz on an eight-year contract extension that guarantees $50MM, as first reported by Wow Deportes (Twitter link). Barry Svrluga of the Washington Post (Twitter link) reports that the contract also contains two club options. The Nationals are expected to formally announce the deal tomorrow, writes Mark Zuckerman of MASNsports.com. Ruiz is an Octagon client.
It's a long-term commitment from the rebuilding club to a player they consider the franchise catcher. Washington acquired the switch-hitting Ruiz at the 2021 trade deadline as part of the blockbuster that sent Trea Turner and Max Scherzer to the Dodgers. Ruiz and starter Josiah Gray headlined a four-player return. Both were upper level prospects and Ruiz would get a look as Washington's primary backstop by the end of the '21 campaign.
After playing in 23 games down the stretch, Ruiz got the nod as the Opening Day catcher last season. He played in 112 games and tallied 433 plate appearances, though his season was cut short when he had to be hospitalized after he was hit in the groin area by a foul ball. Before that unfortunate conclusion, Ruiz hit .251/.313/.360 in his first full season at the big league level. That offense was a little better than that of the average catcher, with the league receiving a .228/.295/.368 line from the position.
Ruiz didn't hit for a ton of power, only connecting on seven home runs. He drew walks in a modest 6.9% of his trips to the dish. Ruiz demonstrated excellent pure contact skills, though, striking out in fewer than 12% of his plate appearances while putting the bat on the ball with 86.3% of his swings. Only Blue Jays star Alejandro Kirk showed comparable contact skills at the position.
Putting the ball in play has been Ruiz's calling card throughout his professional career. The Venezuela native appeared among top prospect lists for a few seasons during his time in the Los Angeles farm system. Evaluators have long lauded his hit tool, though reviews on his power upside and defensive acumen were more middling.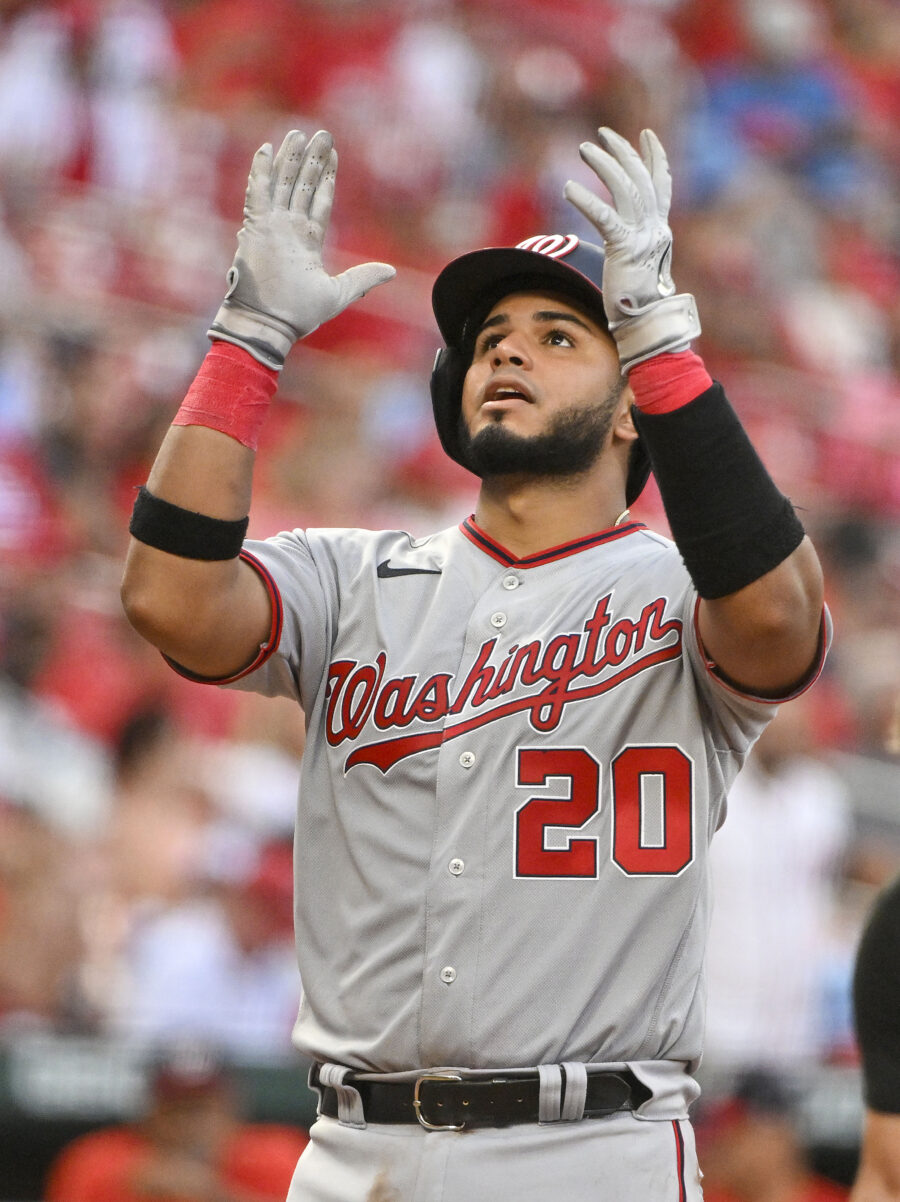 According to public metrics, Ruiz's defensive performance as a rookie was mixed. Statcast pegged him as a slightly below-average pitch framer. He rated positively for his ability to keep the ball in front of him, though. Statcast estimated he blocked five more pitches than average over the course of 865 innings. His four passed balls were manageable. He did a solid job controlling the running game, throwing out 28.2% of attempted basestealers (more than three percentage higher than the league mark).
While Ruiz isn't a finished product, his rookie season more or less fell in line with his longstanding prospect profile. He proved his elite contact skills can translate against big league pitching and adequately managed things defensively. The Nats are surely hopeful he'll tap into a little more extra-base impact over time. He'd connected on 21 home runs in 72 Triple-A contests in 2021, and while that was surely aided by a favorable offensive environment, it at least hints at double-digit homer potential for Ruiz at the MLB level.
Ruiz had between one and two years of service time. He wouldn't have been eligible for arbitration until after the 2024 campaign and wasn't headed to free agency until the 2027-28 offseason. This deal forecloses any chance he'll go through arbitration and buys out at least three free agent years. If the club were to exercise both options, they'd extend their window of control by five seasons on a deal that could reach a decade in length.
It's technically the third-largest guarantee for a player in that service bracket. Ke'Bryan Hayes holds the official record with last spring's eight-year, $70MM extension with the Pirates. Andrelton Simmons secured $58MM over seven seasons on a 2014 extension with the Braves. Michael Harris signed an eight-year, $72MM deal with Atlanta last summer that, for all intents and purposes, also fits into the service group. Harris technically had less than a year of service at the time of his deal, though he was all but certain to finish in the top two in Rookie of the Year balloting and secure a full service year by the time he signed in August.
Ruiz's guarantee checks in a fair bit south of the Hayes and Harris contracts, though one could argue the latter two players were safer bets. Harris and Hayes are excellent defenders and had produced a little more offensively than Ruiz has to date, even if each comes with some questions about their overall impact potential at the plate. Early-career extensions for catchers haven't been especially common; Ruiz becomes the first backstop with less than three years of service to sign an extension since Roberto Pérez in April 2017.
In exchange for upfront security, Ruiz concedes some long-term earning potential. That's the case in every early-career extension of this ilk, though the potential ten-year term makes it particularly true in this instance. If Washington exercises both options, Ruiz wouldn't get to free agency until leading into his age-34 campaign. Had he proceeded year-by-year through arbitration, he'd have first qualified for free agency at age 29.
Of course, doing so would've entailed the risk of injuries or underperformance derailing his career. Ruiz wasn't a high-profile amateur signee, only signing for $140K back in 2014. It's easy to understand the appeal of averting risk and securing the first life-changing payday of his career.
The Nationals, meanwhile, lock in a core player whose aging curve aligns with when the club should be more equipped to contend. They're in for another non-competitive season in 2023 and look hard-pressed to compete by next year either. Ruiz is now locked in for a few years into the 2030's, though, and the club obviously anticipates having plenty of chances to compete for a playoff spot in the medium to long-term future.
The contract's financial breakdown hasn't yet been reported. The deal has an average annual value of $6.25MM that'll count evenly against the luxury tax ledger for its duration. That's not a concern in the short term; Washington's projected 2023 payroll is more than $100MM south of this year's threshold. The organization has paid the CBT in years past, however, so it's not out of the question they'll again push towards that threshold a few years down the line if the team's competitive window comes clearer into view. The ongoing uncertainty about the Lerner family's ownership plans clouds the picture, though ownership is clearly at least willing to sign off on future-oriented moves of this nature.
Washington will continue to audition younger players to hopefully join Ruiz in the core over the next couple seasons. Gray, shortstop CJ Abrams, left-hander MacKenzie Gore and yet-to-debut prospects like James Wood and Robert Hassell have joined the organization in deadline blockbusters. Right-hander Cade Cavalli is a former first-round pick and a highly-regarded pitching prospect. Not everyone in that group will find success, of course, but there's now no shortage of intriguing players who will try to establish themselves at Nationals Park over the coming seasons.
Image courtesy of USA Today Sports.