<![CDATA[

In a stunning swap of big contracts, the Dodgers have traded first baseman Adrian Gonzalez, left-hander Scott Kazmir, right-hander Brandon McCarthy and infielder Charlie Culberson to the Braves in exchange for outfielder Matt Kemp. The Braves will also receive $4.5MM in cash. Ken Rosenthal of The Athletic was the first to report news of the trade. Furthermore, Mark Bowman of MLB.com adds that the Braves have already designated Gonzalez for assignment. A source close to Rosenthal tells him that the Dodgers are likely to trade or release Kemp (Twitter link).

There's a ton to unpack here, but the biggest motivator of the trade appears to be money, and more specifically luxury tax implications for the Dodgers. Rosenthal notes in another tweet that the trade is "effectively cash-neutral overall," but adds that the swap will put the Dodgers below the $197MM luxury tax threshold for the 2018 season. That will allow the Dodgers to reset the escalating luxury tax penalties, which seems to have been a significant objective for the club this offseason. The money owed to Kemp is spread out across the 2018-2019 seasons, while Gonzalez, Kazmir and McCarthy all have just one year remaining on their contracts.

Rosenthal offers further clarification yet, as he points out that the Dodgers have paid the luxury tax for five consecutive seasons. Their penalty for 2017 was over $30MM, but if they keep their payroll below $197MM, their penalty will drop from 50% on the overage to 20% the next time they exceed the luxury tax threshold.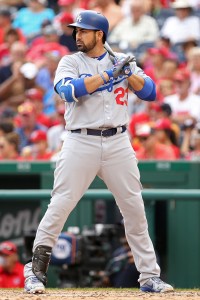 Joel Sherman reports in his own tweet that the Braves are planning to release Gonzalez, but can't do so until Monday since MLB teams can't release players on weekends during the offseason. Gonzalez actually had to waive his no-trade clause in order to make this trade possible, and Bob Nightengale of USA Today Sports reports that he did so mainly because the Dodgers told him he'd be buried on the bench and receive limited at-bats.
[RELATED: Updated Dodgers Depth Chart; Updated Braves Depth Chart]
As for the Braves, the $4.5MM they'll get in the deal will even out the overall dollars swapped in the trade (hat tip to Jon Heyman of FanRag Sports). GM Alex Anthopoulos says that McCarthy satisfies the team's "desire to add a veteran starter," while Culberson fills their need for a bench player (via Mark Bowman of MLB.com). Kazmir has some upside as a rotation piece too.
Not insignificant is the fact that the Dodgers have opened up multiple spots on their 40-man roster, including one that was already earmarked for Tom Koehler, with whom the Dodgers have recently agreed to a one-year deal.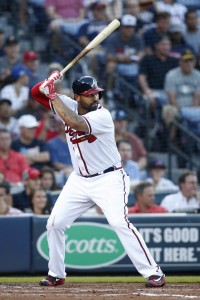 Kemp, 33, was a sixth-round selection of the Dodgers back in 2003. He made his major league debut in 2007, and went on to have some great seasons for Los Angeles, including a 2011 campaign in which he finished as the runner-up in the MVP voting. Later that year, the club signed the outfielder to an eight-year, $160MM extension. Not long after that, his performance began to decline; Kemp has only topped 1 WAR once in the past four seasons as his contract has been tossed between the Padres, Braves and Dodgers. For the 2017 season, Kemp hit .276/.318/.463, making him a roughly average major league hitter (100 wRC+). However, his poor defense in the outfield dropped his overall value to -0.5 fWAR.

Gonzalez, now 35 years of age, went to the Marlins with the number one overall pick in the 2000 draft. His breakout season came with the Padres in 2006; that year began a streak of ten consecutive seasons wherein the left-handed-hitting first baseman posted at least 2.9 fWAR. Across those years, he posted a .292/.366/.501 slash line and mashed 283 homers. This past season, however, Gonzalez battled injuries throughout the year and didn't hit well when healthy; he amassed only 252 plate appearances across 71 games with the Dodgers and managed a career-worst .355 slugging percentage. All told, Gonzalez was valued at 1.1 wins below replacement level.

Kazmir's story is a roller coaster of sorts; he was a great pitcher during his early years with the then-Devil Rays, including a 2007 season in which he posted a 3.48 ERA with 239 strikeouts across 206 2/3 innings. However, Kazmir began to struggle with injuries and ineffectiveness in 2009, and though he experienced a resurgence in July that prompted a trade to the Angels, his ERA during the 2009 postseason was an ugly 7.59. Those struggles continued into the 2010 season, and by 2011 Kazmir was pitching for the Angels' Triple-A affiliate and was cut before June was over. After spending 2012 out of MLB entirely, the Indians took a chance on him in 2013, and he rewarded them with a 4.04 ERA (and 3.51 FIP) campaign that earned him the Comeback Player of the Year Award. He signed a two-year deal with the Athletics the following offseason, and seemed to be "back." The Dodgers signed Kazmir to a three-year, $48MM deal, but the injury bug struck once again, marring his 2016 performance and keeping him off the field entirely in 2017.

The 34-year-old McCarthy has a career 4.15 ERA across 1,145 big league innings with the White Sox, Rangers, Athletics, Diamondbacks, Yankees and Dodgers. He's generally provided value while on the field, but has only topped 140 innings twice in his twelve-year career. Part of that can be attributed to injuries, including a 2015 Tommy John surgery when he famously noted on Twitter that "31 years is a lot to ask for from a ligament." During the past two seasons, he's put up a 4.27 ERA while striking out 116 batters in 132 2/3 innings.

Based on his age and team control, the soon-to-be 29-year-old Culberson is the one player in this deal who looks capable of being a long-term piece. The Georgia native won't even be eligible for arbitration until next winter, meaning the Braves could control him for the next four seasons. The righty-hitting Culberson hasn't found much big league success since debuting in 2012, though, having hit just .229/.269/.321 in 443 PAs with three NL West clubs – the Giants, Rockies and Dodgers. Culberson racked up a mere 83 trips to the plate in two seasons with the Dodgers, but he did swat a couple dramatic homers during his LA tenure.

Photos courtesy of USA Today Sports Images.

]]>