<![CDATA[

This is the latest entry in MLBTR's 2017-18 Offseason In Review series.  Click here to read the other completed reviews from around the league.

The Cubs landed the biggest prize of the 2017-18 free agent class, and stayed entirely within free agency for pitching staff upgrades.

Major League Signings
Yu Darvish, SP: six years, $126MM.  Includes opt-out after 2019 season.
Brandon Morrow, RP: two years, $21MM.  Includes $12MM vesting option for 2020 with a $3MM buyout.
Steve Cishek, RP: two years, $13MM.  May earn up to $1MM more based on appearances.
Drew Smyly, SP: two years, $10MM.  May earn up to $6MM more as a starter or $1MM more as a reliever in 2019.
Brian Duensing, RP: two years, $7MM.  May earn up to $1.25MM more based on appearances in 2019.
Dario Alvarez, RP: one year, $545K (later claimed by Mariners)
Total spend: $216.295MM.
Trades and Claims
Notable Minor League Signings
Notable Losses
Cubs 25-Man Roster & Minor League Depth Chart; Cubs Payroll Overview
Needs Addressed
After the Dodgers denied the Cubs' bid to return to the World Series, a coaching staff shake-up was the first order of business for Chicago.  Longtime pitching coach Chris Bosio was the first casualty, with hitting coach John Mallee being fired shortly thereafter.  Jim Hickey, with his history of serving as Joe Maddon's pitching coach with the Rays, replaced Bosio.  Chili Davis takes over for Mallee.  The Cubs also lost Dave Martinez, who was hired to serve as the Nationals' manager.
The Cubs spent much of November and early December courting Japanese phenom Shohei Ohtani.  While they were one of seven finalists, the Cubs were a long shot as a National League club located in the Midwest.  Once Ohtani chose the Angels, focus turned to the Cubs' more likely free agent pursuits, which centered entirely on pitching.  Starters Jake Arrieta and John Lackey became free agents after making 60 starts for the 2017 club, and the Cubs sought to replace them from outside of the organization.  After coming up short on a very different pitcher out of Japan, returning expat Miles Mikolas, the Cubs signed former Rockie Tyler Chatwood to a surprisingly large contract for a pitcher coming off a 4.69 ERA.  Cubs president Theo Epstein later explained to Jon Greenberg of The Athletic in late January, "He was really popular. A lot of teams saw beyond his basic performance stats and looked deeper into his ability. He was at the right price point and had a ton of suitors, so that drove the price up."  Now that he's out of Colorado, Chatwood has several things going for him: his age (28), his ability to induce groundballs, and a fastball approaching 95 miles per hour.  Though it was surprising to see Chatwood land at nearly $13MM a year, he's a solid upside choice to replace Lackey.
Throughout the offseason, the Cubs declined to close the door on former ace Arrieta, though they didn't make much effort to bring him back, either.  Though the Joe Maddon/Jim Hickey connection to free agent Alex Cobb led many to predict a match with the Cubs, the team instead aimed higher for their other rotation addition with a run at Yu Darvish.  At the same time, the Cubs quietly made a different free agent signing with a Maddon/Hickey connection, lefty Drew Smyly.  Smyly had undergone Tommy John surgery in June of 2017, and was signed with an eye toward the 2019 rotation.  If Smyly returns to full health and ability for 2019, the Cubs will have a good kind of problem on their hands in that they'll have six established starting pitchers under control for that season.
According to Epstein, it was around the December Winter Meetings that the Cubs realized "we might be in a position to end up at least being a contender for Darvish with a contract that we could tolerate," reported Gordon Wittenmyer of the Chicago Sun-Times.  Cubs brass met with Darvish in Texas, and it seemed possible the two sides could hammer out a megadeal before the end of the year.  Instead, the Cubs' December dealings, aside from Smyly, were the bullpen additions of Brandon Morrow and Steve Cishek.  Morrow, 33, will serve as the Cubs' closer.  While his contract is reasonable, the risk comes in the Cubs' reliance upon a pitcher with Morrow's lengthy injury history and heavy 2017 postseason workload.  Given the volatility of relievers, the contract itself is no riskier than those given to Wade Davis, Mike Minor, Jake McGee, Bryan Shaw, Tommy Hunter, Juan Nicasio, and others.
January came and went without a Darvish deal, part of one of the strangest offseasons in this website's history.  Instead, the Cubs spent that month coming to terms with star third baseman Kris Bryant on a record arbitration deal, and also completing their bullpen additions by bringing lefty Brian Duensing back on a mild discount.  The Cubs' bullpen holdovers are Duensing, Carl Edwards Jr., Mike Montgomery, and Pedro Strop.  Replacing Wade Davis, Hector Rondon, Justin Grimm, and Koji Uehara are Morrow, Cishek, a full season of Justin Wilson, and perhaps Eddie Butler and a less-established arm.  It feels like the Cubs could have added one more late-inning piece to the pen.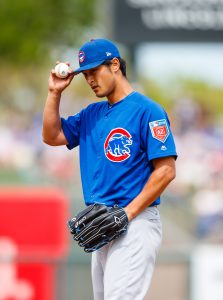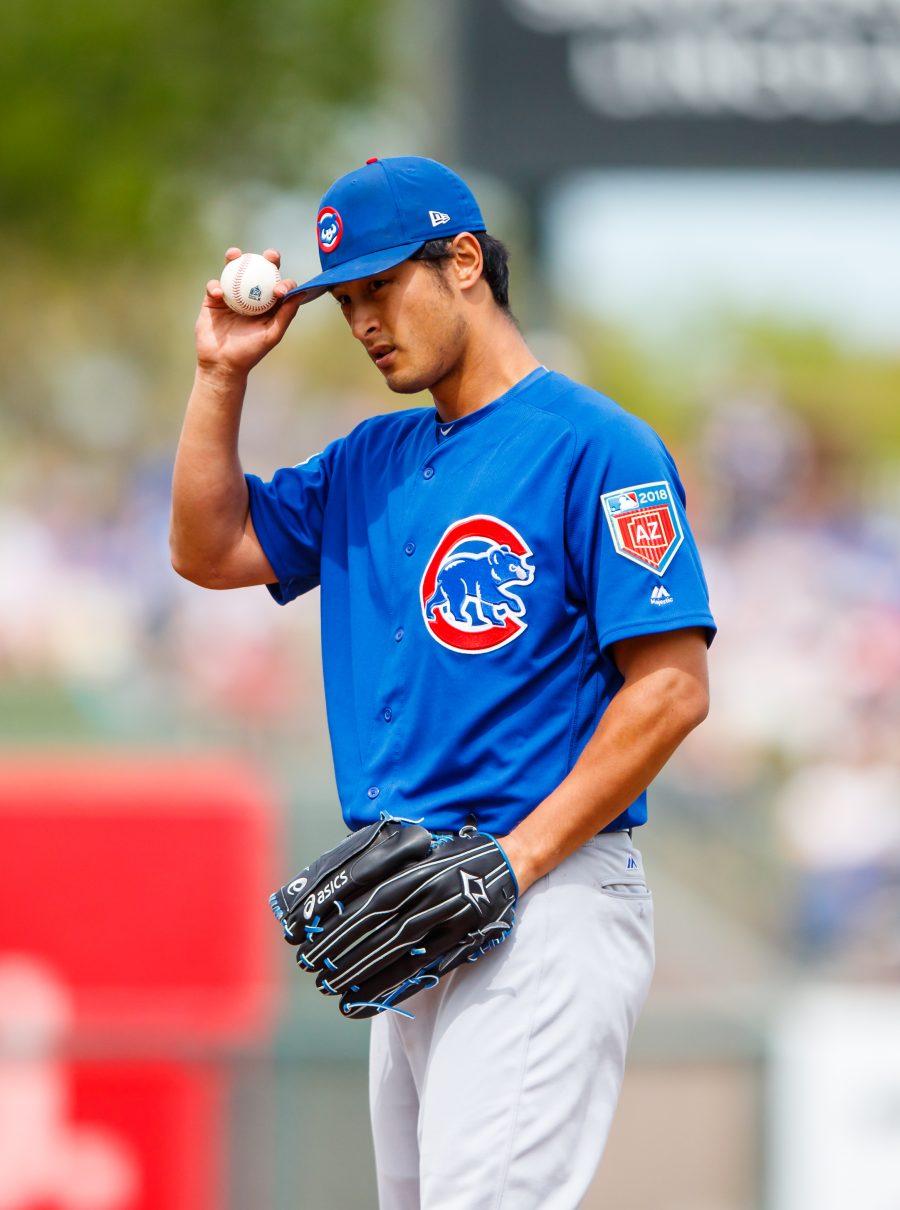 The Cubs saved their biggest splash for February, when they agreed to a six-year, $126MM deal with Darvish.  The Dodgers, Twins, and Brewers were among the teams the Cubs beat out for the righty.  Darvish's $21MM average annual value was surprisingly low.  We had expected an AAV in the $25-27MM range, given previous contracts signed by David Price, Max Scherzer, Zack Greinke, Stephen Strasburg, and the Cubs' own Jon Lester.  Like other big market teams, the Cubs are intent on staying below the $197MM competitive balance tax threshold, and the sixth year given to Darvish helped accomplish that.  From Darvish's point of view, the opt-out after 2019 has significant value: about $20MM, estimates MLBTR contributor Matt Swartz.  Darvish will be 33 when the clause comes due, and he'll have to decide whether he can top four years and $81MM on the 2019-20 free agent market.

Questions Remaining

The Cubs appear to have $13MM or less for trade deadline acquisitions.  Regarding his trade deadline payroll flexibility, Epstein said, "We do have some, not a ton."  Epstein admitted, "One of our goals was to put the team together this year in a way that would maybe allow us to reset under the CBT threshold." This is not actually a reset, since the Cubs were not over the CBT threshold in 2017.  Regardless, it's possible the luxury tax threshold stopped the Cubs from assembling a super bullpen despite their relief pitching problems in the playoffs.  Aside from the health of Morrow, much depends on southpaw Justin Wilson, who flopped after joining the Cubs last year at the trade deadline.  It's difficult to say exactly why the Cubs didn't acquire additional relievers – it may be that they're completely satisfied with their bullpen as it stands, or don't mind waiting until July to re-evaluate.  But since the CBT threshold may have been a factor in their bullpen budgeting, let's explore it further.

The Cubs may be willing to exceed next year's $206MM CBT threshold, but aim to be considered a "first-time CBT payor."  Second-time payors pay 30% on the overage, while first-time payors pay 20%.  Avoiding the CBT threshold in 2018 also affects what the Cubs would have to surrender next year upon signing a qualified free agent.  They'd give up their second-highest draft pick regardless, but avoiding the threshold allows them to keep their fifth-highest pick and also have their international signing bonus pool reduced by $500K instead of $1MM.  I have to ask of the Cubs, Yankees, and Dodgers: why does this difference in penalties matter so much?

Say the Cubs had gone all out and also signed Addison Reed and Mike Minor this winter, adding $17.7MM to the 2018 payroll.  That would put the team's 2018 payroll at $202MM for luxury tax purposes.  Say they spend another $12MM on midseason acquisitions and end at $214MM for 2018.  That means they'd pay a tax of…$3.4MM.  Basically a rounding error for this franchise.  Paying the tax for a potential 2018 overage is irrelevant at this spending level.

Therefore, this has to be all about being a first-time payor in 2019 rather than a second-time payor.  If you'll indulge me, let's play that out for a team with a massive $275MM payroll in 2019.  On a $275MM payroll, a first-time CBT payor is penalized $28.525MM, while a second-time payor is penalized $36.15MM.  If a team is conceding being a first-time payor in 2019 (as the Cubs seem to be), being a second-time payor only results in less than $8MM in additional tax, even at a very high payroll level.  Carrying that hypothetical payroll level forward for yet another season would result in a larger hit, but it would still be less than $14MM, and from that point forward the tax rate would be the same for an organization that stayed over the luxury line.  Ah, but what about the draft pick penalty for exceeding the 2019 second surcharge threshold of $246MM?  That'll knock your 2020 draft pick back a full ten spots.  Meaning, a good team has to pick at #37 instead of #27, something like that.  Compared to the previous CBA, where draft picks as high as 11th overall were surrendered for signing certain free agents, dropping ten spots doesn't seem that bad.

Large market teams are treating the CBT thresholds as lines they absolutely cannot cross. Or at least that they cannot cross for consecutive years.  Rather than take that at face value, we need to ask whether the CBT thresholds are being used as a convenient excuse to spend less. The tax can be hefty, no doubt, and it is understandable that organizations already facing max penalties — particularly those that often spend well over the threshold — would look for an opportunity to reset. But the timing of entering CBT payor status does not appear to be a particularly compelling limitation on spending in and of itself.

My payroll tangent aside, the Cubs also have the question of a possible position player logjam.  On his decision not to trade anyone, Epstein told Greenberg, "We explored a lot of a different possibilities, but in the end there just wasn't a deal available that would give us a fair return back. We didn't want to take less talent or control just to add a pitching prospect. Balancing the roster wasn't that fundamental to make a bad deal happen."  The Cubs can't be faulted for declining to sell low on Kyle Schwarber, who dedicated himself to an offseason conditioning program in the meantime.  If all of the Cubs' many outfield and second base candidates stay healthy at once, which is unlikely, Maddon may need to make the tough decision to bench his two underperforming veterans, Jason Heyward and Ben Zobrist. Even if that comes to pass, it's likely preferable to taking less than fair value for a controllable young player or finding the depth lacking if is tested.

Overview

The Cubs were able to use an opt-out clause for Darvish to lower the AAV on his contract, helping the team stay below the competitive balance tax threshold.  They were able to accomplish this because other big market teams had even less space under that threshold, and small market teams couldn't match the Cubs' bid.  They also brought in an intriguing and relatively young fifth starter in Chatwood, resulting in what looks to be the best starting rotation of the Epstein regime.  While fresh faces in the bullpen were a given, the volatility of relief pitching makes it unclear whether the Cubs did enough in that area.  Otherwise, the team remains stacked with high quality position players.  The Cubs will likely tangle with the Nationals and Dodgers for the NL pennant once again.

How would you grade the efforts of Epstein and company? (Link for app users.)

Photo courtesy of USA Today Sports Images.

]]>