<![CDATA[

The White Sox have made a staggering amount of progress on the rebuild of their franchise in less than a year's time. It's almost incredible to think that last year, when doing a "Three Needs" look at the Sox, one need that Tim Dierkes listed was to make a decision on whether they should embark on a fire sale or take one more shot with a group led by Chris Sale, Jose Quintana, Jose Abreu, Adam Eaton, David Robertson, Carlos Rodon, Tim Anderson and Todd Frazier.

The Sox have traded almost everything that isn't nailed down over the past year, bringing in high-profile talent like Yoan Moncada, Lucas Giolito, Reynaldo Lopez, Michael Kopech, Eloy Jimenez, Blake Rutherford and roughly a dozen other prospects of varying levels of upside. Certainly, though, there's still work for the team to do. We'll take a longer look at their offseason in next month's Offseason Outlook series, but here's a higher-level overview of the Sox' remaining needs.

1. Make a decision on Jose Abreu and Avisail Garcia.

Abreu has been one of the best hitters in the American League over his four Major League campaigns, and he's enjoying his best year since his rookie season in 2017. Thus far, he's hitting .303/.356/.549 with 31 homers and a career-low 17.5 percent strikeout rate. His 40.1 percent hard-hit rate is easily a career-high, while his 6.9 percent infield-fly rate is the lowest of his career. Abreu is due a raise on this year's $10.8MM salary, and he's controllable only through 2019, so the end of his contract will coincide with the arrival of much of the team's young talent.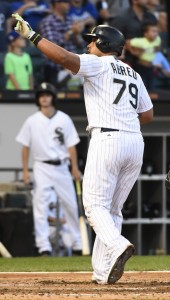 Garcia, 26, is in somewhat of a similar position (which is not something that anyone really expected to be the case this time last year). While his deeper track record is unsightly, the right fielder/designated hitter has long been seen as having a healthy offensive ceiling, and this year he's come through and delivered on that hype. In 524 plate appearances, he's hitting .333/.382/.502 with new career-bests in home runs (17), doubles (23), triples (four) and strikeout rate (19.8 percent). There's no way Garcia can sustain a .396 BABIP, and his exit velocity is actually down from the 2016 season, but some of the strides he's made appear legitimate. Like Abreu, though, he's controlled only through 2019 and could be viewed by the organization as either an extension or a trade candidate.

The White Sox don't technically have to make a call on either this winter, but the more time that goes by, the less team control they can shop to interested suitors and the closer each gets to free agency (thus reducing some of Chicago's leverage in talks). Chicago also doesn't have much else in the way of marketable veteran pieces to shop this winter, making a trade of at least one of the two the most realistic avenue to accruing more prospect capital. Garcia's breakout has some potential red flags, but his price tag is lower than that of Abreu and he's four years younger.

2. Add some veteran arms to support/mentor the kids (and to flip in summer trades).

White Sox fans can dream on a rotation consisting of Michael Kopech, Lucas Giolito, Reynaldo Lopez and Carlos Rodon as soon as late 2018 or early 2019, but there are a lot of innings to be covered while Kopech finishes his development in Triple-A and the team monitors the workloads of the other three (Giolito and Lopez due to youth, Rodon due to 2017 injuries and durability concerns). Adding Derek Holland for the 2017 season may not have netted a trade piece for the Sox — Holland was released in August after struggling for most of the season — but he soaked up plenty of innings for an inexperienced staff.

Grabbing at least one veteran, if not two, to step into a similar role next season would be prudent. There should be no shortage of names available for the Sox to pursue, with hurlers such as Jeremy Hellickson, Scott Feldman, Tyson Ross, Anibal Sanchez and old friend Hector Santiago among the free agents likely looking at one-year rebound scenarios. Pitching coach Don Cooper's reputation will likely be a point in the team's favor in luring such veterans, as will be an easier promise to guaranteed innings than most contending clubs would be willing to offer.

Also on the docket, of course, should be a veteran reliever or two. Just as the Sox can offer guaranteed innings to rebound candidates, the team can also offer high-leverage roles to relievers looking for rebound seasons. Huston Street, Tyler Clippard, Fernando Salas and Neftali Feliz are among the bounceback candidates on the free-agent bullpen market.

3. Take advantage of a nearly blank payroll slate.

The fact that the Sox don't have much in the way of marketable veterans to pitch to other teams doesn't mean that they simply can't acquire further talent this offseason. The White Sox only have about $15MM committed to next year's payroll: the $10MM portion of James Shields' salary they must pay, $3.95MM for Nate Jones and $1MM for Tim Anderson. Beyond that, the only notable arbitration raises they'll face belong to Abreu, Rodon and Yolmer Sanchez. As it stands, the White Sox could easily field a team for under $40MM in player salaries next season, though they'll surely spend more to fill out the roster and invest in some potential trade chips.

But, the Sox are also extremely well positioned to take on some or all of a veteran player's contract in order to persuade a rival club to part with some meaningful young talent. When teams like the Braves (Matt Kemp and Nick Markakis), Diamondbacks (Yasmany Tomas), Yankees (Jacoby Ellsbury), Marlins (Wei-Yin Chen) and others are looking to shed some unfavorable contracts, the White Sox will no doubt be involved in exploring scenarios that allow them effectively to purchase the rights to prospects — while also filling out the MLB roster with players that can perhaps be flipped again later, as occurred with Clippard this summer.

As recently as 2016, the White Sox opened the year with a near-$115MM payroll, and they opened with payrolls north of $118MM in 2015 and 2013 as well. The team can afford to spend — especially on players with only a year or two remaining on their contracts — and taking on those burdensome commitments could allow them to pry another few prospects away from rival clubs. As a bonus, the lack of veteran commitments on the current White Sox roster should also allow the Pale Hose to nab at least one player (if not multiple players) in this year's Rule 5 Draft.

Photo courtesy of USA Today Sports Images.

]]>