<![CDATA[

11:05am: USA Today's Bob Nightengale reports that Verlander will retain full no-trade protection now as a member of the Astros (Twitter links). Additionally, the Astros have agreed to waive his vesting option for the 2020 season. Verlander would've needed a top five finish in the 2019 Cy Young voting to see that $22MM option vest, though it stands to reason that if he were to finish in the top five that season, he'd be able to earn more on the open market in free agency.

Nightengale also confirms that Houston will receive a PTBNL in the deal as opposed to further cash considerations. (Houston will still receive the $16MM from the Tigers to help pay down some of Verlander's salary.)

12:30am: In a stunning reversal, after a deal seemingly collapsed, the Tigers have officially sent long-time ace Justin Verlander to the Astros. Prospects Franklin Perez, Daz Cameron, and Jake Rogers will go to Detroit in the deal. Houston is also slated to receive $16MM from Detroit to cover a portion of Verlander's remaining salary, along with a player to be named later or cash considerations.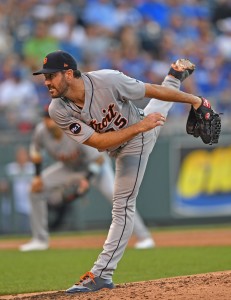 The August trade period has never been so loaded with blockbusters. This year, the Tigers pulled off not one but two major swaps on August 31st — the last day for teams to deal players who'd be eligible to appear in the postseason with their new organizations. After shipping outfielder Justin Upton to the Angels earlier today, Detroit GM Al Avila hammered out a yet-more-significant trade by parting with one of the franchise's icons tonight.

While dealing Upton came with some complications, the path to the Verlander trade was riddled with roadblocks. Starts and stops in talks over recent months left immense uncertainty as to his future. His full no-trade rights loomed as a barrier, while the $56MM left on his contract after this season (for the 2018 and 2019 campaigns) seemed steep. Indeed, he cleared revocable waivers, with no clubs putting in a claim to take over his entire deal.

The chatter picked up, then sputtered, approaching the July 31st non-waiver trade deadline, then ebbed and flowed in August after Verlander had cleared revocable trade waivers. Throughout it all, Verlander turned in gem after gem, increasing his appeal as a trade target all the while.

Ultimately, Houston couldn't pass on the chance to add the hard-throwing workhorse, parting with three talented young players to get him. The Tigers couldn't miss on this opportunity to deal him at a relative high point, especially after Verlander struggled early in the 2017 campaign. And though Verlander waited until the last minute to approve the trade — MLB Network's Jon Morosi tweets that he held out for a chance to land with the Cubs — he ultimately decided to depart a franchise that is obviously launching a significant rebuilding process for one that owns the best record in the American League.

The dealmaking took place even as the Astros prepare to return to their home city for the first time since Hurricane Harvey pummeled the Texas cost. As the city and its brave citizens continue to battle flood waters, the Astros will play a dramatic doubleheader tomorrow while preparing to welcome one of the most accomplished pitchers of the past 40 years.

It will be tempting for some Astros fans to see Verlander as something of a savior. He is one of the game's highest-profile players — due not only to his excellence, but also his relationship with supermodel Kate Upton — and the team has struggled of late even as it comfortably paces the AL West.

But Verlander is already 34 years of age and has quite a lot of mileage on his arm —  durable though it may be — after 380 regular season MLB outings. While he owns a 3.49 ERA through more than 2,500 innings on the Major League hill, it's fair to wonder when he'll slow down. Indeed, those concerns rose to the fore as Verlander labored to a 4.96 ERA through his first 17 starts this season.

Of late, though, Verlander has been outstanding. Since a dud to open the month of July, Verlander has pitched to a 2.31 ERA with 84 strikeouts against 20 walks over 74 innings. He's throwing as hard as ever and could still crack 200 innings for the tenth time in the past 11 seasons.

Clearly, Verlander represents a significant upgrade for an Astros staff that has had its ups and downs this year even as the team runs away with a division crown. While Dallas Keuchel and Lance McCullers Jr. are big talents, both have had injury problems; the latter has also had some hiccups of late and is currently on the DL. Other hurlers — including Charlie Morton, Brad Peacock, and Mike Fiers — have certainly had their moments in 2017, but there was room for the Astros to add a postseason starter to the mix.

The addition is especially notable given that the 'Stros missed on Zach Britton and another as-yet-unknown pitcher at the July 31st non-waiver trade deadline. Verlander will bump some other arms into the bullpen, especially during the postseason, helping to deepen the overall staff while also giving the team a pitcher that is no stranger to working late into playoff games. Of particular note for an Astros team that has only burst into competitiveness in recent seasons, Verlander a 3.39 ERA through 98 1/3 innings in 16 postseason contests == the most recent of which came in 2014.

Unsurprisingly, the addition comes at a cost. While Verlander's salary held down his value, Detroit still managed to secure some high-end talent in this deal, all while clearing the bulk of Verlander's contract from the books. In combination with the Upton trade, the Tigers have saved something on the order of $136MM in salary commitments. (That estimate includes the remainder of those players' salaries for the current season, less the money the team has agreed to retain in both deals. It also assumes Upton would not opt out after the current season, which remains to be seen.)

While Cameron is perhaps the best-known youngster moving in this deal, Perez is undoubtedly the headliner. The 19-year-old righty entered the year on top-100 prospect charts, with the potential of developing a quality four-pitch arsenal, and has delivered on the hype. Through 86 1/3 innings at the High-A and Double-A levels, Perez carries a 3.02 ERA with 8.1 K/9 and 2.8 BB/9.

Cameron was one of the highest-rated players in the 2015 draft, and Houston structured its strategy that day around landing him with a big bonus at pick No. 37. The son of long-time major leaguer Mike Cameron, the 20-year-old has bounced back from a tough 2016 campaign. Over 506 plate appearances this year at A ball, he's slashing .271/.347/.567 with 14 home runs and 32 stolen bases. Notably, too, he has drastically pared back the strikeouts that plagued him last year, carrying a 21.1% rate thus far in 2017.

Detroit also lands a potential future catcher in Rogers, who is a highly regarded defensive backstop that has shown some hitting skills as well. While he's already 22 years of age, the 2016 third-rounder from Tulane succeeded at the plate at both the Class A and High-A levels this year. Over 479 total plate appearances, he's slashing .265/.353/.476 with 18 long balls, and he's also recorded 52 walks against 100 strikeouts.

The dramatic tale of this trade isn't yet over. Verlander promises to be one of the most closely watched players in this year's postseason and will be expected to anchor the staff over the final two years of his deal. And the Tigers will hope that the three players acquired will help form the team's next core of stars — though it will likely be some time before any test their merit at the game's highest level.

Chris McCosky of the Detroit News covered the late-breaking negotiations (links to Twitter). Anthony Fenech of the Detroit Free Press first reported (via Twitter) that a deal was done. Jon Heyman of Fan Rag (via Twitter) reported the return, which McCosky had previously noted, while Jeff Passan of Yahoo Sports (via Twitter) and Bob Nightengale of USA Today (Twitter link) had the financial elements.

Photo courtesy of USA Today Sports Images.

]]>