<![CDATA[

This is the latest entry in MLBTR's 2017-18 Offseason In Review series.  Click here to read the other completed reviews from around the league.

Fresh off the Astros' first-ever World Series-winning campaign, general manager Jeff Luhnow spent the winter supplementing an already strong pitching staff.

Major League Signings

Trades And Claims

Extensions

Notable Minor League Signings

Notable Losses

Astros 25-Man Roster & Minor League Depth Chart; Astros Payroll Overview

Needs Addressed

The Astros were one of the majors' elite teams from the start of the regular season until the end in 2017, but they may not have been in position to hoist the trophy in November if not for a late-August trade with Detroit. In that deal, Luhnow shipped out multiple prospects for longtime Tigers ace Justin Verlander, who was utterly dominant in his first action as an Astro, with whom he combined for 36 2/3 innings of nine-run ball in playoff series wins over the Red Sox, Yankees and Dodgers.

With Verlander, Dallas Keuchel, Lance McCullers, Charlie Morton, Brad Peacock and Collin McHugh among Houston's in-house starting options entering the offseason, Luhnow could have passed on adding any established starters during recent months. Instead, he revisited the trade route to pick up yet another high-profile option, Gerrit Cole, whom he acquired from the Pirates in January.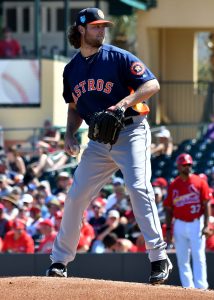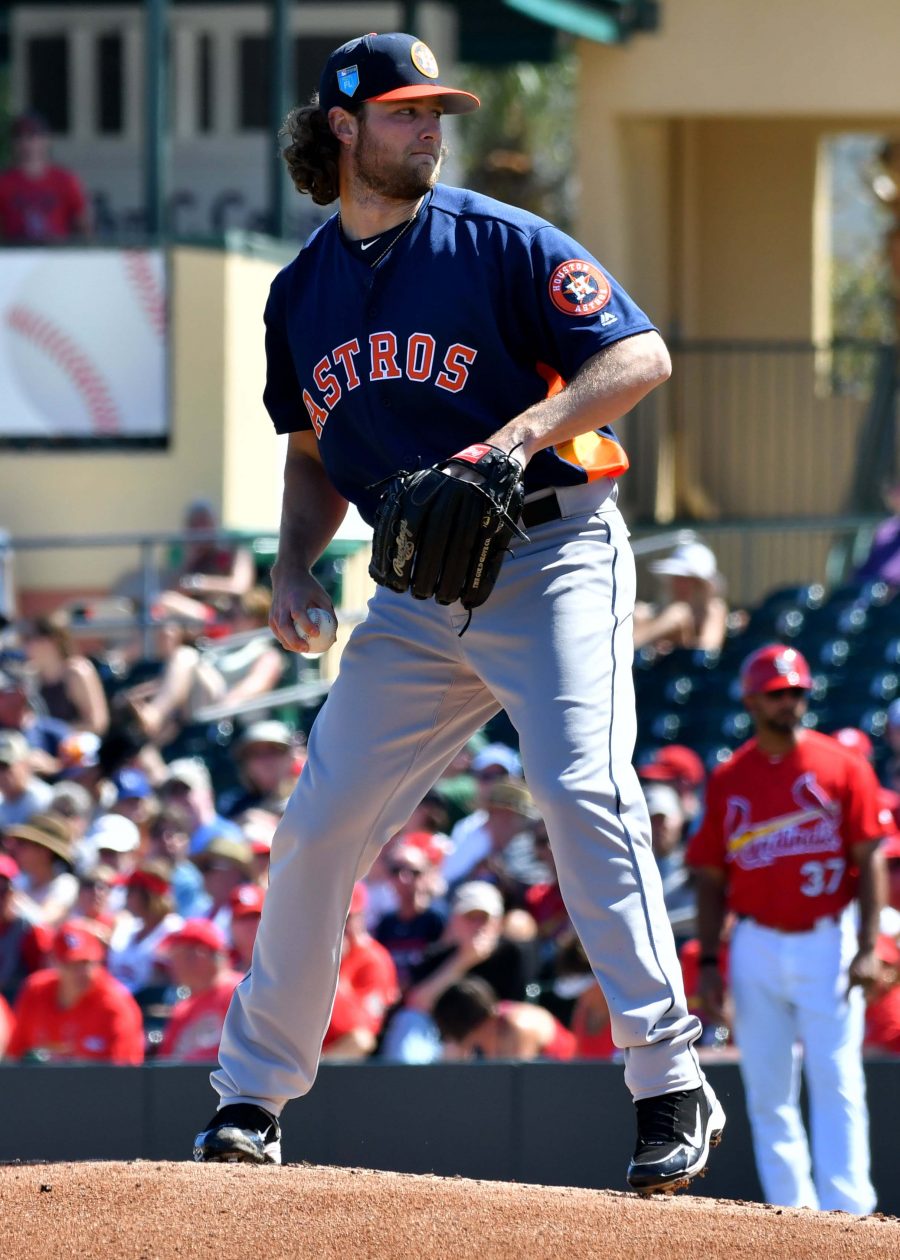 In order to reel in the 27-year-old Cole and his two remaining seasons of affordable team control, the Astros surrendered a respectable package of young talent headlined by righty Joe Musgrove, who was a promising starter for them back in 2016 and a key part of their bullpen down the stretch in 2017. While it's possible the Astros will come to miss Musgrove and the other players they parted with (righty Michael Feliz, third baseman Colin Moran and outfielder Jason Martin), they're well positioned to move on without them.
As mentioned earlier, there were several legitimate starting options on hand even before the Cole trade, so netting him should allow the Astros to maintain a deep staff in the near term even without Musgrove and Feliz. As opposed to earning starting jobs, Peacock (who was outstanding as both a starter and a reliever in 2017) and McHugh will be part of a righty-heavy relief corps that's also set to include Ken Giles, Chris Devenski, newcomers Joe Smith and Hector Rondon, and Will Harris in prominent roles.
Cole has been somewhat inconsistent since debuting with the Pirates in 2013, but the talent is immense, evidenced by both his draft pedigree (No. 1 in 2011) and overall production to date (3.50 ERA/3.27 FIP across 782 1/3 innings). At his best in Pittsburgh, the 2015 version of Cole pitched to a 2.60 ERA/2.66 FIP with 8.74 K/9 against 1.9 BB/9 over 208 frames. Cole hasn't been nearly that effective lately, though the flamethrower was still a mid-rotation workhorse in 2017. Cole logged career-worst numbers in the ERA (4.26) and FIP (4.08) departments a year ago, but he also ate 203 innings with strong strikeout (8.69 K/9) and walk (2.44) rates en route to 3.1 fWAR. That's quality production, clearly.
Now, as former FanGraphs writer Eno Sarris explained in January, Cole could be in the right place to harness his vast potential. Cole leaned too much on his fastball and wasn't reliant enough on his breaking pitches during his Pirates tenure, Sarris observed. In Houston, though, he's with a team that recorded the fourth-lowest fastball percentage and the fifth-highest slider/curveball rate in the league last season.
No doubt, the Astros are banking on Cole at least delivering similar results as last year. Before they ended up with him, they considered the likes of Yu Darvish, Chris Archer and Shohei Ohtani. Darvish would've created a far bigger dent in the Astros' payroll than Cole, though, having inked a six-year, $126MM deal with the Cubs; Archer remains with the Rays, because they understandably want a major haul for him; and you can't fault the Astros for losing the Ohtani lottery, given that it featured just about every other major league team at one point. So, in Cole, the Astros have an affordable, arbitration-controlled piece who should help their cause for at least two years. Come 2019, the Astros could be without both Keuchel and Morton, two players who are slated to become free agents next winter. Cole's presence should help protect against their possible departures.
Joining Cole as new additions to Houston's staff are Smith and Rondon, who each bring terrific major league track records on reasonable salaries. One could quibble with the fact that neither is a lefty, which the Astros could seemingly use. Houston was devoid of a shutdown southpaw throughout last season (neither holdover Tony Sipp nor the now-gone Francisco Liriano fit the bill), yet that didn't stop the club from winning 101 games during the regular campaign before charging to a title in the fall. It helps when you're righty relievers are capable of holding their own against left-handed hitters, as the Astros' are. Their bullpen pieces held lefty-swingers to a .302 wOBA in 2017, and even though they're righties, both Smith and Rondon could help in that regard. The 33-year-old Smith has held opposite-handed hitters to a .307 mark during his career, while Rondon, 30, has been even better at .287 (that figure ballooned to .346 last year, however).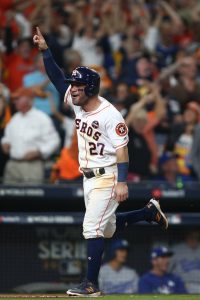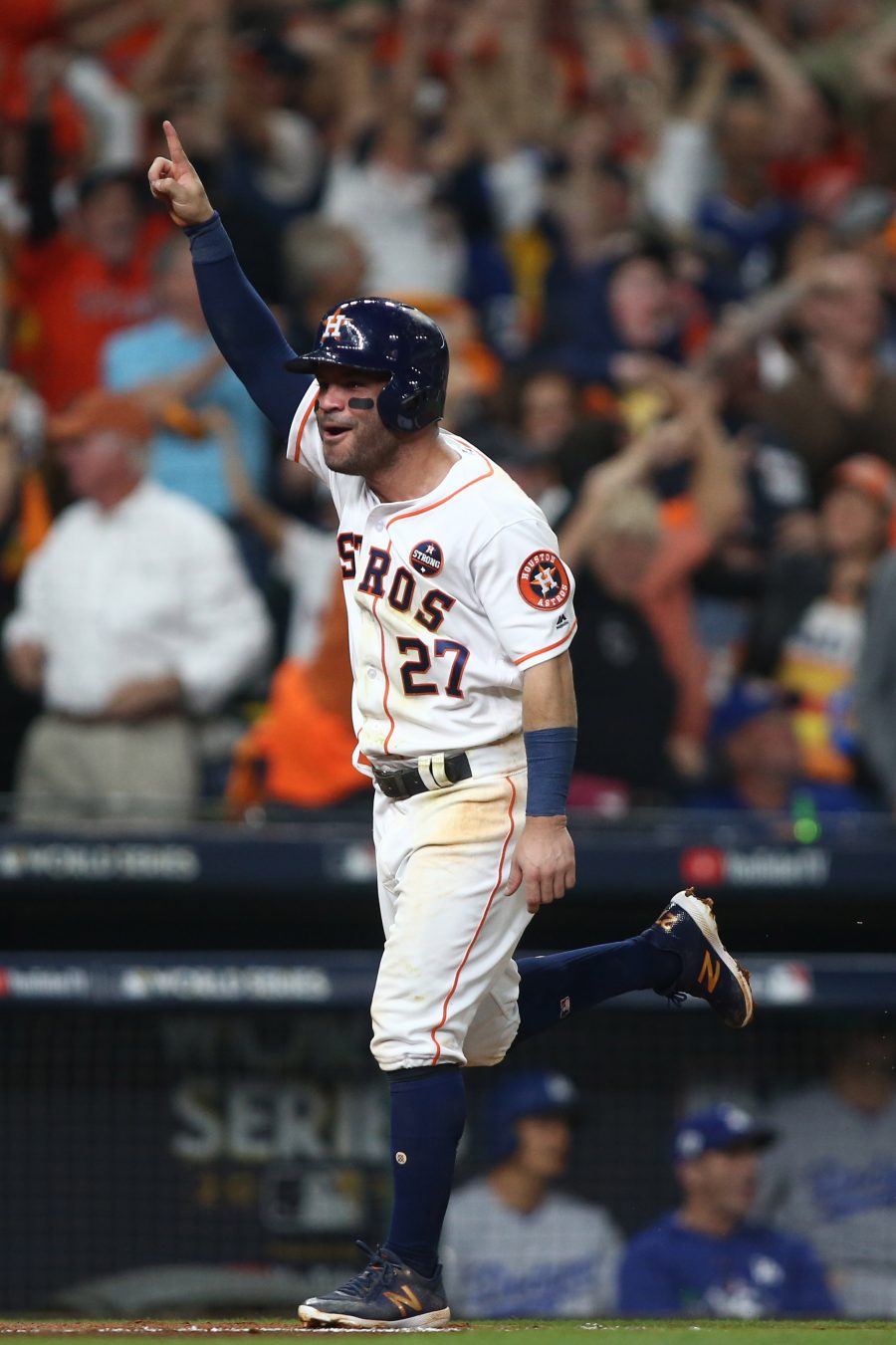 Long after he bolstered his team's pitching staff, Luhnow secured arguably the Astros' best player, second baseman Jose Altuve, to a franchise-record contract extension. Prior to last Friday, when he agreed to his new pact, Altuve was controllable through next season via the club-friendly extension he signed as a youthful, run-of-the-mill player in 2013. The 27-year-old Altuve has since blossomed into a bona fide superstar, having taken home the AL MVP in 2017 (a 7.5-fWAR showing), and will earn at a rate commensurate to that for the long haul.

Altuve will be due a guaranteed $151MM over a five-year period beginning in 2020. He's just the sixth player in league history to receive a deal worth $30MM per year, making his meteoric rise since he signed for just $15K in 2007 as a diminutive, anonymous Venezuelan prospect all the more incredible.

Questions Remaining

The Astros' offense is the envy of the league, which it led in wRC+ (121) and runs (896) last season. That came without a full season from all-world shortstop Carlos Correa, whom a thumb injury limited to 109 games. He's back, as are Altuve, Springer and Alex Bregman, to headline a seemingly relentless Houston attack. Still, the Astros at least showed some interest in upgrading their lineup over the winter. They considered making a run at then-Marlins slugger Giancarlo Stanton, who'd have given the Astros two reigning MVPs on one team, before the Yankees landed him and the majority of his $295MM contract. Additionally, Houston was in on Carlos Gonzalez, who ultimately re-signed with Colorado for $8MM.

Either Stanton or CarGo would have given the Astros another starting outfielder to join Springer in center and Josh Reddick in right. Instead, once first baseman Yuli Gurriel returns from February hamate surgery, they'll primarily turn to Marwin Gonzalez, who stunningly broke out with a 144 wRC+ last year. But Gonzalez is no sure thing to continue at anything resembling that pace, judging by both his league-average output (101 wRC+) from 2014-16 and Statcast data from 2017. Although Gonzalez managed a superb .387 wOBA in 2017, his xwOBA (.320) fell way short. Meanwhile, Gurriel wasn't quite that fortunate, but his xwOBA (.327) still didn't come close to his solid wOBA (.351).

Both Gonzalez and Gurriel are candidates to take steps back offensively this year, then, while the Astros also seem to lack a high-end hitter at the DH spot. They're in position to turn to backup catcher Evan Gattis, who was mediocre at the plate (105 wRC+) last year. The good news is that even that type of unspectacular production would easily outpace the now-retired Carlos Beltran's output from last year. The revered Beltran was an important behind-the-scenes presence in Houston, but at the same time, he was one of the game's worst DHs from a statistical standpoint.

While Gattis isn't a terrible choice to DH, there's a case to be made that the Astros should have non-tendered him (he's making $6.7MM) and sought an upgrade. A free agent like Logan Morrison may have made sense, for example, especially considering the Twins handed him a $6.5MM guarantee that's lower than Gattis' salary. Morrison would have helped balance out the Astros' lineup a bit more, giving them four lefty-capable regulars instead of the three they'll run out in 2018. Admittedly, though, the way free agency unfolded over the winter isn't something anyone saw coming, so it came as a surprise that Morrison (and Mike Moustakas and Todd Frazier, among others) signed such an affordable deal. If the Astros need a bat at the trade deadline, there ought to be some quality options at palatable prices.

It's fair to say that even if Gonzalez, Gurriel and Gattis are far from great this year, Houston will thrive at the plate because of its top-end talent. The Astros' position players may not offer that type of brilliance defensively, though, as they're returning largely the same group that ranked toward the bottom of the majors in the advanced metrics a season ago. The Astros are projected to be similarly woeful in the field this year, but they proved they could overcome that last season with a punishing offense and terrific pitching – both of which are again in place.

Houston's hurlers could have been throwing to a different primary catcher this year had the club signed free agent Jonathan Lucroy, whom it showed interest in over the winter (he went on to join the division-rival Athletics), or made the higher-impact move of acquiring the Marlins' J.T. Realmuto. The Astros and Marlins discussed Realmuto, who's under control through 2020, and the former reportedly didn't close the door on giving up premier outfield prospect Kyle Tucker for the backstop. Luhnow doesn't sound like someone who's going to trade Tucker, however, instead believing he could be a factor for the Astros as early as this year (and if Gonzalez and Derek Fisher are unsatisfactory in left, that could indeed happen). Regardless, Realmuto's status will be worth monitoring during the season if the Astros' combination of Brian McCann, Gattis and Max Stassi doesn't suffice. McCann and Gattis will be free agents in a year, so acquiring Realmuto during the summer would give the Astros an immediate boost and obviate a need for next offseason in one fell swoop.

As for the Astros' pitching staff, which we've established is a deep and talented group, health is likely the main concern. Keuchel, McCullers and Morton haven't been all that durable of late, McHugh missed most of last season and Cole is only two years removed from going to the disabled multiple times on account of elbow problems. All of that considered, it's easy to see why Luhnow kept McHugh around as depth. Just about every team in the league would sign up for having the accomplished McHugh in its rotation, let alone as a sixth or seventh starter, which explains why he drew trade interest during the winter.

Overview

Thanks in part to Luhnow's offseason maneuverings, the Astros will enter the new campaign as baseball's best team, though that may have been true even if the GM didn't make any notable winter moves. Talent-rich Houston is poised at least to win its second straight AL West title after lapping the field a year ago, and despite the offseason efforts of the majors' other super-teams, the Astros should be seen as the favorites to end up again as the last club standing in the fall.

What's your take on the Astros' winter?  (link for app users)

Photos courtesy of USA Today Sports Images.

]]>