<![CDATA[

MLBTR is publishing Offseason Outlooks for all 30 teams.  Click here for the other entries in this series.

As they enter the latter stages of their rebuild, the Padres have reasons for optimism. Coming off of their ninth losing season of the past decade, that might be hard to believe. But this 71-win team probably had no business winning more than 60, which speaks volumes of the job that manager Andy Green is doing. General manager A.J. Preller and the front office have stockpiled an abundance of impressive prospects through trades, international signings and the amateur draft. As a result, the farm system might be as deep and talented as it's ever been — and is beginning to pay dividends at the MLB level.

Guaranteed Contracts

Arbitration-Eligible Players (projections via MLBTR contributor Matt Swartz)

Other Financial Obligations

Free Agents

[San Diego Padres Depth Chart | San Diego Padres Payroll Outlook]

Although there is still over $40MM due to players no longer on the team, payroll has been stripped down to include almost no guaranteed money in 2017 and beyond. The Padres' estimated 2018 payroll, including projections for non-guaranteed contracts, is hovering around $50MM. Only the Phillies are lower, according to Roster Resource. In all likelihood, they should be able to spend much more than last offseason, when they committed a total of $10.9MM in free agency to sign four starting pitchers, shortstop Erick Aybar and reliever Craig Stammen.

That doesn't mean that they'll sign Eric Hosmer, who the team has discussed internally, according to Ken Rosenthal of The Athletic. But their interest is an indication that they might be willing to sign a top free agent under the right circumstances. Hosmer is only entering his age-28 season and expected to command a contract that is at least five years in length. If he's convinced that the Padres are a team on the rise and on a road to contend by 2019, he could be willing to sign on. Acquiring Giancarlo Stanton is another move that, while unlikely, isn't completely out of the realm of possibility. If they were willing to take on a good-sized portion of Stanton's contract, the Padres' stockpile of talent would surely entice the Marlins — though they'd still have to convince him to approve of the swap.

While Hosmer and Stanton are both long shots, it's important to present those two cases in order to point out that the Padres are in good shape payroll-wise and have the trade chips to go after some of the best players in the game. It just might not happen this offseason.

A more likely scenario is that they'll continue to focus on letting their young players develop together while adding some reasonably-priced veterans to fill voids on the roster and bring leadership to the clubhouse.

In 2017, several young players were given an opportunity to prove themselves. As would be expected, the results were mixed and there were plenty of peaks and valleys along the way. It didn't go as well as the Padres had hoped, though, at least not offensively, or else hitting coach Alan Zinter wouldn't have been fired with a month to go in the season. New hitting coach Matt Stairs will be tasked with helping the team's young group of hitters progress and avoid the extended slumps that happened far too often. 

Austin Hedges hit 18 home runs in his first full MLB season and is already considered to be one of the best defensive catchers in the game, making it easier for the Padres to live with his .214 batting average and .262 on-base percentage. Nevertheless, they'll be hoping that the 25-year-old can become a much more disciplined hitter. Pairing him with a respected veteran like A.J. Ellis could help with his development.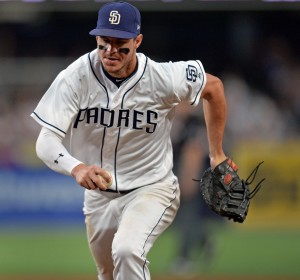 After signing a franchise-record $83MM contract extension prior to the season, Wil Myers did not take the leap from very good player to superstar. He did have 30 home runs and 20 stolen bases, but the 26-year-old finished with a .243/.328/.464 slash line — disappointing for a first baseman — and also struggled defensively after looking very comfortable at the position in 2016.

A move back to the outfield for Myers isn't out of the question, as it would allow the team to take advantage of a saturated market for first basemen—Lucas Duda or Mitch Moreland would be cheap one-year options. An already-crowded outfield picture makes it unlikely, though.

Between Yangervis Solarte, Carlos Asuaje and Cory Spangenberg, the Padres are in pretty good shape at second and third base. Former Cubs prospect Christian Villanueva, who was impressive during a September call-up (11-for-32, 4 HR), could also get a look at the hot corner.

There should be enough at-bats to go around, so it's doubtful that the team will trade Solarte just to open up more playing time for the others. However, the switch-hitter should draw plenty of trade interest. With his team-friendly contract and ability to play all four infield spots, the 30-year-old switch-hitter is an excellent fit on several contending teams. Those attributes, in addition to his leadership skills, also make him a great fit in San Diego, though.

While Solarte didn't look terrible during his 24 starts at shortstop in 2017, he's not likely to get an extended look at the position. The Opening Day starter is widely expected to be someone who is either acquired via trade or signed as a free agent this offseason. Zack Cozart, Alcides Escobar, J.J. Hardy and Jose Reyes are all free agent possibilities, while Freddy Galvis, Adeiny Hechavarria, Jose Iglesias, Jurickson Profar and Jonathan Villar are potential trade targets.

MLBTR predicts that the Padres will sign Cozart, the top free agent shortstop available, to a three-year, $42MM deal. With only a handful of teams in need of a shortstop, perhaps it wouldn't be too shocking if the 32-year-old got only two years and a few million dollars less per season than our projection, which would help the Padres' case. But if they really want to ensure that they can adequately fill what has been a revolving door of disappointment, they might not want to wait around too long in hopes of the price coming down. The bigger question is whether Cozart would want to sign with a team that isn't quite ready to contend, even if he believes that they are a headed in the right direction.

The Padres will also have two of the best prospects in baseball playing shortstop in the upper minors in 2018, with Luis Urias and Fernando Tatis Jr. likely to man the position in Triple-A and Double-A, respectively. Neither player is expected to make the full-time jump to the Majors until at least early 2019. And even then, Urias is probably a better fit at second base and Tatis, if necessary, could slide over to third base. Of course, the Pads would also have the option of sliding any new veteran acquisition to another spot in the future to accommodate the youngsters.

Coming off of a strong rookie season, Manuel Margot is locked in as the team's center fielder for the foreseeable future. The corner spots aren't set in stone, although Jose Pirela should have the inside track for the left field job after an impressive 83-game stint in 2017. While it was obvious that the converted infielder has some work to do defensively, the transition had no effect on his hitting as he slashed .288/.347/.490 with 10 homers and 25 doubles in 344 plate appearances.

Hunter Renfroe is the leading candidate to be the starting right fielder, but the job is not his to lose. His power potential is huge—he hit 26 homers, breaking the team's rookie record—and he has one of the strongest throwing arms in baseball. But unlike Hedges, who can get away with his offensive deficiencies to some extent because of his plus defense as a catcher, Renfroe will not continue to get regular at-bats if he's only reaching base at a .284 clip and striking out 29% of the time as he did in 2017. The 25-year-old learned that when was demoted to Triple-A in mid-August. He responded, however, with a strong showing during his month in the Minors followed by an impressive return to the big leagues in mid-September. He hit a three-run homer in his first at-bat after his promotion and then had a three-homer game two days later.

Renfroe should face some stiff competition if Alex Dickerson returns to health after missing all of 2017 with a back injury. The left-handed batter slashed .255/.333/.455 with 10 homers in 285 plate appearances during his first extended look in the Majors back in 2016. He's not a very good outfielder, but the Padres could use his bat in the middle of the order.

Franchy Cordero isn't quite ready to contribute, as evidenced by his struggles as a 22-year-old rookie (6 BB, 44 K in 99 plate appearances). But he could force his way into the picture if he continues to tear the cover off the ball in Triple-A, where he posted a .972 OPS with 17 homers, 21 doubles, 18 triples and 15 stolen bases. Matt Szczur and Travis Jankowski are also in the mix, although both are likely ticketed for part-time roles. Both players could draw trade interest from teams in search of a fourth outfielder.

The Padres needed some semi-reliable innings-eaters at a very minimal cost in 2017 and they couldn't have done much better than Jhoulys Chacin (180 1/3 IP, 16 quality starts) and Clayton Richard (197 1/3 IP, 14 quality starts), who both signed one-year, $1.75MM deals prior to the season. Even Trevor Cahill, who signed for the same amount, pitched effectively (when healthy) prior to being traded to the Royals in July.

Richard is already back in the fold after signing a two-year, $6MM contract extension in September and it wouldn't be a surprise if the team makes a strong effort to retain Chacin. They'll have plenty of competition with starting pitchers in high demand and not many good ones available. But the Padres should be able to make a fairly competitive offer while also hoping that Chacin's success at Petco Park—he was 9-3 with a 1.79 ERA in 16 home starts—will give them an edge if they're not the highest bidder.

Cahill, a San Diego native, is also a candidate to return, as is Tyson Ross, who might have his best shot at returning to form under Darren Balsley's tutelage. Ex-Padres won't be the only pitchers interested in working with Balsley, who is entering his 16th season as the team's pitching coach. Chris Tillman, Hector Santiago and Yovani Gallardo are just a few of a long list of free agent pitchers looking to rebuild their value.

Unlike last season, when it was necessary to bring in four veteran starters to fill out the rotation—Jered Weaver was the only one of the group who didn't pitch well—the team is in much better shape heading into 2018. Dinelson Lamet was very good during his rookie campaign, flashing frontline starter ability on occasion, while sinker-baller Luis Perdomo looks to have solidified a spot in the back of the team's rotation. Lefty Matt Strahm, the key return in the six-player trade with Kansas City in July, will compete for a rotation spot along with Robbie Erlin and Colin Rea, each of whom should be fully recovered from Tommy John surgery.

A wave of top starting pitching prospects could also begin to arrive in the Majors by mid-season. Cal Quantrill, the eighth pick in the 2016 draft, along with Logan Allen, Eric Lauer, Joey Lucchesi and Jacob Nix, are all expected to begin the season in either Double-A or Triple-A. It wouldn't be a surprise if any one of them is knocking down the door to the big leagues at some point in 2018. Another wave of what is likely an even more impressive group of starting pitchers could begin to arrive in 2019. Help appears to be on the way.

Surprisingly, top reliever Brad Hand remained with the Padres past the trade deadline. He took full advantage of his first opportunity as a closer, posting a 2.15 ERA with a 12.1 K/9 and 19 saves in 21 chances after taking on the gig in late July. As teams got every last bit out of their top relievers in the post-season, it was clear that a lefty who is capable of pitching multiple innings and dominating against both right-handed and left-handed hitters is extremely valuable for any playoff team. In fact, Hand's price tag might've gone up since July. Preller should get plenty of strong offers and he's not likely to pass on the chance to cash in on an elite reliever at what is likely to be peak value.

If Hand is traded, the Padres will almost certainly be in the market for a veteran closer who can hold down the fort for a few months before being flipped to a contender prior to the trade deadline. Former Padres Huston Street and Fernando Rodney would be low-cost options.

The group of Padres relievers expected to bridge the gap to the closer is a bit on the inexperienced side, but they were a big reason why the team was much better than expected in 2017 and highly competitive, for the most part. Kirby Yates (14.1 K/9, 20 holds) and Phil Maton (9.6 K/9, 8 holds) were effective as the team's primary setup men, while lefties Jose Torres, Buddy Baumann and Kyle McGrath all pitched well down the stretch. The team would gladly welcome Craig Stammen back, but he is likely to parlay his strong season into a multi-year deal with a contender.

If Carter Capps can ever come close to returning to his pre-injury form, the Padres will have themselves another late-inning option. He did not look very good over a year-and-a-half removed from Tommy John surgery and now he'll need to bounce back from his September surgery for Thoracic Outlet Syndrome. Strahm could also factor into the late-inning mix if he doesn't win a rotation spot. As a rookie in 2016, he looked very comfortable in a relief role for the Royals, posting a 1.23 ERA with 30 strikeouts in 21 innings.

Even with a successful offseason, the best-case scenario for the 2018 Padres is probably no better than a .500 record. And that's fine. It's another step in the right direction. For proof that a successful rebuild takes patience, look no further than the World Champion Houston Astros. They endured six consecutive losing seasons from 2009-2014, including three consecutive years with at least 106 losses. General manager Jeff Luhnow began the rebuild immediately after he was hired following the 2011 season. The expectation was that they'd be bad for a few seasons. And they were. Four years later, though, he had his team in the playoffs. Six years later, they were celebrating their first World Series title. They are also set up to be perennial playoff contenders.

If the Padres can stay the course, it's not a stretch to think that could follow a similar path.

Photo courtesy of USA Today Sports Images.

]]>