The Orioles now have a strong bridge in place to top prospect Manny Machado.  They officially signed shortstop J.J. Hardy to a three-year, $22.5MM contract extension today, in a deal that includes an eight-team no-trade clause.  Hardy is represented by LSW Baseball, as our Agency Database shows.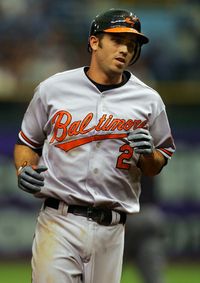 Hardy, 28, is hitting .278/.335/.490 in 282 plate appearances for the Orioles this season.  His defense is generally regarded as above-average.  The biggest concern with this deal is health, as Hardy played 104 games last year and may fall short of 130 this year.  Still, it won't take 160 games a year for Hardy to be worth a $7.5MM salary.  The 2012 free agent market is now down to two big-name shortstops: Jose Reyes and Jimmy Rollins.
The Orioles acquired Hardy and Mark Reynolds in separate deals in December, revamping the left side of their infield.  The Twins found Hardy expendable after signing Tsuyoshi Nishioka as a free agent.
Jeff Zrebiec of the Baltimore Sun first reported the agreement on Saturday, with Ken Rosenthal tweeting the contract details.
Tim Dierkes contributed to this post.  Photo courtesy of Icon SMI.