This is the latest entry in MLBTR's Offseason In Review series. The full index of Offseason In Review posts can be found here.
Faced with the daunting prospect of making up for the tragic loss of Jose Fernandez, the Marlins focused on bolstering their pitching staff in hopes of staging an elusive run at the postseason.
Major League Signings
Trades And Claims
Options Exercised
Notable Minor League Signings
Extensions
Notable Losses
Marlins Roster; Marlins Payroll Information
Needs Addressed
The Marlins pushed to contend in 2016, but as the campaign drew to a close, it seemed destined to be defined by on-field disappointment. Then came the unthinkable, late-season death of Fernandez at just 24 years of age. His loss continues to tell in myriad ways.
A move back toward stability, though, came not long after Fernandez's passing, when the club reached agreement on a deal to keep third baseman Martin Prado off of the upcoming open market. It was hardly a bargain rate for the sturdy (if unspectacular) performer, but Miami clearly prioritized his steadying presence at third and in the clubhouse. Prado is entering his age-33 season, but is a well-balanced player who has compiled consecutive 3+ WAR campaigns.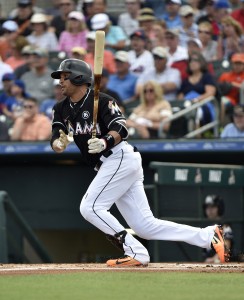 The Prado deal kicked off the winter a little early, and signaled clearly that the Marlins were intent upon continuing to add to their controllable core. But it also represented the organization's only significant move on the position-player side of the equation. Otherwise, the club brought back Ichiro Suzuki after his surprisingly productive season (or was it, really?) at 42 years of age. And a largely parallel change was made in the catching corps, with veteran A.J. Ellis stepping in for the departing Jeff Mathis.
From that point forward, it was all about arms. Mid-season trade acquisitions Andrew Cashner and Fernando Rodney were allowed to leave after disappointing tenures, and key setup lefty Mike Dunn found big money with the Rockies. In the aggregate, there were multiple openings in both the rotation and the bullpen.
Miami directed fairly significant investments to both sides of the pitching staff. The 2017 rotation will feature at least two new members. Edinson Volquez, 33, landed a two-year deal off of the free-agent market, while Dan Straily brings four years of control — the first at the league minimum — with him from the Reds. (When Colin Rea was shipped back to the Padres after coming down with an injury last summer, the Marlins lost the controllable arm they wanted but also got back the key prospect — Luis Castillo — used to get Straily.) If he can overcome biceps tendinitis, bounceback free-agent signee Jeff Locke could also factor in the rotation mix, though he may be slated for long relief duty once he returns from a biceps problem.
There are numerous new faces in the bullpen, too. Brad Ziegler and Junichi Tazawa both join the late-inning mix on two-year deals, joining holdovers A.J. Ramos (the closer), Kyle Barraclough (who gives up gobs of walks but also generates tons of swinging strikes), and David Phelps (who was suddenly outstanding last year and is capable of throwing multiple innings). The Marlins held onto Dustin McGowan with a fairly low guarantee after he turned in 67 innings of 2.82 ERA ball. Also joining the 40-man as a depth piece was righty Severino Gonzalez.
Keep reading for more analysis …