9:32am: Teams besides the Twins are still talking to the Braves about Garcia, MLB.com's Mark Feinsand reports (via Twitter).  It isn't known who the other clubs in the mix are, though earlier today, MLB.com's Mark Bowman tweeted that the Astros and Royals were two of the the teams that had previously shown interest in Garcia.  Kansas City, however, now appears to be more focused on acquiring a right-handed starter.
TODAY, 7:14am: No deal has been finalized between the two sides as of this morning, MLB.com's Mark Bowman reports.
THURSDAY, 8:24pm: Minnesota is "very likely" to take over all of Garcia's remaining salary (about $4.7MM), per 1500 ESPN's Darren Wolfson (via Twitter).
7:42pm: For what it's worth, Garcia is still in a Braves' uniform tonight, Kevin McAlpin of the Braves Radio Network tweets. Of course, that doesn't mean the deal isn't nearing completion; he isn't scheduled to start until tomorrow.
6:44pm: It's possible the Twins will be receiving an additional player in the deal, per LaVelle E. Neal III of the Star Tribune (via Twitter), though it seems that'd likely be a lower-level player of some kind.
6:12pm: It seems the swap is done except for the formalities. It's being finalized right now, tweets Jon Heyman of Fan Rag, while MLB.com's Rhett Bollinger adds on Twitter that the sides are currently waiting on medical assessments. Atlanta will be receiving a minor-league player in return, he adds.
5:51pm: Minnesota is closing in on a deal for Garcia, Rosenthal tweets.
5:46pm: Amidst ongoing rumors that Braves starter Jaime Garcia may be dealt in short order, the Twins are engaged in discussions on the veteran southpaw, according to Ken Rosenthal of MLB Network (via Twitter). It's not apparent at this point whether other teams are still involved or whether an agreement could be nearing completion.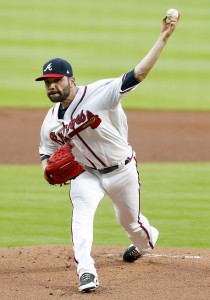 Garcia is probably one of the better rental starters on a market that doesn't have many of great interest (pending the availability of Yu Darvish). I'd generally concur with MLBTR's readers, who rated him alongside Jeremy Hellickson, and behind Trevor Cahill and Marco Estrada, in a poll yesterday.
Over his 106 innings this year, Garcia has pitched to a 4.33 ERA with 6.9 K/9 and 3.4 BB/9 along with a healthy 54.7% groundball rate. At times, previously, he has shown a fair bit more, but that sort of output likely represents a reasonable expectation moving forward for Garcia, who the Braves acquired over the winter after a long run with the Cardinals.
Those looking for upside will note that Garcia does carry an 11.5% swinging-strike rate that is more reminiscent of his prime-level work. And it's important to note that he has been plenty durable recently after experiencing several seasons marred by shoulder troubles.
While Garcia doesn't necessarily excite, he should represent a sturdy option for a club that needs good innings down the stretch. That's the case for Minnesota, which finds itself firmly in the AL Central (and AL Wild Card) hunt despite a generally underwhelming overall performance — particularly from its pitching staff.
The Twins just lost Phil Hughes back to the DL, where Hector Santiago also resides. Neither has been effective when healthy, and the same holds of Kyle Gibson and Adalberto Mejia — whose palatable 4.22 ERA isn't supported by the peripherals. That leaves just two reliable rotation pieces in Ervin Santana and Jose Berrios. The Twins did just add former Braves hurler Bartolo Colon, though it's anybody's guess what he'll provide.
While the Minnesota front office has focused more on the possibility of acquiring a controllable starter, it has acknowledged that rentals could also be pursued in the right circumstances. "We're probably not going to be inclined to spend lavishly on short-term assets," GM Thad Levine explained recently, "but we would be very open to spending aggressively on assets that we could use to propel our team forward this year and for years to come."
Garcia would help shore things up for the rest of the season, but he'll head to free agency thereafter. If Levine's statement still holds, then, it seems reasonable to anticipate that the Twins won't be sending a big package to acquire Garcia — who, it should be noted, is earning at a hefty $12MM rate this year. Taking on some salary now, though, may be the preferred route to boosting the team's chances at earning a surprise postseason spot, particularly if the demand for the few available top-end controllable pitchers is as great as it seems.
Photo courtesy of USA Today Sports Images.