The Angels have officially announced agreement on a long-term extension with star outfielder Mike Trout. The deal covers six years and is worth $144.5MM. Trout receives a full no-trade clause.
The six-year pact will kick in for 2015 and will take Trout through his age-28 season in 2020, covering three arb-eligible seasons and three free agent seasons. It does not include any option years at the back end, meaning Trout now stands to hit the open market at age 29. Trout will get a $5MM signing bonus, and then receive the following annual salaries: $5.25MM (2015), $15.25MM (2016), $19.25MM (2017), $33.25MM (2018-20).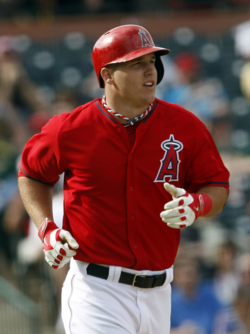 Surprisingly, this extension is not the largest total guarantee ever given to a player with between two and three years of service. (Trout has 2.070 years of service.) That distinction still belongs to Buster Posey, who secured an eight-year, $159MM contract while also sacrificing an option year. Of course, Trout's deal is more favorable to the player on the whole, especially since he will have a chance to test the market at such a young age, and carries a greater average annual value.
But after establishing himself as the best player in the game today — at just 22 years of age — the natural inclination is to ask why he did not secure a larger guarantee. Set to break records in arbitration, Trout was already locked in for huge salaries given his unprecedented success. Dave Cameron of Fangraphs spitballed his three-year arb earnings at $60MM. If that is the case, then Trout sold his first three free agent years (in the peak prime of his career) at just around $85MM. That represents an incredible savings for an Angels team that can reasonably expect Trout to remain the game's most productive player over most (if not all) of the deal.
That analysis is not changed by the deal's actual salary breakdown, under which Trout will receive $33.25MM annually for the three free agent years. Most of all, there are many reasons the deal could have been back-loaded. But even if those numbers represent the sides' actual valuations, that AAV (which beats the $31MM in Miguel Cabrera's deal and $30.7MM in Clayton Kershaw's) still falls below the market rate for Trout, who right now possesses both the game's highest ceiling and floor.
Indeed, Trout has handily led all of baseball in wins above replacement over each of the last two seasons. He has not only been the game's second-bet hitter, by measure of wRC+, but has been outstanding in the field and on the basepaths. Indeed, as Jim Bowden of ESPN (Insider link) recently noted, the ZiPS projection system sees Trout (unsurprisingly) as outpacing the rest of the game not only in 2014 but for the foreseeable future beyond. 
In that sense, perhaps, the key to this deal is not its price but the mere fact that Angels GM Jerry Dipoto was able to get it done. Adding three years of control over a generational player like Trout, covering his mid-to-late twenties, is about as safe a bet as possible in the game. While there has been some suggestion that the club may have preferred an even longer deal, which makes some sense, this contract obviously reduces risk. Even better for the Angels, they commit only to buying prime years without paying any apparent premium to do so. 
MLB.com's Alden Gonzalez reported the agreement and tweeted its final terms as well as the deal's inclusion of a no-trade clause. Ken Rosenthal of FOX Sports reported the deal's annual breakdown (via Twitter).