The Blue Jays acquired starter Edwin Jackson and third baseman Mark Teahen from the White Sox for reliever Jason Frasor and starter Zach Stewart, announced the teams.  Contrary to an earlier report, no cash will change hands in the deal.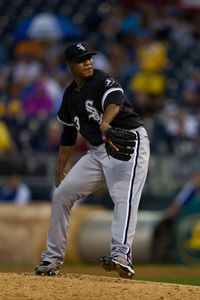 Trades are commonplace for Jackson (pictured), who was dealt for the fifth time in his career.  The surprising part is that the Blue Jays, 11 games out in the wild card, acquired the impending free agent.  Speculation is that Jackson may be flipped, possibly to the Cardinals in a deal involving Colby Rasmus.  Jackson, 27, has a 3.92 ERA, 7.2 K/9, 2.9 BB/9, 0.59 HR/9 and 46.9% groundball rate in 121 2/3 innings this season, making him one of the better starters available.  The Scott Boras client will head to free agency after the season most likely as a Type B.  He has about $2.9MM remaining on his contract this year.
Teahen is regarded as a salary dump, with almost $7.2MM remaining on his contract through 2012.  The 29-year-old is hitting .203/.277/.305 in 130 plate appearances this year, and is another example of Blue Jays GM Alex Anthopoulos taking on a bad contract to get a deal done.  It was reported yesterday that White Sox owner Jerry Reinsdorf wanted to trim payroll.  The Sox will save about $9MM over two years, Sox GM Kenny Williams told Gonzales, though that will be less Frasor's option if they pick it up.
Frasor, the Blue Jays' franchise leader in appearances with 455, has a 2.98 ERA, 7.8 K/9, 3.2 BB/9, 0.85 HR/9, and 40.2% groundball rate this year.  The 33-year-old Oak Forest, Illinois native has about $1.2MM remaining on his contract this year, plus a $3.75MM club option for 2012.  If the option is declined, Frasor will likely be a Type B free agent.  He's a fine addition to any team's bullpen, though the Sox already rank third in the AL with a 3.33 relief ERA.  The move shouldn't have much effect on Frasor's fantasy value, writes Dan Mennella of CloserNews.
Stewart, 24, ranked 44th among Keith Law's top 100 prospects prior to the season.  Stewart, who Law said has number two starter potential, posted a 4.20 ERA, 7.1 K/9, 2.6 BB/9, and 0.6 HR/9 in 94 1/3 innings this year at Double-A.
The deal was first reported by Doug Seyller, with Ken Rosenthal, Jon Paul Morosi, Joel Sherman, Jon Heyman, and Mark Gonzales also contributing.
Photo courtesy of Icon SMI.