An eight-player deal was struck today, as the Blue Jays announced they've acquired center fielder Colby Rasmus and pitchers Trever Miller, Brian Tallet, and P.J. Walters from the Cardinals for starter Edwin Jackson, relievers Marc Rzepczynski and Octavio Dotel, outfielder Corey Patterson, and three players to be named later or cash considerations.  ESPN's Buster Olney first tweeted the full details.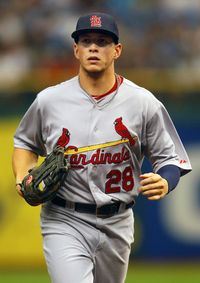 In Rasmus (pictured), Alex Anthopoulos acquired a good young player who had worn out his welcome with management, much like the Blue Jays GM did with Yunel Escobar last summer.  Rasmus, 24, is hitting .246/.332/.420 in 386 plate appearances, a down year compared to 2010.  He'll be arbitration eligible for the first time after this season, so he's under team control through 2014.  Cardinals GM John Mozeliak recently called a Rasmus trade "highly unlikely," but as Strauss notes, the center fielder has "fascinated and frustrated" the Cardinals over the last three years and made repeated trade requests.  Mozeliak shopped Rasmus to the Blue Jays, Rays, and Red Sox, reports Joe Strauss of the St. Louis Post-Dispatch.  He adds that prior to public criticism from manager Tony La Russa earlier this month, the Cardinals were in contract extension negotiations with Rasmus.
Miller, 38, has been used sparingly by the Cardinals this year, logging only 15 2/3 innings.  Most of them came against left-handed hitters, but Miller hasn't pitched well no matter how you slice it.  About $700K remains on his contract.  Tallet, 33, has been ineffective as well and currently resides on the DL for an intercostal strain.  He spent the previous five seasons with the Jays.  About $263K remains on his contract.
Walters, 26, has logged 50 innings in the bigs since 2009.  The righty has a 4.27 ERA, 7.6 K/9, 3.7 BB/9, and 0.8 HR/9 in 103 1/3 Triple-A innings this year, his fourth stint at the level.  Baseball America ranked him 19th among Cardinals prospects prior to the season, praising his plus changeup but projecting a long relief/swingman role.
Jackson, 27, was traded for the fifth and sixth times in his career today.  The 27-year-old flourished in nearly 200 innings with the White Sox, and improves a Cardinals rotation that ranks seventh in the NL with a 3.84 ERA.  The acquisition gives the Cards the flexibility to move Kyle McClellan back to the bullpen, leaving a rotation of Chris Carpenter, Jaime Garcia, Jackson, Jake Westbrook, and Kyle Lohse.  Jackson, a Scott Boras client, figures to test free agency after the season as a Type B.  About $2.9MM remains on his contract.
The Cardinals' bullpen gets a lift from Dotel, Rzepczynski, and McClellan.  Dotel, 37, has a 3.68 ERA, 9.2 K/9, 3.7 BB/9, 1.53 HR/9, and 28.6% groundball rate on the season; he excels against right-handed batters.  Should the Cardinals turn down his $3.5MM club option, Dotel projects as a Type B free agent in the AL at the moment.  If the option is declined, about $1.7MM remains on Dotel's contract.
Rzepczynski, 25, switched to full-time relief this year.  He has a 2.97 ERA, 7.6 K/9, 3.4 BB/9, 0.46 HR/9, and strong 65.7% groundball rate in 39 1/3 innings this year.  He complements Dotel nicely, having dominated lefties and struggled against righties.  Rzepczynski is under team control through 2015.  Dotel and Rzepczynski do not appear to be a threat to closer Fernando Salas, writes Dan Mennella of CloserNews.
Patterson, 31, is hitting .252/.287/.379 in 341 plate appearances for the Blue Jays this year.  He restores a little bit of outfield depth for St. Louis.
Though there are eight players in this deal, it mostly boils down to the Cardinals renting Jackson and Dotel and getting Rzepczynski long-term in exchange for Rasmus' three arbitration years.  It's hard to see this as anything but a win for the Blue Jays.  Ultimately Rasmus cost the Jays Zach Stewart, Jason Frasor, Dotel, Rzepczynski, and Teahen's contract.
Photo courtesy of Icon SMI.