Bring your A game: DraftStreet is offering $2000 in cash prizes for an exclusive "beat the expert" MLBTR/DraftStreet league using Friday night's MLB games.  The entry fee is $11, but DraftStreet is raising the pressure on me (Tim Dierkes) by offering $10 back to anyone who beats my team, separate from the regular prize pool.
The beat the expert contest is for Friday night's games (the afternoon Cubs-White Sox game is not included), so you have until 6:00pm central time to create your team.  However, there are only 200 slots in this league, so sign up early.  
You're given a $100K salary cap, and each player is assigned a price by DraftStreet.  For Friday, Justin Verlander is considered the most valuable player since he starts against the Pirates, but he'll cost you over $20K.  Your roster will cover these positions: C, 1B, 2B, 3B, SS, 3 OF, 2 utility, 2 SP, 1 RP, 1 P and 2 Reserves (14 starters).  You get points based on how your team performs Friday.  For example, you'll get 0.75 points for each strikeout Verlander racks up and 1.5 points if he gets the win.  The teams with the most points get the prize money.  You can apply all kinds of strategy in building your roster, but since we're in direct competition this time I won't divulge my secrets.  Here's my roster in the beginning stages: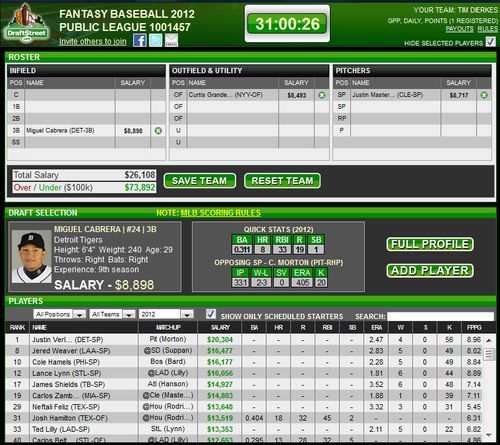 Be sure to sign up as soon as possible, before the 200 slots are all taken.  DraftStreet has raised the stakes by putting my fantasy baseball reputation on the line; are you up to the challenge?