There's been a lot of talk about the diminished trade value of prospective free agents under baseball's new collective bargaining agreement, and rightfully so. Teams can no longer obtain draft pick compensation for players acquired midseason. Naturally, that affects the trade value of players on the cusp of free agency like Zack Greinke, Cole Hamels and Carlos Quentin.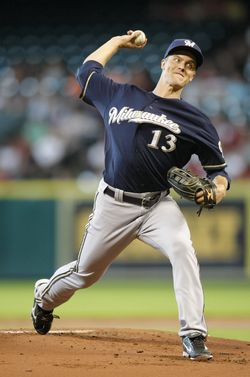 There's a second change to keep in mind as the trade deadline approaches, MLBTR has confirmed. Teams that keep their players now obtain one compensatory draft pick for losing a top free agent, whereas they previously obtained two selections. If a team loses a player who turned down a qualifying offer to sign elsewhere, the player's original team will obtain a single compensatory selection between the first and second rounds of the draft (the qualifying offers, which are based on the average salary of baseball's 125 best-paid players, are expected to be worth $12.5MM or so).
Meanwhile, the team that signs the free agent will lose a first round selection (though the top ten picks are protected). However, that lost first round pick no longer goes to the player's former team. Instead, the pick disappears and the first round becomes condensed.
For example, if the Brewers trade Greinke, his new team won't be eligible for draft pick compensation. If the Brewers hold onto Greinke and make him a qualifying offer after the season only to see him sign elsewhere, Milwaukee will obtain a selection between the first and second rounds of the 2013 draft. The team that signs Greinke would lose its first round selection, but that selection would no longer go to the Brewers under the sport's new rules.
Fewer players now bring in draft picks and those that do translate into one selection, rather than two. The changes will lead to to a drop in compensatory draft picks and an entirely new trade deadline dynamic.
Photo courtesy of US Presswire.