The Mariners locked up their franchise player with a record-setting contract and added a number of bats this winter.
Major League Signings
Joe Saunders, SP: one year, $7MM. $6.5MM Mutual option for 2014.
Kelly Shoppach, C: one year, $1.5MM.
Raul Ibanez, OF: one year, $2.75MM.
Oliver Perez, SP: one year, $1.5MM.
Jason Bay, OF: one year, $1MM.
Total Spend: $13.75MM.
Notable Minor League Signings
Trades and Claims
Extensions
Notable Losses
Needs Addressed
After finishing last in the league in scoring for three consecutive years, the Mariners focused on adding offense this offseason. The team started by moving in the fences at Safeco Field in an attempt to make the ballpark more hitter-friendly. Seattle GM Jack Zduriencik followed up by adding a number of established hitters through free agency and trades.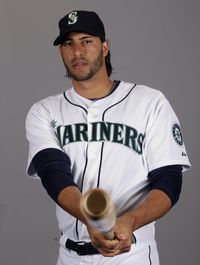 The middle of the Mariners' lineup will look much different in 2013. Michael Morse (pictured) has established himself as a productive MLB hitter since the Mariners traded him to Washington in 2009. He'll add welcome right-handed power to Eric Wedge's lineup, though he's a below average defender who's one year away from free agency. The Mariners sent lefty masher John Jaso to Oakland in the deal, only to sign righty masher Kelly Shoppach two weeks later. 
Earlier in the offseason, the Mariners dealt from an area of depth — the rotation — to complete a trade with a different division rival. They acquired Kendrys Morales from the Angels for Jason Vargas in a deal that should work for both clubs. The switch-hitting Morales bounced back nicely in 2012 and should provide power again in 2013. Like Vargas, he's a year away from free agency, so neither team surrendered a long-term piece.
After trading Vargas the Mariners had a void in their rotation, which they later filled by signing Joe Saunders to a one-year deal. Zduriencik's patience paid off, as he signed Saunders to a contract worth $6.5MM instead of overpaying early in the offseason. This deal gives the Mariners stability at the back of the rotation in 2013 without saddling them with a cumbersome long-term contract.
The Mariners also turned to free agency, expressing varying degrees of interest in Josh Hamilton, Nick Swisher and Michael Bourn. Ultimately the most prominent free agent position player they signed was former Mariner Raul Ibanez. The 40-year-old should continue to produce as long as Eric Wedge mimics Joe Girardi's strategy of limiting Ibanez's exposure to left-handed pitching.
Zduriencik remade his bench this offseason, with Shoppach, Ibanez, Robert Andino and Jason Bay. It's been a while since the 34-year-old Bay added value on offense, so it won't be surprising if the Mariners end up releasing him. Even so, the British Columbia native required just a $1MM commitment.
The Mariners acquired Andino, non-tendered him and re-signed him. Every team needs a utility infielder for its bench, and Andino won't be worse than Munenori Kawasaki. Still just 28, Andino posted a .327 on-base percentage in 511 plate appearances in 2011.
Seattle had considerable pitching depth entering the offseason, so the front office didn't need to spend aggressively on pitching. Newcomers Kameron Loe and Jon Garland joined the pitching staff on modest free agent contracts. 
Questions Remaining
The Mariners scored 619 runs in 2012, a dropoff of more than 100 runs compared to the average American League club (721). In other words they must improve considerably to measure up to their rivals. Morse, Morales, Ibanez and others will make a difference, but the group doesn't include an impact bat. There's potential for a breakout season from someone like Dustin Ackley or Jesus Montero, and the dimension changes could help. Still, the Mariners' offense remains a question mark until the lineup proves otherwise.
Determined to add offense, the Mariners acquired a number of players — Ibanez, Morse, Bay and Morales for example – who have questionable defensive skills. Incorporating a number of these players into the lineup at once will be a challenge for Wedge, especially with Michael Saunders in right field and Justin Smoak at first base.
Finally, many of the team's additions will hit free agency this coming offseason. The contracts for Joe Saunders, Morse, Morales, Ibanez, Bay and Shoppach expire after the season. Even if Zduriencik's plan works, this team will face another busy winter a year from now.
Deal of Note
The Mariners extended Felix Hernandez with a record-setting seven-year, $175MM extension last month. The deal establishes a new record guarantee for pitchers, so it's hard not to like it from the perspective of Hernandez and his representatives at Octagon. The Mariners were never going to get a substantial discount on an extension covering only free agent seasons. Record contract or not, the Mariners do well to keep one of the top pitchers in baseball in the organization. 
The contract includes a noteworthy eighth-year option. Once some concern emerged regarding Hernandez's elbow, the sides agreed to add a $1MM option that triggers if he sustains a specific elbow injury and misses substantial time. This provides the Mariners with a measure of protection against the possibility that Hernandez's elbow issues will linger.
Overview
The 2013 Mariners won't be mistaken for the 2012 version of the club. They should score more runs than in years past, and with multiple career years and good health they could win more games than they lose. Even so, the most realistic outcome for this club seems to be a fourth place finish in the AL West.
Photo courtesy of USA Today Sports Images.