7:26pm: Hernandez's contract will include an eighth season at $1MM if he sustains a specific elbow injury, sources tell Jon Paul Morosi (on Twitter) and Ken Rosenthal of FOX Sports.  Hernandez would need to miss 120-130 days within one season or consecutive seasons to trigger the clause (Twitter link).
5:24pm: Hernandez's deal includes a full no-trade clause, tweets Larry Stone of the Seattle Times.  The right-hander was set to obtain ten-and-five rights after the 2015 season, but this gives him trade protection in the interim.
4:11pm: Felix Hernandez has now officially signed the most lucrative contract any pitcher has ever obtained. The Mariners announced that they have signed the 26-year-old right-hander to a seven-year deal that represents the largest commitment in franchise history. It's a $175MM contract, according to Bob Nightengale of USA Today, who first reported the agreement. 
Alan Nero of Octagon represents Hernandez, whose deal required some modifications after an elbow issue surfaced late last week. The sides tore up the previous deal and the new one includes "minor concessions" related to the condition of Hernandez's elbow, according to ESPN.com's Buster Olney (on Twitter). 
"Felix is committed to this franchise, and to the city of Seattle, and is a key part of what we are building here," GM Jack Zduriencik said in a statement released by the team. "As we take necessary steps to reach the next level as a team, Felix will be a key component. We have had a plan since I arrived in Seattle: to build this organization to play at a championship level on a consistent basis. As I have said before, when we get to that level we will need, and want a pitcher, and a person, like Felix."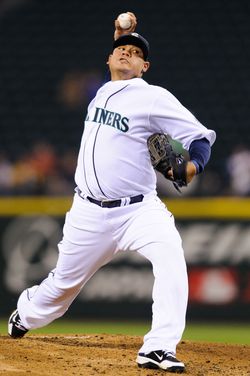 The new deal replaces the two remaining years on Hernandez's previous contract. That deal covered the 2013-14 seasons and called for salaries of $19.5MM in 2013 and $20MM in 2013. With the extension the Mariners extend their team control of Hernandez by five years through his age-33 season.
C.C. Sabathia established the previous record for pitchers when he signed a seven-year, $161MM contract following the 2009 season. Zack Greinke established a record for right-handed pitchers earlier this offseason, when he obtained a $147MM guarantee from the Dodgers. Hernandez's deal eclipses Greinke's deal in terms of total value and average annual value.
The seven-year, $175MM deal becomes the largest financial commitment of the offseason, surpassing Greinke's contract with the Dodgers and Josh Hamilton's deal with the Angels. The deal also represents the largest commitment in Mariners' history.
"I have always told anyone who asks me, Seattle is where I want to be," Hernandez said. "I love it here, and my family loves it here. 
Hernandez signed his previous contract, a five-year, $78MM deal, after the 2009 season. Weeks after Hernandez signed, Justin Verlander obtained a five-year, $80MM contract from the Tigers. It's conceivable that history could repeat itself and that Hernandez's contract could again establish parameters for a deal between the Tigers and their ace. Like Hernandez, Verlander is two years away from free agency. Clayton Kershaw, another Cy Young winner who's two years from the open market, could also look to Hernandez's contract as a potential point of reference.
Hernandez has solidified his place as one of the game's elite starters since debuting as a teenager in 2005. He won the Cy Young Award in 2010 and finished fourth in the 2012 balloting. Last year Hernandez posted a 3.06 ERA with 8.7 K/9 and 2.2 BB/9 over the course of 232 innings in a season highlighted by his August perfect game. 'King Felix' has pitched at least 230 innings in each of the last four seasons, a period for which he has an ERA of 2.81 and nearly as many strikeouts as innings pitched.
Edward Creech contributed to this post. ESPN's Buster Olney reported the elbow issue and Jon Heyman of CBSSports.com reported Hernandez would still obtain a $175MM deal (on Twitter). Photo courtesy of USA Today Sports Images.