THURSDAY: Jon Heyman of CBS Sports provides the contract breakdown (Twitter link): Freeman received a $2.875MM signing bonus. He will be paid $5.125MM in 2014, $8.5MM in 2015 and $12MM in 2016. His free agent years are valued at $20.5MM (2017), $21MM (2018-19) and $22MM (2020-21).
TUESDAY: Freddie Freeman has reached an extension with the Braves that not only gives him the franchise's highest-ever salary, but constitutes one of the biggest guarantees ever made to a player with less than four years of service time. The team announced the eight-year deal, which will reportedly guarantee the first baseman a stunning $135MM.
Freeman, like teammate Jason Heyward (who reached a two-year contract agreement earlier today), is represented by Excel Sports Management. His agents have secured him a larger guarantee than the five-year, $105MM promise made by the Brewers to Ryan Braun when he still had less than four years of service. It also bests the $120MM guarantee given by the Rangers last year to Elvis Andrus, when he had four years on his clock. The deal slots in beneath the eight-year, $159MM guarantee made by the Giants to Buster Posey (with less than three years of service) and the seven-year, $154MM deal given Adrian Gonzalez by the Red Sox back in 2011 (when he was a year away from free agency).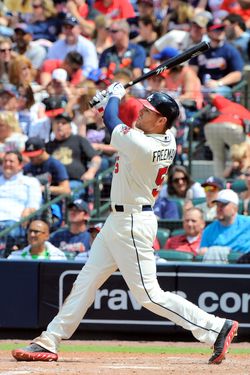 The 24-year-old Freeman is coming off a breakout season in which he finished fifth in the National League MVP voting and earned his first All-Star nod. Freeman slashed .319/.396/.501 with 23 homers for the NL East Division champs in 2013. But Freeman was somewhat less outstanding in his prior two seasons (the first of which was his rookie campaign at just 21 years of age). Posting a sturdy 1,255 plate appearances between 2011-12, Freeman slashed .271/.343/.452 and knocked 44 long balls. Though Freeman benefitted from a .371 BABIP last year, he also showed improvements in his strikeout and walk rates while carrying one of the league's best line drive rates. Clearly, the Braves expect Freeman to continue last year's output.
On the defensive side of the ledger, advanced metrics show mixed reviews but a clearly improving outlook. Freeman received his first positive UZR/150 rating this past year, and that metric sees clear and steady improvement across Freeman's early career. Meanwhile, Defensive Runs Saved reflects a similar upward trajectory and credits Feeman with saving a solid seven runs last year. Indeed, the Fielding Bible Awards voting tapped Freeman as the fourth-best fielding first bagger in the game.
For an idea of how this deal reflects on league-wide salary trends, consider Justin Morneau's January 25, 2008 extension with the Twins. With 3.168 years of service under his belt, and coming off of an MVP and then an All-Star campaign, the fellow first baseman was promised $80MM over six years. Though younger, Freeman signs his deal at a point at which he has shown a somewhat lower high-water mark and, arguably at least, a less-promising overall trajectory than that of Morneau. 
Indeed, as MLBTR's Steve Adams notes on Twitter, the Braves seem to have paid a hefty price for the five free agent years covered by the new contract. Even making the aggressive assumption that Freeman would earn $30MM over his arbitration period — quite unlikely, since he stood to make less than $6MM this year already — then the contract pays him a $21MM AAV for his free agent years. That implied free agency value, which is surely a low estimate, seems like a fairly steep price for a promise made three full seasons before Freeman would have hit the open market.
Freeman and the Braves faced a fairly wide gap after exchanging arbitration figures last month, as Freeman filed for a $5.75MM salary and the Braves countered at $4.5MM (MLBTR contributor Matt Swartz had projected a $4.9MM payday for Freeman).
Though the Braves are a "file and trial" team, GM Frank Wren reminded after Heyward's new contract that said policy is only in reference to one-year deals. That line of thinking is common among file and trial clubs, as they are unwilling to continue negotiating one-year pacts after exchanging figures but will typically remain amenable to extensions leading up to an arbitration hearing.
Freeman had previously been controllable through the 2016 season, but this new contract extends well beyond his initial six years of team control. Freeman will not be eligible for free agency until 2022, when he will be 32 years old. As such, it's a significant deal for the Braves, who typically don't make that type of commitment to players in advance of free agency.
The only player with fewer than five years of service time that has been extended to a deal of this length under general manager Frank Wren was Brian McCann, who inked a six-year, $26.8MM contract heading into the 2007 season when he had just 189 big league games (696 PAs) under his belt. McCann had less than two years of service time under his belt at that point, while Freeman is currently at three years, 33 days. Freeman's deal is the largest in franchise history for the Braves, eclipsing the six-year, $90MM pact inked by Chipper Jones prior to the 2001 season.
With Freeman and Heyward now having agreed to extensions, the Braves can turn their focus to closer Craig Kimbrel — their lone remaining arbitration case. Kimbrel filed for a $9MM salary to the Braves' $6.55MM offer, making his gap significantly more substantial than the gaps faced by Freeman or Heyward.
Jon Heyman of CBS Sports first reported the agreement on Twitter. Jon Paul Morosi and Ken Rosenthal of FOX Sports first reported that the two sides were nearing a multi-year deal (Twitter link). Morosi first reported that the deal was in the realm of eight years and nine figures (Twitter links). The Associated Press reported that the deal was for eight years and nine figures (via the New York Times). Peter Gammons of GammonsDaily.com reported that the deal would pay Freeman $135MM (via Twitter).
Photo courtesy of USA Today Sports Images.