MONDAY: Maholm's contract enables the longtime starter (he has just one career MLB relief appearance) to earn his potential $5MM in incentives whether pitching from the rotation or the pen, MLB.com's Ken Gurnick reports. Dodgers manager Don Mattingly has indicated that Maholm may not make the rotation to start the year if Josh Beckett proves ready and able to take the fifth slot. 
The incentive clause sets out an interesting point system. Maholm will earn two points for each game started, 1.5 points for a relief appearance of two or more innings, and one point for an appearance of less than two innings. The full $5MM is earned upon reaching 60 total points. While the complete alignment of points and cash along the rest of the scale remains unreported, Gurnick adds that Maholm's 26-start tally from a year ago (52 points) would land him $3.5MM under his new deal.
SATURDAY: Though they didn't land Masahiro Tanaka, the Dodgers did add some depth to their rotation on Saturday, as they announced the signing of lefty Paul Maholm to a one-year deal. Maholm, a client of agent Bo McKinnis, reportedly receives a $1.5MM base salary and can earn up to $6.5MM via incentives.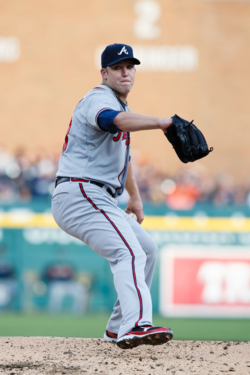 The framework for an agreement appeared to be in place this morning, when Hernandez reported that the starter had a locker prepared and was present in the Dodgers clubhouse, apparently to take a physical. However, confirmation wasn't available until now.
Maholm's eventual contract comes in significantly smaller than the one-year, $7MM deal that he was predicted to receive by MLBTR's Tim Dierkes. While Maholm wasn't in the top tier of this winter's free agent starters, it comes as a surprise that the Dodgers were able to sign him for just a $1.5MM guarantee in an offseason in which Jason Vargas, a fellow 31-year-old lefty, received a four-year, $32MM contract. Vargas has the better track record of durability and has spent most of his career in the AL, so he likely has the edge. However, they've posted strikingly similar results for their careers: Maholm checks in with a lifetime ERA of 4.28, while Vargas' mark is 4.30. Maholm has struck out 5.8 batters per nine innings and walked 2.9 per nine for his career, compared with Vargas' rates of 5.9 K/9 and 2.8 BB/9. In addition, Maholm was good for 153 innings in 2013, while Vargas managed 150 frames.
In effect, the Dodgers have swapped in Maholm for Chris Capuano, with whom they cut ties early this offseason via a $1MM buyout. Capuano is one of the few back-end types still available now that Maholm is off the market. Among top-tier pitchers, of course, both Ervin Santana and Ubaldo Jimenez remain on the board.
Maholm figures to give the Dodgers an option for the fifth slot in their rotation behind Clayton Kershaw, Zack Greinke, Hyun-jin Ryu and Dan Haren. Josh Beckett will also be in the mix for that spot, though he's had health issues for the past two seasons. Chad Billingsley could challenge for that slot as well, but he won't be healthy until the summer as he rehabs from 2013 Tommy John surgery. Maholm is open to the idea of pitching out of the bullpen in the event that Beckett is healthy, manager Don Mattingly told reporters (via Gurnick on Twitter).
Dylan Hernandez of the Los Angeles Times first reported the signing, and Jim Bowden of ESPN was the first to tweet the $1.5MM base salary. Ken Gurnick of MLB.com was the first to report that the deal contained incentives (via Twitter), and Hernandez added (also on Twitter) that Maholm's salary could top out at $6.5MM.
Steve Adams contributed to this post. Photo courtesy of USA Today Sports Images.