April seems like ages ago.  Braves lefty Paul Maholm was unscored upon in his first three starts that month to kick off the season, at which point I noted that a 3.90 ERA moving forward would put him at 3.50 overall, and position him for a three-year deal even after declining a qualifying offer.  Maholm, however, posted a 5.16 ERA over his next 22 starts, suppressing optimism for his first big free agent payday.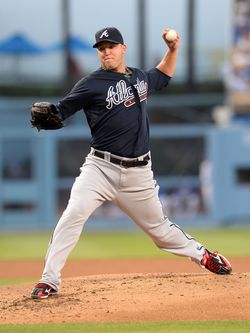 Strengths/Pros
At times, Maholm has shown the ability to rack up around 190 innings with an ERA under 4.00.  That has real value, and aside from handedness, Maholm's profile isn't drastically different from that of Scott Feldman.  And if certain teams are focused on southpaw starters this winter, Maholm is right near the top of the free agent list.  
One of Maholm's greatest attributes is his ability to generate groundballs.  His 51.8% groundball rate this year ranks sixth among free agent starters with at least 100 innings.  On a related note, the lefty has been respectable at keeping the ball in the yard, with a 0.81 HR/9 since 2008 and nothing higher than this year's 0.99 in that span.
Maholm has been very good against left-handed hitters, holding them to a .219/.287/.317 line in his career.  His peripherals against them are sparkling: 8.2 K/9, 2.3 BB/9, 0.51 HR/9, and a 3.21 xFIP.
A qualifying offer from the Braves is not expected, so Maholm should not come with draft pick compensation attached.
Weaknesses/Cons
Maholm is a pitch-to-contact type, with a career strikeout rate of 5.7 per nine innings.  He's allowed ten hits or more per nine innings in numerous seasons, including this one.  SIERA suggests an ERA in the low to mid-4.00s is a reasonable expectation.  Perhaps due to the vagaries of batting average on balls in play, Maholm has three seasons with an ERA under 4.00 and two with an ERA over 5.00, out of eight total.  Putting a good defense behind him is key.
Upside is limited with Maholm.  If all goes well, you'll get 190 innings with an ERA a touch under 4.00, but there is some downside on the other end.  Maholm's ERA is up to 4.44 at the moment, but perhaps some of his July struggles can be attributed to trying to pitch through a seemingly minor injury.
Can Maholm be considered an innings guy?  He'll finish with around 152 this year, and had an abbreviated contract year in 2011 as well with 162 1/3.  Other times, Maholm has reached the 180-200 range expected of a starter signed to eat innings, including 189 in 2012.  This year, a left wrist injury suffered on a swing cost him a month, and he also missed one start in September with elbow soreness.  The elbow MRI showed no structural damage, but agent Bo McKinnis will still have to explain that to interested parties this winter.  Back in '11, Maholm's season ended on August 17th due to a shoulder strain, limiting free agent interest.  This year's injuries have been more minor, plus Maholm has the opportunity to finish the regular season on a healthy note on Wednesday against the Brewers.
Personal
Maholm lives with his wife Jessica and son Wyatt in Hattiesburg, Mississippi during the offseason, according to the Braves media guide, and he grew up a Braves fan.  Paul was in the prestigious PGA Golf Management Program at Mississippi State University, the only major that requires a certain golf handicap.
Market
Perhaps Maholm will first explore the idea of remaining with the Braves, who also have Tim Hudson eligible for free agency.  The Braves have the pitchers to fill out a young rotation without either veteran, but with uncertainty around Brandon Beachy's elbow, it would be wise to sign at least one veteran hurler.  Given Hudson's tenure with the Braves, it seems likely they would address his situation first.  The two contracts Maholm has signed have been with Midwest teams, the Pirates and Cubs,  so perhaps he'll turn to the NL Central again if the Braves don't work out.
Expected Contract
After the 2011 season, I considered Maholm the ninth-best free agent starter, and expected him to land a multiyear deal despite his season ending early due to a shoulder strain.  His first free agent experience lasted until January 10th, however, and he received just a one-year, $4.75MM guarantee from the Cubs, with a club option.  A club option is never ideal for the player, and the Braves picked up Maholm's for 2013 after he finished one of his finest seasons.  Even though the 2011 shoulder injury didn't linger for Maholm beyond that season, finishing on the DL really hurts a pitcher's market, and he won't have to deal with that this time.  
While I once thought Maholm was a good bet for three guaranteed years, that seems unlikely now.  As I've mentioned before, the bar for a two-year contract for a starting pitcher is pretty low, with recent examples like Brandon McCarthy, Joe Blanton, Carlos Villanueva, and Kevin Correia.  MLBTR's Steve Adams has pointed out the importance of timing, as the two-year offers tend to dry up come January.  Last offseason, Joe Saunders, Shaun Marcum, and Brett Myers were left standing without a multiyear chair, as Maholm was two winters ago.  Though the top end of the free agent market for starters is weak this offseason, there are plenty of hurlers in Maholm's class, such as Feldman, Jason Vargas, Roberto Hernandez, Phil Hughes, Chris Capuano, Jason Hammel, and Saunders.
While Maholm could reach as high as two years and $14MM, ultimately I think the southpaw will sign a one-year, $7MM deal.
Photo courtesy of USA Today Sports Images.