If any doubt remained about the Reds' intentions for the 2012 season, it has now disappeared — they're going for it. GM Walt Jocketty continued adding to his new-look pitching staff by officially agreeing to terms with Ryan Madson on a one-year, $8.5MM deal. Scott Boras represents the right-hander, who will become the closer in Cincinnati's bullpen.
The contract includes incentives and a 2013 mutual option. Madson will earn $6MM in 2012 and the deal includes an $11MM option with a $2.5MM buyout for 2013.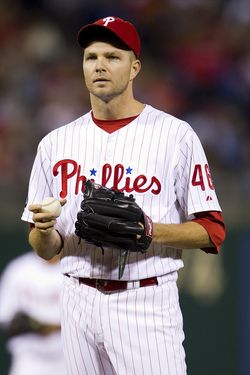 Madson posted a 2.37 ERA with 9.2 K/9, 2.4 BB/9 and a 48.8% ground ball rate in 60 2/3 innings for the Phillies in 2011. The 31-year-old saved 32 games in his first full season as a closer. 
The Reds don't have to surrender a draft pick to sign Madson, but the Phillies will obtain two picks this June because they offered arbitration after the season. One selection will come before the Reds' second round pick and the other will come in the supplementary first round.
Madson could cash in next offseason if he repeats his 2011 performance in Cincinnati. He appeared to be close to signing a $44MM contract with the Phillies early in the offseason, but talks fell through and Jonathan Papelbon signed in Philadelphia, leaving Madson in a market that has slowed down for relievers.
Francisco Cordero had been talking with the Reds throughout the offseason, but it seems unlikely that he'll return to Cincinnati at this point.
Right-handers Nick Masset, Logan Ondrusek, Jose Arredondo, Sam LeCure and Andrew Brackman figure to join Madson in the Reds' bullpen mix in 2012. The Reds also have an impressive trio of left-handers: Sean Marshall, Bill Bray and Aroldis Chapman. 
Jocketty has now addressed most of his offseason needs. He can consider an extension for Brandon Phillips and resolving arbitration cases for Masset and Arredondo.
Earlier in the month 17.7% of 13,700 MLBTR readers said they expect Madson to sign with the Reds. He ranked 14th on MLBTR's list of top free agents entering the offseason.
Jon Heyman of CBSSports.com first reported the move. ESPN's Jerry Crasnick added the financial terms and John Fay of the Cincinnati Enquirer, MLB.com's Mark Sheldon and ESPN's Jayson Stark added detail. Photo courtesy Icon SMI.