It has been almost three full years since the Nationals and Athletics swung a noteworthy trade that has already made a big impact and could continue to have a sizable effect in the coming seasons. Leading up to the July 2017 trade deadline, the Nationals acquired relievers Sean Doolittle and Ryan Madson in exchange for fellow reliever Blake Treinen and a pair of prospects in left-hander Jesus Luzardo and third baseman Sheldon Neuse.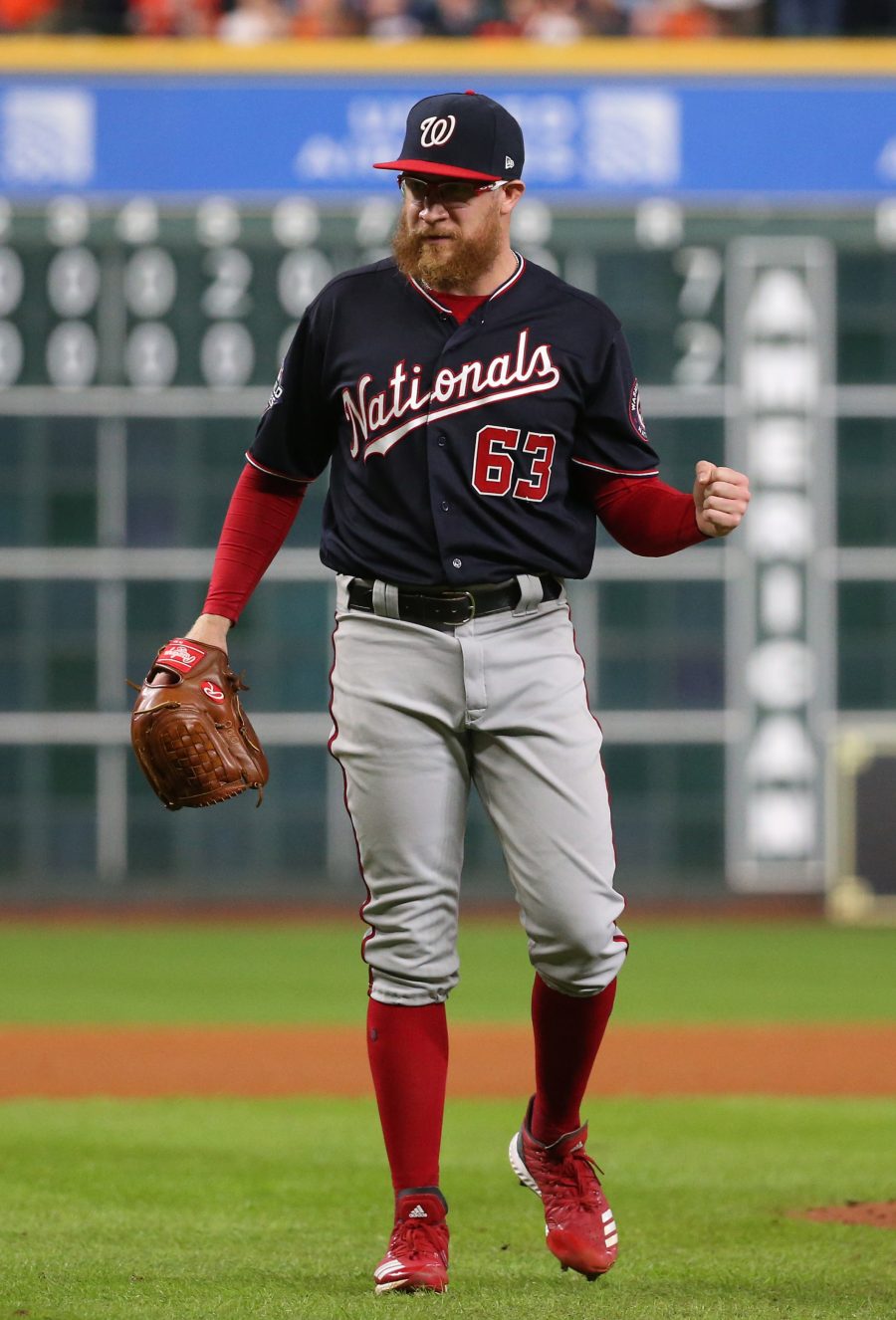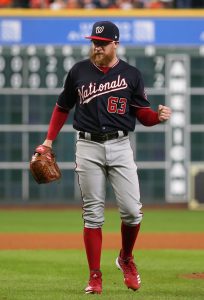 It was a bold strike for the Nationals, then way ahead of their competition in the NL East but aiming to patch up a poor bullpen. Doolittle and Madson did indeed continue to put up stellar numbers after the trade, helping the Nationals to a division title. The Nats then bowed out of the playoffs in the NLDS with a five-game defeat at the hands of the Cubs, though Doolittle and Madson were effective in that series.
Unfortunately for Washington, the 2017 campaign was the last good one of Madson's career. He pitched to a 5.28 ERA over 44 1/3 innings in their uniform in 2018 – a non-playoff effort for the team. With the Nationals mired in mediocrity in late August of that year, they traded him to the Dodgers for righty Andrew Istler. Madson's struggles continued in LA, and he hasn't pitched since.
Doolittle, on the other hand, remains a valuable member of Washington's roster. The southpaw has logged a stingy 2.87 ERA with 10.47 K/9, 1.93 BB/9 and 75 saves in 83 chances across 135 innings in a Nationals uniform. The 33-year-old's regular-season output in 2019 was somewhat underwhelming, but he made up for it by serving as an instrumental piece in helping the franchise to its first-ever World Series title in the fall. Doolittle combined for 10 1/3 frames of two-run ball in series wins over the Dodgers, Cardinals and Astros. He'll be a National for at least one more season (if there is one), as they picked up his $6.5MM club option after last year.
Flags fly forever, so in light of Doolittle's contributions, the Nationals would probably make this trade again. The same goes for the Athletics. Sure, Madson and Doolittle impressed when they were part of the club, but the A's have benefited quite a bit from selling high on those two. The A's weren't in contention when the trade went down, and nor did they make the playoffs that year, but Treinen helped key a postseason return in 2018 with one of the greatest campaigns a reliever has ever put forth. He recorded a ridiculous 0.78 ERA with 38 saves, thereby aiding in a 97-win season for the A's. They posted the same record en route to another postseason berth last year, though Treinen's production fell off a cliff, and he lost his job as their closer as a result. He's now a member of the Dodgers after the A's non-tendered him over the winter.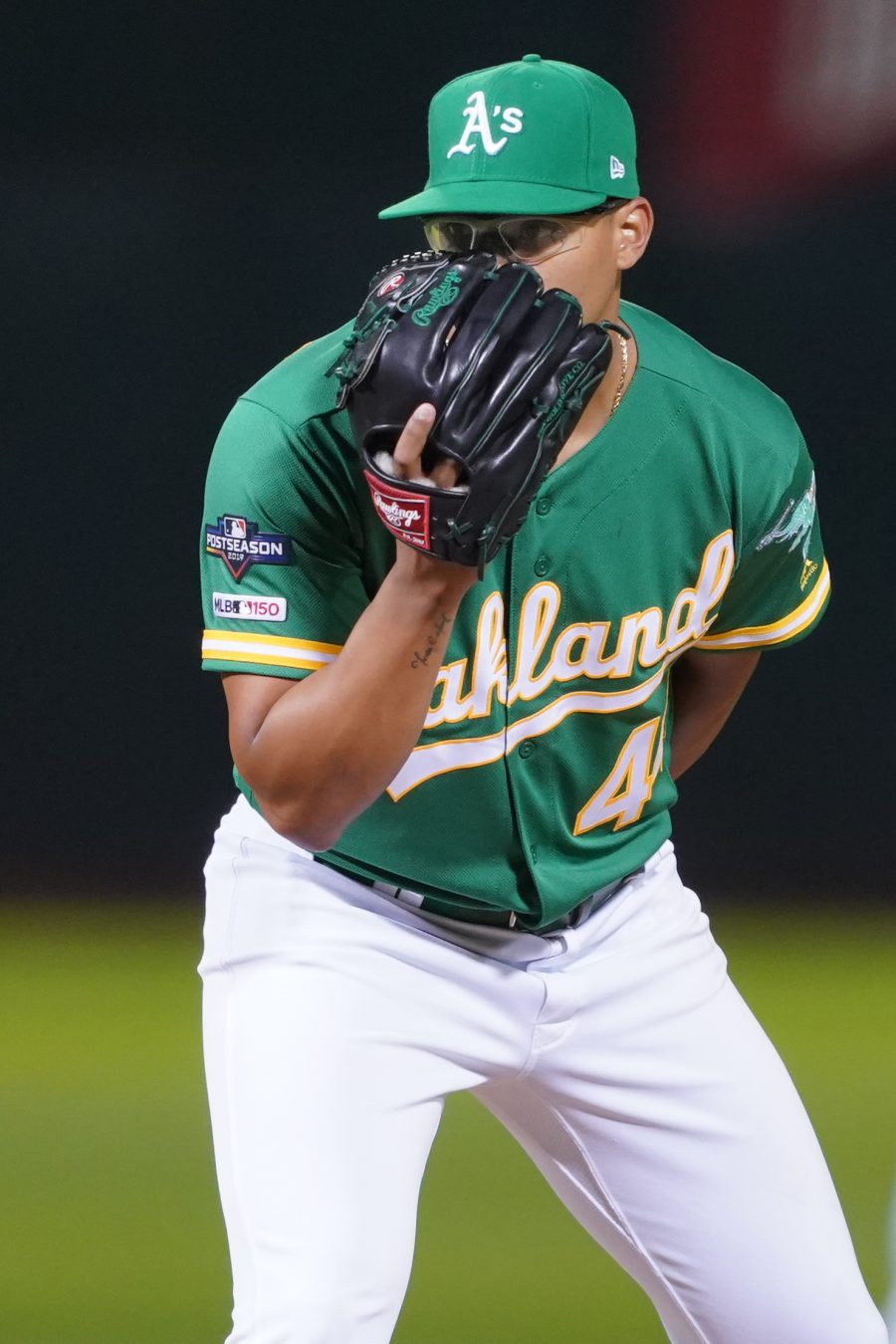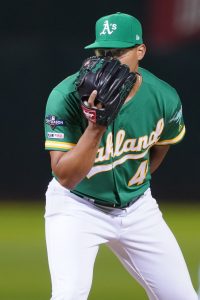 While Treinen's success in Oakland was fleeting, the team could profit from Luzardo's presence for a long time. Nineteen years old when the trade occurred, Luzardo entered 2017 as Baseball America's 15th-best Nationals prospect. He's now one of the premier prospects in all of baseball (BA ranks him ninth) and someone with front-of-the-rotation upside. For Luzardo to realize that potential, though, he'll have to stay healthy.
Luzardo's a former Tommy John surgery patient who missed most of last season with rotator cuff and lat troubles, but the results were scintillating when he was able to pitch. He made his major league debut late in the year out of the A's bullpen and proceeded to fire 12 innings of two-run ball with 16 strikeouts, three walks and just five hits given up. The A's will obviously hope for that dominance to carry over when he joins their rotation.
Neuse, 25, is not an elite farmhand, but there's still hope for him to amount to something in the bigs. He had difficulty over his first 61 MLB plate appearances last year, though he was terrific in Triple-A ball, where he batted .317/.389/.550 (126 wRC+) with 27 home runs in 560 PA. MLB.com is bullish on Neuse, rating him sixth in the A's system and writing that he "could be a big league regular in another organization, but for now looks like a very solid super-utility type whose bat will force its way into the lineup more often than not."
Assessing this trade now, it looks like a win-win. The Nationals would love to have Luzardo vying for a spot in their already stacked rotation, and they probably wouldn't mind having Neuse around to push for playing time. But you can't take away the championship Doolittle helped them win. On the other side, the A's received an unforgettable season from Treinen and could have one or two long-term contributors in Luzardo and Neuse.
Photos courtesy of USA Today Sports Images.