The Tigers will look for corner outfield help and consider signing a starter.
Guaranteed Contracts
Arbitration Eligible Players (estimated salaries)
Free Agents
The Tigers, American League champions in 2012, don't need to change the complexion of their roster this offseason. They'll pursue pitching and consider corner outfielders in the coming months.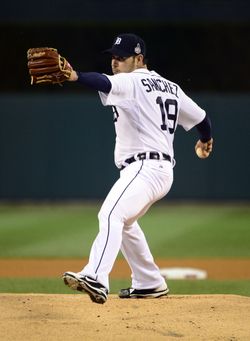 The team began its offseason by re-signing manager Jim Leyland, a decision that makes sense after consecutive division titles and a World Series appearance. However, it didn't take long for the Tigers to announce that there won't be room for Jose Valverde and Delmon Young on next year's team.
Tigers president and GM Dave Dombrowski will focus on starting pitching and corner outfielders this offseason in an attempt to capture a championship for the first time since 1984. Torii Hunter has emerged as a strong possibility for the Tigers, and he'd be an excellent fit as long as they're not paying him to replicate his 2012 numbers. That won't happen, since his .389 BABIP isn't sustainable, but he can still add value on offense and defense. A two-year deal in the $16-20MM range might work for both sides.
If Hunter doesn't sign with the Tigers, free agents such as Melky Cabrera, Cody Ross and even Nick Swisher could appeal to Detroit's top executives. Swisher has more leverage than the others and might be prohibitively expensive for the Tigers given their other long-term commitments and offseason needs.
Like Swisher, Josh Hamilton appears to be too expensive for the Tigers. Hamilton would make the Tigers' lineup look scary, but he'll cost $100MM-plus. Owner Mike Ilitch has spent on elite free agents as recently as January, so the possibility of a deal with Hamilton lurks. Still, it'd require another aggressive move from ownership at a time that the free agent market offers many capable alternatives.
Andy Dirks emerged as a capable hitter this past season, and Quintin Berry played quite well at times, so the Tigers do have enough internal options to fill one corner outfield spot. However, Brennan Boesch must be considered a non-tender candidate following a disappointing campaign.
Other than outfield depth, starting pitching appears to be the Tigers' most prominent offseason need. Anibal Sanchez hits free agency as MLBTR's number four free agent following a strong season with the Marlins and Tigers. Ideally the Tigers would be able to retain him and keep their deep rotation together. Though he'll require a multiyear commitment, he's just 28 years old. Alternatively, the Tigers could pursue veteran free agent starters such as Dan Haren and Ryan Dempster.
Assuming the Tigers add a starting pitcher, they'll have the flexibility to consider starting Drew Smyly in the minor leagues or trading Rick Porcello — the Rockies and Blue Jays might have interest in the 23-year-old ground baller. This kind of depth wouldn't be a problem, since injuries inevitably surface and starting pitching will be in demand on the trade market. 
The Tigers have suggested they'll let Jose Valverde go without spending big on a replacement closer. This line of thinking makes sense, as a long-term deal for someone like Rafael Soriano would expose the team to lots of risk. Perhaps the Tigers will express interest in an injured reliever such as Ryan Madson or Joakim Soria. It'd be one way of bolstering a bullpen that seemed vulnerable at times this past season. They could also use a second reliable left-handed reliever to go along with Phil Coke.
Exercising Octavio Dotel's option made sense since the reliever continues to dominate right-handed batters. The Tigers also elected to bring Jhonny Peralta back for another season. While Peralta has his shortcomings, he's an affordable option for one year and the free agent market doesn't offer much at shortstop. It's possible the Tigers will acquire another shortstop and flip Peralta, not that such a scenario seems likely for now.
It'd also make sense for the Tigers to find a right-handed hitting backup catcher. It sounds as though Gerald Laird will sign elsewhere and the Tigers will consider options such as Kelly Shoppach and Miguel Olivo. Both Shoppach and Olivo have long histories of hitting left-handers and could be available on short-term contracts for $1-2MM.
The Tigers' class of arbitration eligible players includes three fifths of the team's rotation, two up the middle position players and one of the team's top relievers. It's possible the Tigers will talk to players such as Scherzer, Fister, Jackson and Avila about extensions. Even Justin Verlander could be viewed as an extension candidate. Two years remain on his contract, so free agency isn't so far away anymore. Any extension would have to be commensurate with Verlander's status as the game's top pitcher, so the TIgers could be inclined to wait if Ilitch prefers not to commit to another nine-figure contract. It's hard to imagine Verlander's leverage could get any higher.
Detroit's arbitration class also includes two non-tender candidates in Ryan Raburn and Brennan Boesch. Both showed promise on offense early in their careers but could be cut loose since their projected salaries surpass $2MM.
If the Tigers add a starting pitcher and obtain a corner outfield depth, they'll project as a playoff team again. Maybe this time it'll result in a World Series title.
Photo courtesy of US Presswire.