Now that Josh Hamilton has signed, Michael Bourn is the top free agent position player available. But the market for Bourn still doesn't seem clear. The Braves, Nationals, Phillies, Giants, Reds and Athletics have all added center fielders this offseason, which will limit Bourn's list of potential suitors. That said, Bourn should still generate interest, as many teams continue looking for outfield help. 
Here's speculative look at some potential suitors for the 29-year-old Scott Boras client. I'm focusing on teams with openings or potential openings in center field, since Bourn generates much of his value on defense.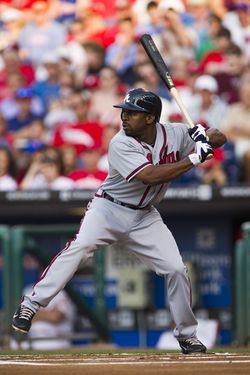 Rangers – The Rangers watched as potential targets such as Hamilton, Zack Greinke, Anibal Sanchez, James Shields and R.A. Dickey joined other teams. Signing Bourn would give them an elite defender to place between Nelson Cruz and David Murphy. If I'm Boras, I'm working to sell the Rangers on Bourn.
Mariners – The Mariners seem to be in on just about every available bat as their search for offense continues. They appear to like Bourn, though he might have been a better fit before they decided to move the fences in at Safeco Field.
Indians – For now the Indians appear to be targeting Nick Swisher, but if that pursuit falls through, I wonder if Bourn could be a fit. While Cleveland hasn't traditionally spent aggressively on free agents, the team's willingness to bid on Swisher and Shane Victorino suggests ownership has approved one major signing. The Indians will presumably add an outfielder now that they have traded Shin-Soo Choo.
Cubs – The Cubs have had conversations with Boras about Bourn, and based on the team's pursuit of Sanchez, it appears that Theo Epstein and Jed Hoyer are prepared to spend on free agents under the right circumstances. It's not clear if Chicago's interest amounts to more than due diligence, however.
Braves – The Braves could use another outfielder, but they have a center fielder in B.J. Upton and they figure to prioritize right-handed hitters. This doesn't seem like a fit.
Phillies – Like the Braves, the Phillies could use another outfielder. However, after adding Ben Revere in a trade with the Twins, GM Ruben Amaro Jr. doesn't need to act out of desperation. If Bourn's price drops enough, the Phillies could sign him and move Revere back to a corner outfield spot.
Yankees – Some believe the Yankees are quietly interested in Bourn, Nick Cafardo of the Boston Globe reported this past weekend. He's not an ideal financial fit since the Yankees are trying to avoid the luxury tax by 2014. Plus, like outfielders Curtis Granderson, Brett Gardner and Ichiro Suzuki, Bourn bats from the left side.
Red Sox – The Red Sox appeared to have interest in Bourn earlier in the offseason. Now that they've added Victorino and Jonny Gomes, Bourn no longer seems like an obvious fit. If the Red Sox change plans and decide to trade Jacoby Ellsbury, they could have renewed interest.
Dodgers – The Dodgers could pursue Bourn if they trade Andre Ethier, Ken Rosenthal of FOX Sports suggested this morning. However, the team doesn't seem overly eager to deal Ethier.
White Sox – The White Sox have discussed deals involving center fielder Alejandro De Aza and would like to add a left-handed bat. Know of any left-handed hitting outfielders who could replace De Aza in Chicago's outfield? Sounds like Bourn to me, so it'd make sense for Boras to be sure GM Rick Hahn has access to lots of Bourn-related viewing and reading material. Still, this is just speculation on my part. This idea seems like a longshot at best.
Mystery team – Never rule out a mystery team when it comes to a player of Bourn's caliber. 
For Bourn to maximize his value in this market, it'd be helpful if the Yankees or Dodgers got seriously involved in the bidding. Add in teams such as the Mariners, Phillies and Rangers and it's clear that there are enough potential suitors remaining for Bourn to obtain a lucrative multiyear deal. However, if enough of these teams determine that they'd prefer to rely on internal options or explore trades for players such as Dexter Fowler, the market for Bourn would look less promising.
Photo courtesy of USA Today Sports Images.