As Rangers GM Jon Daniels explained, the club has officially agreed to "an unusual deal" with 24-year-old shortstop Elvis Andrus. The deal is nominally an eight-year, $120MM extension, bringing the team's total commitment to Andrus to $131.275MM over the next ten seasons. But that is far from the entire story.
Andrus's previous three-year, $14.4MM contract expires after 2014. His new deal provides that he will receive $15MM for the following six years (2015-2020) and $14MM for the final two seasons (2021-22). Andrus also received a $2MM signing bonus. 
However, the contract also includes two opt-out clauses that give Andrus the right to become a free agent after either the 2018 or the 2019 season. If Andrus opts out at the first possible chance, as the club anticipates, then the deal will effectively revert to a four-year, $62MM extension. 
In effect, then, the Rangers have ensured control over Andrus for the next six years. The Rangers now have an enviable surplus of middle infield talent locked up with Andrus, Jurickson Profar and Ian Kinsler all under team control through at least the 2018 season. (The Rangers have a team option over Kinsler for 2018, and Profar would not be eligible for free agency until 2019 at the earliest.) The Rangers could move Kinsler to first base or outfield next season, or look to trade him this offseason. Of course, the club could also consider dealing Profar for prime talent in the outfield or rotation.
While Texas has obtained security and flexibility up the middle, the opt-out clauses also add risk, as Andrus gets two chances at a walk year. In essence, if Texas has six years of control over Andrus, then the player has control over the final four seasons. Should Andrus suffer injury or see his abilities slip, he could decide not to opt out and leave the Rangers on the hook for an additional $58MM over 2019-2022. 
There is one other (perhaps unlikely) major scenario that the contract contemplates. If Andrus chooses not to opt out but remains an effective everyday player, the deal could expand by another year and another $15MM. Here's how: Should Andrus stay in Texas and make either 550 plate appearances in 2022, or 1,100 appearances combined in 2021-22, then a $15MM team option vests for 2023. But, if Andrus reaches those PA targets and instead plays out the contract with another club (presumably as a result of a trade or waiver claim), then a $15MM player option vests for 2023. 
The possibility of a 2023 player option vesting is one potential deterrent to a future trade involving Andrus. The extension also provides Andrus with direct protection through a ten-team, partial no-trade clause that kicks in for 2016. Also, if Andrus is traded, he receives full no-trade protection (against his new team) over any subsequent deals for the duration of the contract.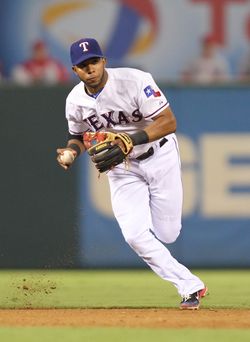 As MLBTR's Extension Tracker shows, Andrus' contract is unprecedented for a player of his type. His $120MM guarantee in new money is $1MM more than the $119MM that was guaranteed to Troy Tulowitzki following his last contract extension, but Andrus' bat isn't nearly as potent. While Tulowitzki's overall contract is still larger (he signed that extension midway through a six-year, $31MM contract), Scott Boras has managed to secure the largest extension ever for a shortstop in terms of new money. Indeed, despite being years away from the open market, Andrus bested the $106MM guarantee achieved by Jose Reyes in free agency last offseason. 
Andrus has a career .274/.342/.352 batting line and just 14 homers in 2595 plate appearances, but the Rangers are clearly paying him based on his elite defense and baserunning. Ultimate Zone Rating pegs Andrus as having saved 29 runs with his defense from 2009-12, while The Fielding Bible has him at 23. Fangraphs ranks his baserunning ability second only to Michael Bourn over that same four-year stretch.
Boras typically encourages his clients to test free agency, but the Andrus deal marks the second time in the past three weeks that a Boras client has signed a long-term extension before hitting the open market. Carlos Gomez recently signed a three-year $24MM contract Brewers despite already being controlled through the 2013 season. Perhaps frustration over free agents Kyle Lohse and, to a lesser extent, Michael Bourn this offseason have prompted a change in Boras' philosophy.
Andrus was the subject of trade rumors all offseason as a result of Profar's presence in the minor leagues and the Rangers' heavy interest in Justin Upton. General manager Jon Daniels maintained all along, however, that he refused to include Andrus in a deal. The new contract serves as an exclamation point on Texas' faith that Andrus will continue to be an elite defender whose offensive game will grow.
This is the second extension of the calendar year for the Rangers, who inked Opening Day starter Matt Harrison to a five-year, $55MM deal in January.
Ken Rosenthal of FOX Sports first reported that the two sides were nearing an agreement. Jon Heyman of CBS Sports was the first to report an agreement had been reached. MLB.com's T.R. Sullivan added details surrounding the opt-out clause and option year. Ken Rosenthal of FOX Sports reported that the deal would include two out clauses (Twitter link). Anthony Andro of FOX Sports Southwest tweeted Andrus's signing bonus and annual salary, and reported on the official press conference. 
Photo courtesy of USA Today Sports Images.
Jeff Todd contributed to this post.