The Brewers have a 21-34 record, and they play in a division with three teams playing .614 ball or better.  Milwaukee is highly unlikely to make the playoffs this year.  Their farm system is in the bottom third to put it kindly and the team lacks a first-round pick this Thursday, so it would seem they have a great opportunity to add prospects this summer.  The problem: the team is lacking for strong trade candidates.  Rickie Weeks has been terrible.  Kyle Lohse has been OK, though teams don't typically trade players a few months into a three-year contract.  Corey Hart is a free agent after the season, but he still hasn't made his season debut.  Aramis Ramirez is a quality bat, though he's essentially owed $20MM next year.  Ryan Braun and Carlos Gomez aren't going anywhere.  But what about Yovani Gallardo?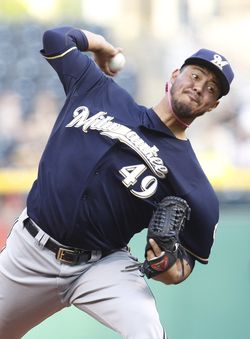 When the Brewers signed Gallardo to a five-year, $30.1MM deal in April 2010, it was a commitment to build their rotation around him.  He was 24 years old with minimal mileage on his arm, an average fastball velocity topping 92 miles per hour, and a strikeout rate of nearly ten per nine innings.  He was a reliable producer in the three seasons that followed, even if walks and home runs kept him a bit short of an ace.
2013 has been a rough year, however.  Gallardo was arrested for DUI in April, with a blood-alcohol level of 0.22.  Things haven't been great on the field, either.  His strikeout rate of 7.45 per nine innings is a career low.  His home run rate is also a career worst, and he's allowed a whopping ten hits per nine.  Those last two factors are likely to be better moving forward, but it is troublesome to see his average fastball velocity down to 90.5 miles per hour.
The velocity might be partially an early-season thing – Gallardo averaged 91.93 miles per hour on Friday, according to BrooksBaseball.net, compared to 92.89 one year prior.  Despite Gallardo's 5.05 ERA, his skills suggest a 4.10 ERA moving forward.  Still, this is a player who has never posted an ERA above 3.84 in his big league career.  His lower walk rate in 2011 seems like a fluke, it's hard to say whether the strikeout rate will fully return, and he's always been homer-prone.
At the trade deadline, Gallardo will have about $2.58MM remaining in 2013 salary.  He's owed a reasonable $11.25MM for 2014, and then his club can choose a $13MM club option or $600K buyout for '15.  He can block deals to ten teams.  On May 18th Ken Rosenthal of FOX Sports said the Brewers were "really reluctant to trade Gallardo," but Rosenthal seems to have softened his stance on Saturday in calling the pitcher an "intriguing name."  I imagine a rocky start to the season won't be enough to torpedo Gallardo's trade value.
The case against moving Gallardo: the Brewers have Braun, Gomez, and Jean Segura for about $17.5MM total next year, far below their value.  Even if we disregard everyone else on the roster, that's a lot of star-level, affordable talent to waste amid a full-blown rebuild.  I don't think the Brewers will punt on 2014, which means they need Gallardo or at least a suitable replacement.
That might be the key.  Gallardo's $11.25MM salary next year is steep for a team with a payroll under $100MM, and the Brewers could look to acquire a big league-ready pitcher earning the league minimum, plus other pieces.  It would be best to target a pitcher who hasn't had much big league success to date, but could learn on the job for the last few months of 2013 and take a step forward in '14.  Some potential examples, in my opinion, could be Nate Karns of the Nationals, Jesse Biddle of the Phillies, Allen Webster of the Red Sox, Zach Lee of the Dodgers, and Kyle Gibson of the Twins.  Perhaps some or even all of those specific names are off-limits, but it's the type of pitcher I'd expect Brewers GM Doug Melvin to pursue if he entertains offers on Gallardo in the coming months.  Melvin could add further value by including one of his veteran relievers in a deal.  A trade within the NL Central would be tough, but otherwise, nearly any other contender could show interest, as you can never have enough pitching and Gallardo is more than a rental.  
Photo courtesy of USA Today Sports Images.