Following a wave of multi-year club options attached to deals, players and their agents have begun to request and receive player options in recent years as well. David Price, Johnny Cueto, and Jason Heyward have each received them this winter, meaning that quantification of such deals is essential for careful team building. (Editor's note: this article was written before the Dodgers reached an agreement with Scott Kazmir.) Everyone up to the commissioner has expressed concern that these "opt-out" clauses have been included in deals, and some feel teams simply should not give them. However, this is akin to saying that teams should not pay players above the league minimum salary—of course teams would like to do this, but you need to give players compensation to sign them. An opt-out is a way to lower the cost in dollars to the team, because the player will want more money otherwise.
Each of these three deals would be substantially more expensive without opt-out provisions—each opt-out clause is worth around $20MM, by my calculations. To test this, I looked at how a rough weighting of previous years' WAR would affect a future projection, and compared this to how that projection would crystalize as it got closer. This led to an estimate that a very rough projection of future value 2-3 years in advance would change by about 1.0 WAR over the following 2-3 years. A more sophisticated system would probably change by about 0.7 WAR as it gets closer—and dollar value would probably change by about $7MM per year after accounting for overall uncertainty in salary levels. (The relationship between dollars and WAR utilized in this post is explained at this link.)
Given that potential level of variation, there are still a wide band of possibilities in terms of what a given player's expected future value will be at the point of decision on an opt-out. But at base, an opt out is a binary choice: yes or no. Based on what we know now, and based on reasonable projections, we can estimate a given player's future expected value at that point of decision by weighting different possible outcomes.
In other words, if Player X opts out, we can assume it is because his anticipated value at the point of that decision is higher than that which he would have earned through the remaining portion of the contract. But we don't know exactly how much higher. So, to arrive at a value for the scenario in which a player does opt out, I've weighted all of those possibilities and reduced them to a single dollar value. The same holds true of the situations in which the player does not opt out.
We'll get into each player's situation further below, but this table shows the results of the exercise. (App users can click on this link to see the table image.)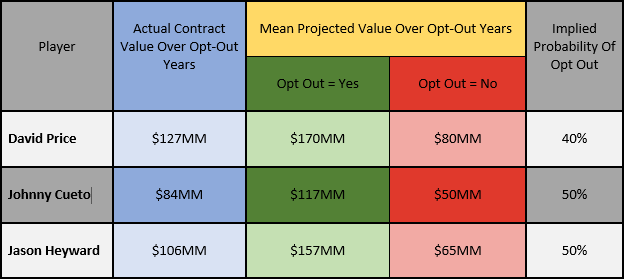 David Price received a contract for seven years at $217MM, but it was really a three-year contract for $90MM with a player option of four years and $127MM. If Price only held teams to a three-year commitment, he would probably get close to $120MM—but this is not what he did. Instead, he will require $127MM for 2019-22, only on the condition that he looks to be worth less than that by then. Although $127MM is not a terrible estimate of his 2019-22 production as of January 2016, this value will probably change drastically by October 2018, one way or the other. If he does not opt out, he probably will have performed worse, and conditional on the assumption that he will not have opted out, I estimate his expected value for his 2019-22 seasons to be $80MM. If he does opt out, he probably will have performed better, and conditional on the assumption that he will have opted out, I estimate his expected value for those seasons to be $170MM. Given that this corresponds to roughly a 40% chance of opting out, his opt-out clause is worth about $17MM, meaning that his seven-year $217MM contract is roughly equivalent to a seven-year $234MM contract with no opt-out clause.
Johnny Cueto's contract is somewhat trickier, but it essentially amounts to a deal of two years for $46MM, with a player option of four years and $84MM, followed by a club option of one year for $16MM. Cueto would probably be worth $17MM above his salary for 2016-17. But for 2018-21, he is likely to be worth $50MM if he does not opt out and $117MM if he does. With roughly even odds of opting out, this makes his opt-out worth about $17MM. While the club option for 2022 makes the deal somewhat more attractive for the Giants, the odds that he will be worth much more than this are low. Overall, Cueto's six-year deal for $130MM would probably cost about $147MM with no opt-out clause.
Jason Heyward's contract is even trickier, but it mostly boils down to a three-year deal for $78MM, followed by a five-year player option for $106MM—except that the first player option (if exercised) is only certain to include one more year for $20MM. That's because there's a vesting provision that, if triggered—by Heyward reaching 550 plate appearances in the season following the initial option decision—would give him yet another player option for four years and $86MM. (If he exercises the initial option but then doesn't reach that PA threshold, then both sides would be stuck with the remaining four years of the contract.)  Heyward's value is further complicated by the fact that signing him required forfeiting a draft pick, which is worth around $9MM.
Although Heyward's contract contains two opt-outs, it is not all that likely that he opts out after 2019 if he does not after 2018. Players' values do change substantially, but he is likely to be either much more valuable than his five-year player option after 2018, or much less valuable. It is not that we expect his value to look similar after 2018 and 2019—it is that he will probably already be way above or way below the current expected value near $20MM per year, and is likely to remain way above or way below this line through 2019.
For the first three years of Heyward's contract, I estimate that he is worth about $22MM more than his contract will pay him. With five years of player option, there is a wide range of potential values afterward. I estimate that he also has about even odds of opting out, but if he does not opt out then he is probably only worth $65MM, while if he does he would be worth $157MM. If he doesn't opt out after 2018 and does after 2019, he is likely near the middle and the value of the second opt-out is small. The net effect is that his opt-out clauses are worth about $25MM, and he would probably have received $209MM for eight years instead of $184MM had no opt-out been included in the deal.
With values of $17MM for each of the two pitchers and $25MM for Heyward's pair of opt-outs, these opt-outs help keep costs down for teams. While they contain more downside and less upside than typical free agent contracts, they cost less money as well. As teams move forward in this new market, they should be careful to properly consider the true cost of these player options. If teams are willing to expose themselves to some downside risk, they can lower the cost of acquiring elite players.