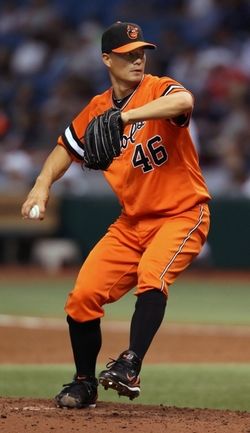 Buck Showalter's Orioles are off to a roaring start this year, winning six of their first nine games and sitting atop the AL East for the first week-and-a-half of the season. The start has been fueled by pitching, as the O's boast a 3.33 ERA and have held their opponents to one run or less in five of nine games.
The leader of the pitching staff is veteran Jeremy Guthrie, who started on Opening Day for the third time in four years. He shut out the Rays over eight innings in that game, then returned from a brief bout with pneumonia to hold the high-octane Rangers' offense to one run over six innings this afternoon. Since Showalter came aboard last year, Guthrie owns a 2.76 ERA in 13 starts (91 1/3 innings).
At 32 years old however, Guthrie might not be in Baltimore's long-term plans. Back in February we heard that they may have already "ruled out an extension" for the right-hander, who is under team control in 2012 as an arbitration-eligible player before being hitting the open market after the season. He'll earn $5.75MM this season, a bargain even if he pitches to his 4.11 career ERA the rest of the season.
If made available, there would certainly be plenty of teams looking to acquire an AL East battle-tested right-hander they could control for another season. Guthrie has also proven to be durable, throwing 200 innings in each of the last two years and at least 170 in each of the last four. The Yankees would surely be in the mix, and we know the Rangers have scouted Guthrie in the past. The Tigers, Red Sox, Rockies, Cardinals … it wouldn't be a surprise to see any or all of those clubs having interest as well.
The Orioles have already received a tremendous return on their investment, acquiring Guthrie off waivers from the Indians back in January 2007 and paying him less than $5MM since. We know they're looking to add rotation depth right now, not subtract it, but if they slide back in the race as the season progresses, it could be time to cash in further and turn the righty into several young players via trade.
Photo courtesy of Icon SMI.