Kelly Johnson's free agent stock has improved considerably in the past week and it has nothing to do with his ability to contribute on a baseball field. The MLBPA announced on Tuesday that teams will no longer have to forfeit draft picks to sign six Type A free agents and, fortunately for Johnson, he was on the list.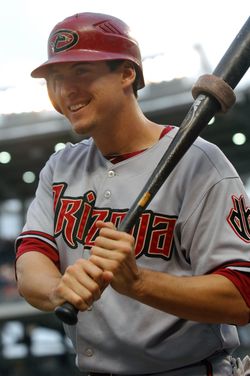 Heading into the offseason, it seemed likely that Johnson's Type A ranking would limit his free agent value. His offense dropped off in 2011 (.222/.304/.413 line with 21 homers), so teams might not have wanted to surrender a top draft pick for the 29-year-old. But thanks to the players association, all that's required to sign Johnson is money.
So far this offseason, middle infielders such as Clint Barmes, Jamey Carroll, Mark Ellis, Aaron Hill and John McDonald have all signed multiyear deals. Omar Infante agreed to a similar contract before officially hitting free agency. Johnson's career .260/.343/.441 line trumps the others and he's younger than every one of the infielders mentioned except Hill (Johnson and Hill were born less than a month apart).
Johnson's representatives at SFX will likely make the case that he is a complete player who contributes on defense (above-average UZR in 2010 and 2011), with his power (47 home runs in 2010-11), by getting on base (.343 career OBP) and on the basepaths (double-digit steals in three of the past four seasons). There's a good chance teams like the Blue Jays, Tigers, Cubs and Rockies consider Johnson the best remaining free agent option in a thinned-out second base market.
Given the abundance of two-year deals for second basemen so far this offseason and the fact that Johnson won't cost a draft pick, he figures to obtain two-year offers. If he's looking for a two-year deal, I expect he could sign for more than the $11MM Hill obtained. Alternatively, he could accept arbitration or seek a one-year deal with a higher base salary and attempt to position himself for a bounce-back season and a major free agent contract a year from now at the age of 30.
Photo courtesy Icon SMI.