THURSDAY: The Twins acquired righty Daniel Turpen from the Rockies to complete the Slowey deal, they announced today.  Turpen, 25, posted a 4.83 ERA in Double-A this year.  He was taken by the Yankees from the Red Sox in last year's Rule 5 draft, then returned to Boston and later traded to Colorado.
TUESDAY: The Rockies agreed to acquire starter Kevin Slowey from the Twins for a player to be named later, reports MLB.com's Thomas Harding.  The Twins have since announced the trade.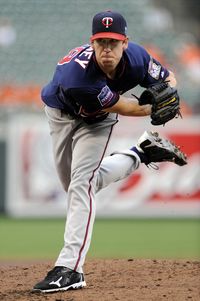 Slowey, 27, was widely regarded as a non-tender candidate had he remained with the Twins until next week's deadline.  He projects to earn $2.7MM through arbitration in 2012, and is under team control through 2013.  One of the game's most extreme flyball pitchers, Slowey (pictured) doesn't seem a great fit for Coors Field.  The other concern is that Slowey hasn't compiled big innings totals in the Majors.  Still, he limits free passes as well as anyone and could be a useful back-end rotation addition for Colorado.  The Rockies also added starter Tyler Chatwood last week in a trade with the Angels.
The Rockies may have other irons in the fire, as Troy E. Renck of the Denver Post reported earlier that they've discussed a deal with the Reds involving closer Huston Street for starter Edinson Volquez.  It's unclear whether those talks are still active given the Slowey acquisition.  Renck also wrote that the Rockies have interest in trading for the Phillies' Placido Polanco or the Braves' Martin Prado, and asked the Cubs about D.J. LeMahieu and Scott Maine in Ian Stewart talks that have since lost momentum.
Photo courtesy of Icon SMI.