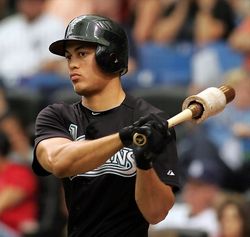 With offense on the decline around the league, power is at a premium these days. Few players have more of it than Mike Stanton, the Marlins' 22-year-old wunderkind. Since making his Major League debut on June 8th of 2010, his 56 homers are the sixth most in baseball behind Jose Bautista (79), Albert Pujols (65), Mark Teixeira (64), Curtis Granderson (62), and Prince Fielder (61). That's elite company, especially for someone so young.
The Marlins went on a spending spree this offseason, importing Ozzie Guillen, Jose Reyes, Carlos Zambrano, Heath Bell, and Mark Buehrle, but perhaps their wisest signing could be locking Stanton into a long-term deal. There's certainly no rush since he won't be arbitration-eligible until after 2013 or a free agent until after 2016, but power pays in arbitration and Stanton could get expensive in a hurry. Look no further than Fielder, who turned his impressive power output into $33.5MM during his three arbitration years. It would have been more if he hadn't given up his first two arbitration years as part of a two-year, $18MM contract.
A number of young outfielders have signed long-term contracts in recent years and can serve as reference points for a Stanton extension. Justin Upton signed away his three arbitration years for $20.75MM, Carlos Gonzalez for $23.5MM, and Jay Bruce for $22.5MM. Upton, CarGo, and Bruce also gave up their first two years of free agency for an average of $13.3MM per season. Those same five years of Stanton's career figure to cost the Fish upwards of $50MM.
For what it's worth, the Marlins signed Hanley Ramirez to a six-year contract prior to the 2009 season, which would have been his first as an arbitration-eligible player. They secured his three arbitration years for $23.5MM and then three additional free agent years for an average of $15.5MM annually. Ramirez did have a Rookie of the Year award and two top-11 finishes in the NL MVP voting at that point, so Stanton would figure to come slightly cheaper, assuming they act now.
A new era of Marlins' baseball begins next season with a new name, a new stadium, and several new high-profile players. Getting Stanton — one of their core homegrown players and a .261/.344/.525 career hitter — under contract long-term would be an excellent finish to a productive and franchise-altering offseason.
Photo courtesy of Icon SMI.