It speaks to Kris Medlen's dominance over the last two months that his quality start last night against the Marlins (three runs on five hits over seven innings, eight strikeouts and no walks) was his worst outing of the season.  Medlen's season ERA rose all the way to 1.64 but the Braves' 4-3 victory means that the club has now won 22 consecutive games that Medlen has started, tying the right-hander with Hall-of-Famers Carl Hubbell and Whitey Ford for the longest such streak in the modern era of baseball. 
It's pretty heady company for a guy who didn't even return to the Atlanta rotation until July.  Medlen underwent Tommy John surgery in August 2010, returned to pitch just 2 1/3 innings in September 2011 and began this season in the bullpen as the Braves both wanted to keep his arm healthy and felt they were already set for starting pitchers.  After some of those starters faltered, however, Medlen rejoined the rotation in July and has posted video game numbers since: a 1.04 ERA, 80 strikeouts and almost a 9.00 K/BB rate in 77 2/3 innings over 11 starts.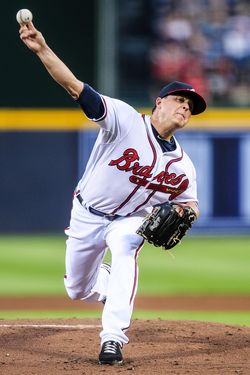 Unless Medlen is a modern-day Sandy Koufax, it's safe to assume that he won't quite keep up this particular level of greatness, though the righty certainly appears to have turned a corner in his pro career.  This hot streak comes at an opportune time for Medlen; not only did it come during a postseason stretch, but Medlen is also due to be arbitration-eligible for the first time this winter.  He'll certainly get a nice raise over his $490K salary in 2012 and it's possible the Braves could be so impressed by Medlen's performance that they'll look to get some cost-certainty on their surprise ace for the next few years.
Medlen's case is "tricky" according to Matt Swartz, who calculates arbitration projections for MLB Trade Rumors and believes Medlen will probably be treated as a starter for arb purposes. 
"The way I've been separating swingmen into starters and relievers, he would actually be projected as a reliever, but those rules were kind of arbitrary and I'm not sure here," Swartz said.  "The reason it matters is that if we call him a starting pitcher he gets $2.4MM, and if we call him a reliever, he gets $1.3MM. He has a lot more wins per games started than he does saves and holds."
You could argue that the Braves have enough set 2013 rotation starters (Tommy Hanson, Mike Minor and Tim Hudson, as his $9MM option is sure to be exercised) and enough other young arms in their farm system that a Medlen extension is unnecessary for the moment, but I tend to disagree.  As this season has shown, the Braves' pitching depth isn't as sturdy as believed, so Medlen's development is a great boon for the club.  Medlen seems to be able to consistently perform at the Major League level, which is something that can't yet be said about their prospects.
Cost-certainty is also of particular interest to a franchise that has kept a mid-level payroll since being bought by Liberty Media in 2007.  The Braves had a $102MM payroll in 2008 but have since ranged between $86-$93MM, with only $15MM in committed salary for 2013.  If they believe Medlen is the real deal, an extension could save the team millions through Medlen's arb years.  Extending him now would cost maybe $10MM over three years ($2MM in 2013, $4MM in both 2014 and 2015) with perhaps a $6MM club option for Medlen's first free agent year.  
The Braves have a lot of business to attend to this winter, since such major names as Hanson, Jason Heyward and Jonny Venters are also arb-eligible for the first time, Martin Prado is only a year away from free agency and the team is expected to at least attempt to re-sign Michael Bourn.  Given Medlen's injury history and the fact that his arb number may be $2.4MM at the most, Atlanta could be in no rush to pursue a multiyear deal quite yet with the right-hander.  
Medlen will get one (very high-profile) further chance to prove himself as he's scheduled to start for Atlanta in the wild card playoff game.  Just the fact that the Braves would give Medlen this start is a sign that they believe he's more than just a pitcher on a hot streak, so they could also be eager to lock him up while his price is still low.
Photo courtesy of Daniel Shirey/US Presswire