The Cubs have signed Starlin Castro to a contract extension that will keep the 22-year-old shortstop under contract for the remainder of his 20s. The team officially announced a seven-year extension that covers Castro's four arbitration seasons and at least three seasons of free agent eligibility. Paul Kinzer of Wasserman Media Group represents Castro, whose seven-year deal includes $60MM in guaranteed money.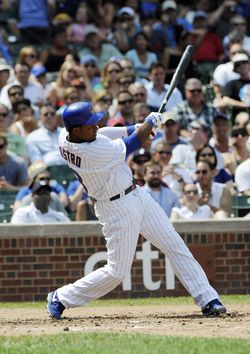 Castro has posted a .276/.311/.418 batting line with 12 homers in 540 plate appearances this season. Despite his youth, he already has three full seasons of MLB experience and was on track to go to arbitration for the first time this offseason. As a super two player, he has four seasons of arbitration eligibility.
The deal locks Castro up through 2019, which means he and prospects Jorge Soler and Gerardo Concepcion are the only Cubs players under contract beyond 2014. Soler's nine-year, $30MM contract extends through 2020 and Concepcion's five-year, $6MM contract extends through 2016.
Castro will receive a $6MM signing bonus before earning $5MM in 2013 and 2014, $6MM in 2015, $7MM in 2016, $9MM in 2017, $10MM in 2018 and $11MM in 2019, Ken Rosenthal of FOX Sports reports (Twitter links). If Castro finishes in the top five of the MVP voting twice over the life of his contract, his 2019 salary and the value of his $16MM option will each increase by $2MM. All told, the maximum value of his contract including escalators would be $79MM over eight years. 
The eighth-year option includes a $1MM buyout that is part of the $60MM guarantee, Jon Heyman of CBSSports.com reports (on Twitter). The deal doesn't include a no-trade clause, Heyman reports (on Twitter).
 Enrique Rojas of ESPNDeportes.com first reported that the sides reached an agreement after David Kaplan of CSNChicago.com first reported that the two sides were working on a long-term deal. Post by Ben Nicholson-Smith with Zach Links and Steve Adams. Photo courtesy of US Presswire.