The Giants need to obtain an outfielder and find an answer at second base.
Guaranteed Contracts
Arbitration Eligible Players (estimated salaries)
Free Agents
Every team has offseason needs — even the defending World Champions. But the Giants will project as a contender again in 2013, assuming Brian Sabean addresses center field and second base this winter.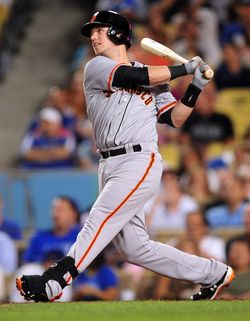 Sabean has stayed in contact with Marco Scutaro about a possible deal since the season ended, and it does seem as though there's a potential match here. Scutaro thrived after arriving in San Francisco and the Giants need someone to play second base. Scutaro, who turned 37 last month, has a strong case for a multiyear deal. Three years ago, after a comparable offensive season, the contact hitter obtained a multiyear deal that guaranteed him slightly more than $6MM per season. A two-year deal has the potential to work for both sides again this year.
If the Giants don't re-sign Scutaro they won't find much in free agency. One option, Jeff Keppinger, is a Scutaro-like player in that he makes lots of contact, hits for limited power and plays multiple positions. It's possible Keppinger could appeal to Sabean and his fellow Giants executives. If the Giants look to the trade market they won't necessarily find more appealing options. Skip Schumaker of the Cardinals would be one affordable trade candidate worth considering (by the way, I know I've mentioned Schumaker repeatedly as a target for teams in need of second base help, but he's a useful, affordable player who's not a major part of the Cardinals' plans — why not check in on him?).
The Giants will need at least one outfielder, since Angel Pagan has hit free agency. Sabean elected not to extend a qualifying offer to Pagan, a move that was debatable though not surprising. One year and $13.3MM for a center fielder who contributes on offense seems reasonable, especially since Pagan will generate interest on multiyear contracts. Pagan has said he'd like to return to San Francisco, and the sides have had some preliminary talks about possible contracts.
While the free agent market features few starting second basemen, there's lots of outfield depth in free agency this year. Michael Bourn, Shane Victorino and B.J. Upton join Pagan in center field. The corner outfield market seems just as intriguing with Josh Hamilton, Nick Swisher and Cody Ross available. The Giants could pursue some of these players, depending on their talks with Pagan and ownership's willingness to boost payroll.
Some see Hamilton as a potential fit in San Francisco. He'd add left-handed power to the middle of a lineup built around two right-handed hitters (Buster Posey and Hunter Pence) and a switch hitter (Pablo Sandoval). He'd also cost a ton of money, and though the Giants have steadily increased payroll in each of the past four seasons, they might not want to spend on Hamilton. After all, many questions surround the 31-year-old and there are a number of quality alternatives in free agency.
Pence won't be non-tendered despite some speculation about the possibility. His history of production (.285/.339/.475 career line) and age (29) outweigh his expected salary ($13.8MM) and relatively ordinary 2012 numbers. In fact, you could make the case that the Giants should offer Pence a two or three year deal worth $10MM or so per season to see if he's interested in staying in San Francisco.
Brian Wilson, however, should probably be non-tendered given his projected salary of $8.5MM — that's too much for a reliever coming off of Tommy John surgery. Clay Hensley could also be non-tendered at the end of November.
San Francisco's formidable pitching staff will be back for another year. The complete rotation will return in 2013: Matt Cain, Madison Bumgarner, Tim Lincecum, Ryan Vogelsong and Barry Zito. The group started all but two of the team's regular season games in 2012, and counting on that kind of health again would be unreasonable, so it'd make sense to pursue rotation help if possible. Few free agent starters would want to sign in San Francisco, which means Sabean's search may be limited to trades and minor league free agency.
Jeremy Affeldt already agreed to terms with the Giants on a three-year, $18MM contract that will keep him in San Francisco through 2015. The Giants are spending at the top of the market for Affeldt, who had lots of leverage after another season of strong relief pitching. The Giants now have three capable left-handers in their bullpen, so it won't be surprising if teams inquire about possible trades. Most teams in baseball let Jose Mijares go through waivers this past summer, yet he'd be a fit in many bullpens.
The Giants are expected to discuss the possibility of a long-term deal with Posey. By January, when extension talks of this nature typically start unfolding, Posey could have an MVP trophy on his resume. Whether he wins the award or not, he's going to be expensive. Back in August, Mark Polishuk explained Posey's case for a deal in the $85MM range, and in the three months since then his leverage has grown considerably. He's an elite player about to be paid as such. From a team perspective I wouldn't endorse any deal that doesn't extend the Giants' control of Posey beyond his four years of arbitration eligibility.
The Giants' best players will return in 2013, so, health permitting, they already have the makings of a strong team. They can remain one of the National League's elite clubs if Sabean supplements his roster with a pair of position players this offseason.
Photo courtesy of US Presswire.