The first order of business for Buster Posey this season was to prove himself healthy following a 2011 campaign cut short after 45 games due to a fractured fibula.  Not only did that home plate collision with Scott Cousins cost Posey most of a season, it also may have cost him some money in the short-term, as the Giants may have wished to quickly sign him to a multiyear extension.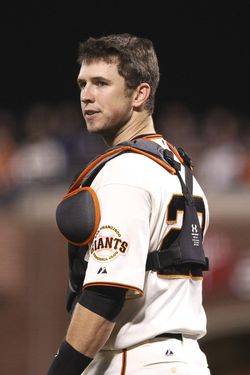 Ironically, Posey's injury may make him a wealthier man in the long-term.  Posey had a .756 OPS when he was injured in 2011, so supposing he'd stayed healthy and stayed at that more modest number (call it a sophomore slump), the Giants might have been able to sign Posey to an extension akin to Carlos Santana's five-year, $21MM deal with the Indians. 
That scenario will remain a hypothetical, however, as Posey has returned from injury with an MVP-caliber .328/.394/.542 batting line and 18 home runs over 409 plate appearances entering Wednesday's action. This performance has only strengthened Posey's case as the best-hitting catcher in the game and now he'll have an even higher price tag should the Giants look to lock him up.
Posey will reach arbitration for the first time this winter and he'll have four arb years in total as a Super Two player, leaving him under Giants control through the 2016 season.  MLBTR's Ben Nicholson-Smith opined that Posey would likely be in line for a salary between $2-$3MM for 2013, and at Posey's current rate of production, I'd guess that $3MM will be at the low end of his 2013 salary.
The Super Two status makes Posey a unique case, as while several notable catchers (such as Santana, Brian McCann, Yadier Molina and Joe Mauer) have signed extensions that covered their arb years, none of these players had that fourth year of arbitration.  Also, none of these players signed their extensions with between 2-3 years of MLB service, as Posey will have at the conclusion of this season.
Perhaps the closest comparison is Mauer, who signed a four-year, $33MM extension with the Twins before the 2007 season that covered his three arb years and his first free agent season.  Mauer had a career line of .321/.399/.471 with 28 homers through his first 1284 plate appearances before signing his extension; Posey currently has a a 307/.369/.492 career line and 40 homers through 1054 plate appearances and should make up that gap in PAs by the end of the season.
Mauer's deal broke down as $20.5MM for his three arb years and $12.5MM for his first year of free agency.  If we use $3MM as the baseline for Posey's 2013 salary, I could see the Giants offering something like a five-year deal worth around $47MM for their star catcher.  The salaries would break down as $3MM in 2013, $6MM in 2014, $9MM in 2015 and $12MM for 2016 to cover the arb years, and Posey would then earn $17MM for the 2017 season, which would've been his first free agent year.  Posey will turn 31 years old in March 2018, so he'd still be young enough to net another big contract in free agency.
There's also the possibility that Posey and agent Jeff Berry would look to go even longer-term in San Francisco.  A seven-year deal — worth $17MM and $20MM, respectively, for 2018 and 2019 — would bring the total value to $84MM.  That's a big contract for any player and especially for a catcher, though the Giants have already looked to keep Posey fresh with occasional starts at first base.  If Posey can keep up his current .935 OPS, that's certainly enough pop to play at first base (particularly at AT&T Park) and be worthy of that type of major financial commitment.     
A seven-year, $84MM contract would be the third-most expensive deal ever given to a catcher, behind Mauer's eight-year, $184MM extension with the Twins and Mike Piazza's seven-year, $91MM deal with the Mets from 1999-2005.
Since the Giants do have four years of control to work with, it's possible they just settle on a one-year deal with Posey this offseason and save extension talks for a later date.  Still, the Giants face some interesting payroll issues — Melky Cabrera will be a free agent and the newly-acquired Hunter Pence is going into his last arb year (the Giants claim to be able to extend both), not to mention potential tough decisions about franchise icons like Tim Lincecum and Brian Wilson.  Posey is a player the Giants obviously want in the fold for years to come so they might look to get some cost certainty on his future salaries before looking at other business.
Photo courtesy of Kelley L. Cox/US Presswire