The Red Sox remodeling project continued today, as they announced they have signed Shane Victorino to a three-year contract.  The 32-year-old, a client of John Boggs & Associates, slipped this year to a .255/.321/.383 line for the Phillies and Dodgers, but still did well in free agency, obtaining a $39MM guarantee.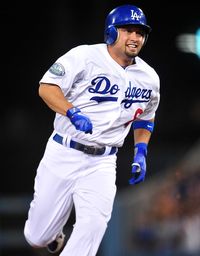 Victorino will play right field for the Red Sox, who previously signed Mike Napoli to play mostly first base, Jonny Gomes to play left field, and David Ross to help behind the plate.  With Jacoby Ellsbury returning to play center field, Boston's outfield appears set, so the door is likely closed on free agents Cody Ross, Nick Swisher, and Josh Hamilton.  As Speier explains, Victorino "fits the profile that the team seeks of an above-average defensive outfielder capable of playing both right and center at Fenway Park."
As MLBTR's free agent tracker shows, the Red Sox have already committed $120.2MM to four free agents.
The Indians, Cubs, and Yankees reportedly had some degree of interest in Victorino, MLBTR's #12 free agent.  The Tribe offered four years and $44MM, tweets Ken Rosenthal of FOX Sports.
WEEI's Alex Speier first reported the agreement; Nick Cafardo of the Boston Globe previously labeled the Red Sox the frontrunner; Ken Rosenthal of FOX Sports pegged the dollar amount.  Photo courtesy of U.S. Presswire.