After a slow start to his 2013 campaign, Tim Hudson was on a serious hot streak before a fractured ankle — suffered while covering first base on a grounder — put an end to his season in late July. Hudson won't have the luxury of hitting free agency off another 200-inning season, but there should still be plenty of teams interested in the TWC Sports client.
Strengths/Pros
Hudson, who turned 38 in July, is as seasoned a veteran as there is on the free agent market, but that experience doesn't come at the cost of greatly diminished results. Hudson's 3.97 ERA this season was roughly league average (97 ERA+), but it was also largely the product of a slow start and abnormally low strand rate.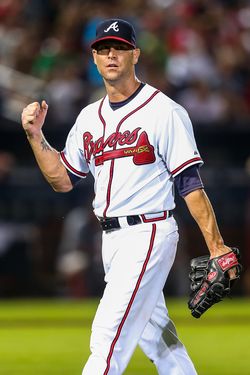 Hudson pitched to a 5.37 ERA through June 1, but over his final 10 starts in 2013, he compiled a 2.73 ERA and 50-to-19 K/BB ratio in 69 2/3 innings. He worked at least seven innings in eight of those contests. Advanced metrics like FIP (3.46), xFIP (3.56) and SIERA (3.75) all feel his ERA should have been lower.
Hudson has never posted a ground-ball rate lower than 55 percent, and you'd have to go back to 2006 to find the last time that he averaged more than three walks per nine innings. Both of those traits help keep his pitch counts low, allowing him to work deep into games. Hudson personifies the "bulldog" mentality, as he's averaged 6 2/3 innings per start over his 15-year career, and that hasn't changed much of late; he's averaged 6.5 innings per start over the past four seasons. Hudson is more than just an innings eater though, as he's only posted an ERA north of 4.00 twice in his 15-year Major League career.
Given his age and his injury, the Braves don't figure to extend a qualifying offer, meaning that Hudson won't require the sacrifice of a draft pick this offseason. Despite the fact that his season ended in July, Hudson is scheduled to be 100 percent by early- to mid-November, so teams will be able to get a look at him early rather than waiting until after the New Year.
Weaknesses/Cons
Hudson's never been much of a strikeout pitcher, and that's unlikely to change at this stage of his career. His 2013 K/9 rate of 6.5 was the fourth-highest single-season mark of his career and his second-highest since 2002. Teams with questionable infield defense will likely be a bit more wary of Hudson.
While this season's injury was of a fluky nature, it still marks the third time since 2008 that Hudson has undergone surgery. He had Tommy John back in August of 2008 and underwent back surgery to repair a herniated disc in November of 2011 — an operation that cost him the first month of the 2012 season. Hudson has typically been healthy throughout his career, but teams may try to use the fact that he's spent time on the DL in four of the past six seasons as leverage.
Hudson has begun to see a slight drop in his velocity as well. After averaging 90-91 mph from 1999-2011, he's failed to crack the 90 mph plateau in 2012-13, though he was close this season (89.7 mph). He's still remained effective working in the 89 mph range, but further decline could be problematic. He'll turn 39 next July, so his age will also be a factor in negotiations. He joins Hiroki Kuroda and Bartolo Colon as the oldest free agent starters in this year's class.
Personal
Tim and his wife, Kim, make their home in Peachtree City — about 30 miles from Atlanta's Turner Field. They have two daughters and a son. In 2009, he founded the Hudson Family Foundation, which has raised more than $400K, primarily for children with health issues throughout Alabama and Georgia. Hudson is known as a natural leader in the clubhouse and gained that reputation early in his career. He enjoys displaying his excellent golf skills in the offseason and spending time at his personal ranch in his native state of Alabama.
Market
Given his age, Hudson seems likely to prioritize winning teams with his eyes set on a World Series. Hudson is a veteran of six postseasons between the A's and Braves, but he's never been a part of a team that won a playoff series. All six times he's gone to the postseason, his team has lost in the Division Series. Still, that postseason experience and Hudson's strong track record will appeal to teams, particularly if they have a top-heavy rotation and would like to add some balance to the middle ranks. He and agent Paul Cohen won't have a difficult time drumming up interest around the league.
Given the amount of time he's spent with the Braves, the team's strong core and his Georgia home, Hudson's preference may be to remain in Atlanta. However, the Braves' wealth of young starting pitching could lead GM Frank Wren to make a tough decision and prioritize other areas of need. Hudson would be a nice addition to probable contenders like the Dodgers, A's, Pirates, Rangers and Nationals. He may prefer to try to pitch closer to the southeast portion of the country than head to a West Coast contender, given his strong family ties in the region.
Expected Contract
I expect Hudson to prioritize a winning environment over maximizing his salary (he's already earned $98MM+ in his Major League career). He could follow the route that other veterans such as Colon, Kuroda and Andy Pettitte have taken in recent years, signing one-year deals with contenders in search of a deep postseason run. His injury hurts his stock, but given the quick recovery timeline and the fact that it's not an elbow or shoulder ailment, it shouldn't force him to take a dramatic pay cut. Though the right two-year deal could be appealing, I expect that Hudson will sign a one-year, $9MM contract this offseason.
Photo courtesy of USA Today Sports Images.