4:05pm: ESPN Dallas' Richard Durrett reports that Choo will earn $14MM in 2014 and 2015, $20MM annually from 2016-18 and $21MM in 2019 and 2020 (Twitter link).
3:15pm: With an outstanding rotation locked up for the foreseeable future, the Rangers have focused on re-shaping their offense this winter, and Shin-Soo Choo is the next piece of the puzzle. The Rangers have officially announced the signing of Choo to a seven-year contract that is reportedly worth $130MM. Reportedly, $5MM of the first year's salary will be shifted to 2016-17, creating more flexibility in 2014. The 31-year-old Scott Boras client does not have an opt-out in his contract but did receive a limited no-trade clause.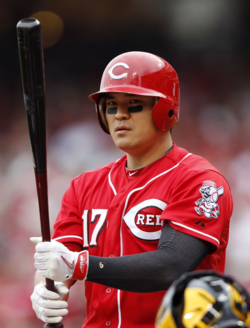 As MLBTR's Tim Dierkes wrote in his profile of Choo, who ranked third on Dierkes's list of the top fifty free agents, the South Korean on-base machine hit the open market at an optimal time. Having never seen his OBP drop below a .373 mark, Choo reached another level last year with a .285/.423/.462 line (over 712 plate appearances) in his first and only season with the Reds. (Of course, as Dierkes explained, Choo's biggest weakness — his struggles against left-handed pitching — could force him into a platoon role in the later years of his deal.) Choo also knocked twenty home runs in 2013 for the third time in his career. Batting atop the lineup in Cincinnati, Choo also swiped over twenty bags for the fourth time, though he was also tagged out eleven times in the process.
Though Choo played in center last year for the Reds, the expectation is that he will man a corner position in Texas. If the Rangers indeed intend to go with Leonys Martin up the middle, it would seem likely that the club would be out of the mix for Nelson Cruz. (Alex Rios is already penciled into one corner spot.) Though it certainly doesn't preclude anything, Choo will wear No. 17 in Texas (as he did in Cincinnati) — the same number that Cruz donned while with the Rangers. The Rangers said at today's press conference today that the current plan is for Choo to serve as their new leadoff hitter.
Texas GM Jon Daniels has not been shy in adding lengthy and substantial contracts to his club's books of late. He added dollars and years through trades for Rios and Prince Fielder (offset only in part by the departure of Ian Kinsler in that deal). And Daniels has done the same via extension, with Martin Perez (four years, $12.5MM), Elvis Andrus (eight years, $120MM), and Matt Harrison (five years, $55MM) all getting new deals in the last year. Add it all up, and the Rangers have added nearly $400MM in future obligations in the 2013 calendar year. That would seem likely to take the club out of the mix for Masahiro Tanaka (in the event that he is posted). 
At seven years and $130MM, Choo will receive an average annual value of just over $18.5MM. His deal slots in $23MM shy of that inked by Jacoby Ellsbury with the Yankees over the same length of time, but comes with a $40MM larger guarantee than that achieved by Hunter Pence in the five-year deal he reached with the Giants just before hitting the open market.
The Rangers were willing to go to seven years and a big sum of money, says Passan, in part due to the weak set of hitters available via free agency next year. Of course, new candidates could emerge; one year ago, it would have seemed quite unlikely that Choo would command this kind of payday. The Yankees may have been willing to reach the $140MM level in a seven-year pact with Choo, tweets Joel Sherman of the New York Post. But the lack of state income tax in Texas boosted the value of the Rangers' offer, and Choo apparently also preferred to join Texas.
Since Choo turned down a qualifying offer from the Reds, his former club will receive a compensatory pick. Texas, meanwhile, stands to lose its first-round draft choice, though it could regain a choice in the sandwich round if Cruz signs elsewhere.
Jon Heyman of CBSSports.com reported that an agreement had been reached (via Twitter). Evan Grant of the Dallas Morning News first reported (via Twitter) that the deal was expected to be worth $130MM. Ken Rosenthal of FOX Sports reported that $5MM of Choo's 2014 salary was shifted to 2016-17 (via Twitter), and Jeff Passan of Yahoo Sports tweeted that Choo's contract does not contain an opt-out but has a limited no-trade clause.

Photo courtesy of USA Today Sports Images.