Shin-Soo Choo's .423 on-base percentage ranked fourth in all of baseball this year, and easily topped Robinson Cano for the best among all free agents.  The 31-year-old South Korea native hits free agency at an ideal time, and ranks third overall on our Free Agent Power Rankings.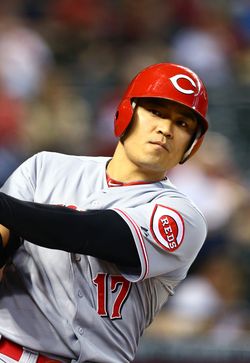 Pros/Strengths
Choo was the quintessential leadoff man for the Reds this year, parlaying a career-best 15.7% walk rate and a career-high 26 times hit by a pitch into that fantastic OBP.  Aside from an injury-marred 2011 season, Choo has never posted an OBP below .373 in a full campaign, regularly tallying 160+ hits, 70+ walks, and around 15 HBPs.  The average outfielder posted a .323 OBP this year, by comparison.  Choo has batted .284 over the past two seasons and has consistently hit for average.  He also hit 21 home runs this year, the third time in his career he's hit at least 20.  Assuming options are picked up on Coco Crisp and Adam Lind, only seven free agents hit more homers than Choo.
Choo has generally been quite durable outside of 2011, regularly playing in 150+ games.  He showed himself as a team player this year in accepting a center field assignment from the Reds, never having played the position regularly in the Majors.
Choo's baseball card numbers were excellent this year, with 107 runs scored, 21 home runs, and 20 stolen bases.  It was the third 20/20 season of his career, so he can be a power/speed threat.
Weaknesses/Cons
Choo struggles against left-handed pitching, with a .207/.332/.276 line in 463 plate appearances since 2012.  If the situation worsens, a platoon could be in the cards in the latter half of his contract.
Though Choo has stolen 41 bases over the past two seasons, he's also been caught 18 times.  That 69% success rate suggests he should get the green light less often.  Overall, his baserunning has been a mild negative in each of the past two seasons.
Choo's defense has been a large detriment in recent years, whether in his natural right field in 2012 or in center field in 2013.  He had a fine offensive season in 2012, but his defense knocked his FanGraphs wins above replacement down to 2.4.  Overall, that's solid but not elite performance, and it stands to reason that Choo's defense could become an even bigger problem over the next four or five years.  Agent Scott Boras disagrees, telling Jon Heyman of CBS Sports Choo is a "Gold Glove type defender" in right field.
Signing Choo will require sacrificing a draft pick, as he's expected to receive and turn down a qualifying offer from the Reds.
I don't generally consider All-Star appearances as a great barometer for a player's abilities, especially with a player with Choo's skillset.  But, it should be noted that Choo has never made an All-Star team.
Personal
Choo resides with his wife, two sons, and daugther in Arizona.  He is the all-time batting leader from Korea in all notable categories, and is a celebrity there.  He was known as one of the Indians' hardest workers, wrote Amy K. Nelson for ESPN in 2009.  In 2010, he helped Korea to the gold medal in the Asian Games, earning exemption from a mandatory two-year military stint.  On the negative side, Choo disappointed the Indians several months later with a DUI that included a blood-alcohol level of .201.  Teammate Jack Hannahan commented after Choo's apology, "He's a great guy and a great teammate.  Choo's a big leader on this team. He's tough as nails. He's being a man about it and accepting it." 
Market
Choo is among the top free agent outfielders, and is joined by Jacoby Ellsbury, Curtis Granderson, Carlos Beltran, Marlon Byrd, and Nelson Cruz.  "There are so many teams that need a leadoff hitter," Boras told Heyman in September.  The general belief is that the Reds won't be able to afford Choo, while the Cubs, Mets, Astros, and Yankees have been named early as likely suitors.  The Mets' first-round pick is protected, and while they might be willing to let their second-round pick go to sign Choo, Adam Rubin of ESPNNewYork.com says they "are not believed to be willing to give more than a Michael Bourn-type contract — four years."  The Cubs may be wary of surrendering their second-round pick, plus the outfield is one of their farm system's biggest strengths.  The Astros connection seems speculative at best, while the Yankees seem like a viable contender for Choo.  
The Mariners, Rangers, Royals, Pirates, and Orioles also could be in the market for a corner outfielder this offseason, but not necessarily at top of the market money.
Expected Contract
Boras is the game's toughest negotiator and one of its biggest talkers.  Asked by Heyman about one GM's $100MM prediction, Boras replied, "As a custom of the industry, prognostications by executives this time of year are dramatically divergent from the real market.  I don't think anyone correctly predicted what Jayson Werth or Carl Crawford got."  Boras also took issue with the idea of Choo being limited to five years.
A five-year deal would cover Choo's age 31-35 seasons, and those are hard enough to come by for position players.  In the last five years, we've seen multiyear free agent deals for Josh Hamilton (5), B.J. Upton (5), Albert Pujols (10), Prince Fielder (9), Jose Reyes (6), Crawford (7), Werth (7), Adrian Beltre (5), Matt Holliday (7), and Mark Teixeira (8).  We've seen many more on the extension front, with Hunter Pence's five-year deal the most relevant and recent comparable for Choo.  Boras deserves credit for Werth's contract, but it was an outlier rather than a model, especially since no other team was clearly offering even five years.  Crawford, Upton, and Reyes were significantly younger, with the latter two playing premium positions.  Boras does not always succeed in his contractual goals, failing to secure a fifth guaranteed year for Michael Bourn last winter.
With Choo, I can see a lot of teams willing to offer four years, a handful willing to offer five, and perhaps one willing to guarantee six.  The Pence contract seems to raise the bar for Choo, who I ultimately have signing a six-year, $100MM deal.  At a reasonable $16.67MM AAV, such a deal may appeal to teams with luxury tax concerns.
Photo courtesy of USA Today Sports Images.