Baseball America's Hudson Belinsky reports that draft and international spending pools will rise by about 4.6 percent in total for the 2016 Rule 4 Draft in June and the 2016-17 international signing period, which kicks off on July 2. Belinsky provides total draft and international pools for all 30 clubs, with the Reds ranking first in terms of draft bonus pool at $13.923MM and the Phillies laying claim to the top international pool by virtue of finishing with the league's worst record in 2015.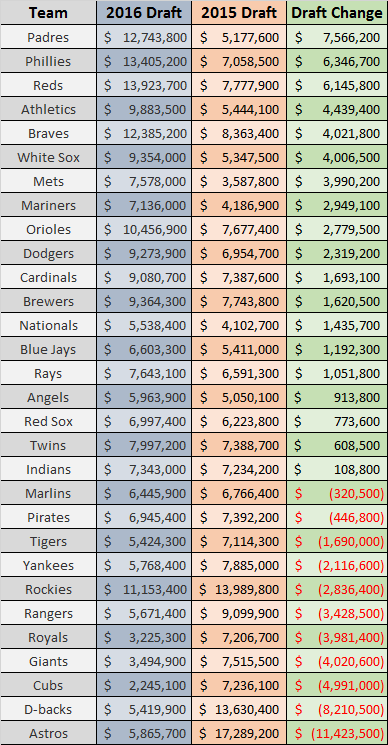 For MLBTR purposes, I've compiled quick references highlighting the year-to-year changes in each club's draft and international spending pools, although it's important to stress that the draft pools are still highly subject to change; Ian Desmond, Dexter Fowler and Yovani Gallardo all remain unsigned and will all require a club to forfeit its top unprotected pick upon signing, while the Nationals, Cubs and Rangers will all receive comp picks in exchange for those losses (Links to draft changes table and to international changes table for mobile app users).
Notably, that means that the Orioles' current projection of a $10.457MM bonus pool is likely due for a precipitous decline, as the team has been rumored to be nearing a deal with Gallardo for nearly a week. While the exact value of the No. 14 overall pick that Baltimore would surrender isn't known, last year's 14th overall selection carried a value of $2,842,400. A 4.6 percent increase in that figure — the number referenced by Belinsky — would result in a slot value of $2,973,150. That figure would completely negate Baltimore's $2.78MM pool increase, and the O's could stand to incur further draft losses if they complete a deal with Gallardo and go on to pursue Fowler, as has been rumored. Baltimore's second pick, No. 29 overall, would rise to 28th overall in the event that a deal with Gallardo is completed. Again, based on last year's $1.975MM value for that slot and a 4.6 percent increase, the Orioles would stand to lose $2.066MM in draft money, bringing their total loss in the event of those rumored signings to $5.039MM — roughly 48 percent of their overall pool.
While the Reds have the largest draft pool overall, it's the Padres who saw the largest increase in their draft spending potential, as the team received compensatory picks for the departures of both Ian Kennedy and Justin Upton in addition to winning the first pick in Competitive Balance Round B, which sits at No. 71 overall. As Belinsky points out, that gives San Diego six picks in the top 85 of the upcoming draft (so long as the club does not sign one of the aforementioned free agents, which indeed appears unlikely).
Conversely, no team has seen as swift of a fall in its draft spending potential as the Astros, who went from an enormous bonus pool of more than $17MM to a more standard pool of $5.866MM. (Last year, Houston picked second, fifth and 37th overall in the draft, thus creating the record-setting bonus pool.) The D-backs lost more than $8MM in pool money due to the fact that they dropped from the No. 1 overall pick to the No. 16 pick and subsequently forfeited the pick anyway to add Zack Greinke.
The Cubs punted a pair of picks to sign Jason Heyward and John Lackey, though they'll see a notable bump back up the rankings when they receive a comp pick after Fowler signs (that comp pick between the first and second rounds will be eliminated due to the Heyward/Lackey signings, but Chicago's second-round pick will then be restored, adding about $920K to its pool). Similarly, the Nats and Rangers will each see their draft allotments jump north of $7MM once Desmond and Gallardo sign.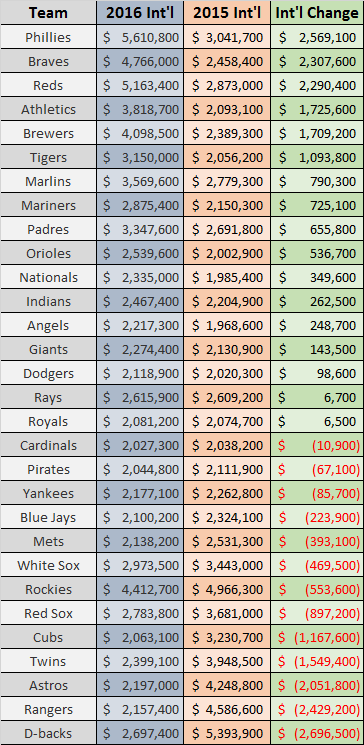 Meanwhile, the Phillies enjoy the largest increase in baseball on the international side of the equation, although the size of their pool could be rendered moot if the team exceeds its cap by a wide enough margin. Philadelphia is reportedly planning to be aggressive, and if the team plans to incur significant penalties, then the only real gain from the top pool is a bit of a break on luxury taxation. As such, if the Phils plan to shatter the pool anyhow, they could actually trade away slots. Counter-intuitive as it may seem, if they're incurring maximum penalty anyhow, the slots would hold more valuable to a team that isn't planning to do incur penalties, and the only loss for the Phillies would be more money.
The fact that the Reds are set to receive the third-largest increase again brings to light the team's curious ties to Cuban shortstop Alfredo Rodriguez in January. Reds president of baseball operations Walt Jocketty denied that a deal was in place at the time that news of a $6MM signing bonus from Cincinnati to Rodriguez broke, and the team has yet to announce a deal. However, if Cincinnati does indeed come to terms with Rodriguez for that sum, it would prevent the team from signing a player for more than $300K in either the 2016-17 signing period or the 2017-18 signing period, thus mitigating the advantage of their notable pool increase. Instead, the Reds would likely trade away their international bonus slots this summer, and while that money can indeed be a deal-sweetener when talking with other clubs, international slots on their own haven't been traded for much in the way of high-profile prospect capital. Straight-up swaps for international money have previously involved players such as Aaron Kurcz and Garrett Fulenchek. While some of the players in these deals could prove to be solid pieces in the long run, giving $6MM to Rodriguez would mean that the Reds elected to exceed their pool well after the top talent on this year's international class had signed. Beyond that, they'd be doing it so by signing a limited number of players — highlighted by a defensively gifted but light-hitting shortstop — instead of taking a bulk approach and acquiring multiple prospects in next year's class.
Looking to other clubs that have incurred maximum penalties, the Royals, Dodgers and Giants are all in roughly the spot in which they entered the 2015-16 period, but those slots will be used as trade fodder this summer after their significant international expenditures over the past seven and a half months. The Yankees, Rays, D-backs, Angels and Red Sox all look like reasonable candidates to trade away the majority of their international slots this coming signing period as well due to the fact that each team incurred maximum penalties in the 2014-15 signing period.