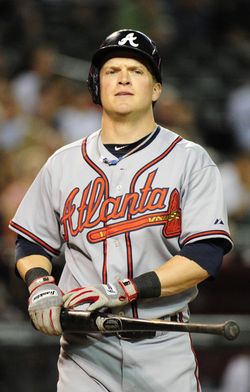 We tend to hear a lot about "selling high" on a player during the offseason, which means trading a player when his value is at its absolute apex. It's a difficult thing to do for a number of reasons, especially when it involves a young player who might just be on the upswing of his career. Pirates GM Neal Huntington sold high on Nate McLouth two summers ago, dealing his All Star center fielder to the Braves for three young players in June of 2009.
The year before the trade, the then 27-year-old McLouth broke out by hitting .276/.356/.497 with 26 homers, earning a Gold Glove for his defensive effort in center field. At the time of the trade he was hitting a more than respectable .256/.349/.470. Unsurprisingly, reaction to the trade was mostly negative in Pittsburgh, and it didn't go over well in the clubhouse either.
McLouth gave the Braves a respectable .257/.354/.419 performance in the three months after the trade, but the good times ended there. He hit just .118/.217/.196 in Spring Training last year, then followed that up with a .176/.295/.282 performance in his first 205 plate appearances of the season. A collision with Jason Heyward sent McLouth to the disabled list with a concussion in early-June, then Atlanta decided to send him to minors after he returned in late-July. He hit just .234/.338/.383 in 151 trips to the plate in Triple-A before finishing the season with a .263/.358/.509 performance (68 PA) while playing sparingly after coming back up in late-August.
Since the trade, the now-29-year-old McLouth has hit just .229/.330/.379 with 17 homers in 684 plate appearances. His -25.8 UZR since 2008 ranks 48th out of 58 qualified outfielders, just a touch better than Carlos Lee. Was 2010 a fluke season for McLouth, or was it the sign of a bigger problem after the league got a chance to put together a book on him?
The Pirates gave McLouth a three-year contract extension before the 2009 season, and right now it seems pretty unlikely that the Braves will exercise his $10.65MM club option for 2012 after the upcoming season without significant improvement in his performance. His main competition in center field is Jordan Schafer (.201/.268/.255 in 307 minor league PA in 2010), so McLouth will definitely have the opportunity to show what he's got before hitting the open market in a little more than ten months.