Whether you look at home runs (6) and RBI (23) or wins above replacement (1.0) and wOBA (.387) you'll see Alex Avila's name all over early season leaderboards. He has thrown out 12 of 33 would-be base stealers so far this year (36%) and the most recent of his six home runs came when he was navigating Justin Verlander through nine no-hit innings on Saturday.
"That was definitely nice. It's the best of both worlds," Avila told MLBTR this weekend. "I was joking with Justin that four of my six home runs are when he's pitching. It seems that when he's pitching, I'm going to hit one out."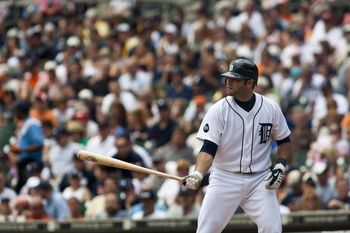 A 5th round pick in 2008, Avila is the son of Tigers assistant GM Al Avila. He hit .228/.316/.340 and threw out 32% of would-be base stealers as Detroit's primary catcher in 2010. This year, he's feeling more comfortable as a hitter and as a defender.
"When you first come up, there's always an adjustment period, a time when you've got to learn and figure out how to not only catch, but hit in the big leagues and the experience definitely helps," Avila said. "You learn more about yourself and the league and make adjustments from there."
The Tigers aren't expecting Avila to continue at his current 28-homer pace, but the front office believes he can continue to be a valuable everyday catcher – and his father's not the only one who thinks so.
"He has a nice left-handed swing," GM Dave Dombrowski said. "We think he can hit."
Avila's new teammate, Victor Martinez, is one of baseball's best hitting catchers, having reached the 20-homer plateau five times in the past seven seasons. Though the Tigers don't plan on asking Martinez to catch more than a couple times per week, he has still helped Avila develop as a backstop.
"Absolutely," Avila said. "Victor has helped me a ton with both aspects of my game. He's such a positive person and generous with his time. He's just fantastic."
It's still too early to assume the 24-year-old Avila will continue hitting at this rate. But at this point, it appears that the Tigers have a pair of quality catchers thanks to his development.
Photo courtesy Icon SMI.