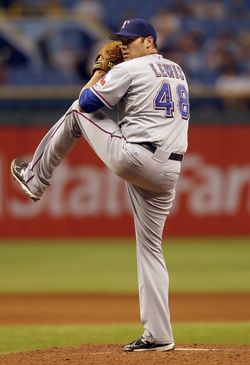 The Rangers and Tigers kicked off their ALCS matchup tonight, but that's not the only thing tying these two teams together. Our Transaction Tracker shows that GMs Dave Dombrowski and Jon Daniels have gotten together for four trades, most notably the Gerald Laird swap. A seven-year-old waiver claim is the more interesting transaction though; on this date in 2004, the Tigers claimed Colby Lewis off waivers from the Rangers.
Lewis, slated to start Game Three for Texas on Tuesday, was little more than a failed prospect back then. He made three starts in 2004 before requiring rotator cuff surgery, and he'd pitched to a 6.83 ERA with 6.5 K/9 and 5.6 BB/9 in 176 2/3 innings for the Rangers before Detroit claimed him. The Tigers got nothing, literally zero innings, out of Lewis in 2005 (majors and minors) because of the shoulder, then he spent the majority of 2006 in Triple-A before making two late season appearances in the big leagues.
That is the extent of Lewis' career with the Tigers, just three innings across two appearances. The team granted him free agency after the season, and he soon caught on with the Nationals. The 2007 calendar year saw the right-hander spend time with the Nats, Athletics, and Royals, but he didn't do enough to stick around. Lewis then headed to Japan and pitched very well for the Hiroshima Carp in 2008 and 2009, putting himself back on the map.
Lewis' performance with the Carp earned him a two-year deal worth $5MM with the Rangers prior to last season, the team that originally drafted him in 1999. The Tigers claimed him seven years ago today hoping he'd realize his potential and help a pitching staff that had just allowed the third most runs in the league. It took a trip to Japan before Lewis figured things out, and in a few days he'll start for the team that waived him and against the team that claimed him.
Photo courtesy of Icon SMI.