Less than a month ago, 142 MLB players filed for salary arbitration. Today, just 16 of those players remain unsigned, as MLBTR's Arbitration Tracker shows. I've discussed many of these cases with team executives or agents to get a sense of the players' value. Here are the ten most prominent cases remaining (sorted by the midpoint between team and player submissions):
1. David Ortiz, Red Sox ($14.575MM midpoint) – Unlike most of the players on this list, Ortiz will be compared to free agents if he goes to a hearing with the Red Sox. This part of the arbitration process isn't quite as well defined as it is for players with less than six years of service, and the relative uncertainty may have contributed to the spread of nearly $4MM. Scott Lauber of the Boston Herald recently asked arbitration expert Tal Smith about the case and suggested Adam Dunn, Victor Martinez and Paul Konerko are possible comps. 
2. Mike Napoli, Rangers ($9.9MM midpoint) – Napoli put together a tremendous regular season and punctuated it with three postseason home runs. He's looking for a salary of $11.5MM and could argue that the length and consistency of his career contribution puts him in Andre Ethier ($10.95MM) territory. Meanwhile, the Rangers may point to Hunter Pence's recent $3.5MM raise and argue that Napoli should obtain a relatively modest boost from his 2011 salary of $5.8MM.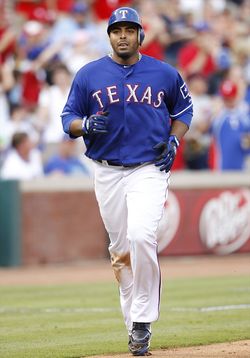 3. Nelson Cruz, Rangers ($6.5MM midpoint) – Cruz (pictured) is linked to Adam Jones this year, since their numbers and salary demands are comparable. Expect Cruz, the 2011 ALCS MVP, to earn more in 2012.
4. Adam Jones, Orioles ($6.2MM midpoint) – Jones and his representatives at CAA will argue that the center fielder has earned a salary of $7.4MM salary after another stellar season in Baltimore. The Orioles will argue the demand for a $4.15MM raise is unreasonable and they could point to recent raises Adam LaRoche (after 2007), Delmon Young (after 2010), Cody Ross (after 2010), Napoli (after 2010) and Miguel Montero (after 2011) in an attempt to keep Jones below the midpoint.
5. Alex Gordon, Royals ($4.8MM midpoint) – The Royals explored the possibility of a long-term deal earlier in the offseason and are now nearing a one-year deal. Should the sides go to a hearing, the Royals could point to Gordon's history of inconsistency, while agent Casey Close could build his case around Gordon's strong 2011 platform season.
6. Asdrubal Cabrera, Indians ($4.475MM midpoint) – The Indians are discussing a multiyear deal with Cabrera, who could be in line for an extension in the four-year, $27MM range.
7. Elvis Andrus, Rangers ($3.125MM midpoint) – Power pays in arbitration and Andrus is anything but a power hitter. However, he's looking at a salary in the $3MM range thanks to three full seasons of 145-plus games and additional contributions in the postseason. It might also make sense for the sides to explore a multiyear deal.
8. Casey McGehee, Pirates ($2.538MM midpoint) – McGehee and teammate Garrett Jones are linked via arbitration, as I explained last week.
9. Garrett Jones, Pirates ($2.375MM midpoint) – Recent first-time eligible position players such as Seth Smith ($2.415MM), Colby Rasmus ($2.7MM), Ian Stewart ($2.229MM) and David Murphy ($2.4MM) could figure in to discussions for McGehee and Jones as well.
10. Jose Veras, Brewers ($2.19MM midpoint) – Veras, who was traded for McGehee earlier this offseason, has already been non-tendered twice. He's now going through the arbitration process for the first time, and has 318 respectable career innings and a strong platform season to his name.
For more on salary arbitration in baseball check out MLBTR's arbitration resources. Photo courtesy Icon SMI.