It's difficult to argue with the selection of Jacoby Ellsbury as the American League's 2011 Comeback Player of the Year, but Indians shortstop Asdrubal Cabrera belonged in the discussion.  A broken left forearm cost Cabrera much of the 2010 season, but he posted a career year in 2011, winning a Silver Slugger with a 25 home run campaign.  What would a fair extension look like?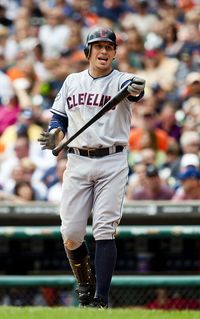 First we must address the question of whether the Indians or Cabrera would be interested in a multiyear deal.  The Indians have to note Cabrera slumped to .244/.310/.419 in the second half.  That's useful for a shortstop, but not star territory.  Then there's the matter of Cabrera's defense, which UZR rates as consistently below-average.
On the other hand, Cabrera played in 151 games last year and hit .289/.344/.486 over the season's first four months.  He may have worn down toward the tail end of the season.  He hit more flyballs than ever and may truly be a perennial 20 home run threat now.  And it's possible the Indians prefer other defensive metrics that present Cabrera in a better light.  Jason Donald doesn't profile as an everyday shortstop; the Indians don't have anyone nipping at Cabrera's heels.
Cabrera, a client of Octagon, has a bit more than four years of Major League service.  Matt Swartz's projections call for a raise of nearly $3MM in his second arbitration year, bringing Cabrera to approximately $4.8MM for 2012.  As a comparison, J.J. Hardy's 2008 season, in which he hit 24+ home runs for a second consecutive year, earned him a $2MM raise heading into his second arbitration year.
Hardy had a couple of injury-plagued years before fully bouncing back in 2011.  His three-year, $22.25MM extension was signed in July, and the $7.4MM average annual value feels well light of what he could have earned on the open market.  Generally players, even shortstops, are compensated more for offense than defense.  Although Jhonny Peralta and Clint Barmes are superior defenders to Cabrera, Cabrera's 25 home run, 92 RBI campaign probably puts him ahead of the $5.5MM-range average annual values they scored on two-year free agent deals.  Of course, Cabrera is two full seasons away from the open market.
Toronto's Yunel Escobar doesn't have the power of any of those players, but he is a shortstop who signed an extension prior to his second arbitration year.  The contract is probably too team-friendly to be instructive, with $5MM salaries for each of the last two arbitration years and two club options for free agent years at the same amount.  Stephen Drew is a point of reference on the other end of the spectrum; he's under contract for $15.75MM for his last two arbitration years alone.
What would be a fair offer for Cabrera?  I'm thinking $4.25MM for 2012, $6.5MM for 2013, and $8MM apiece for two free agent years.  That'd put him around $27MM over four years, a nice guarantee for a player who had never topped six home runs in a season prior to 2011.  The Indians would probably prefer a club option on the last year or two, but with Cabrera within spitting distance of free agency they might not be able to get that.  It's possible the Indians don't value Cabrera's free agent years at that level, but I think a reasonable four-year extension would benefit his trade value.
Photo courtesy of Icon SMI.