Casey McGehee and Garrett Jones haven't teamed up on the field yet, but they're already linked through the arbitration process. McGehee and Jones, the Pirates' two remaining unsigned arbitration eligible players, would have been comparables for one another this offseason even if Pittsburgh hadn't traded for McGehee in December.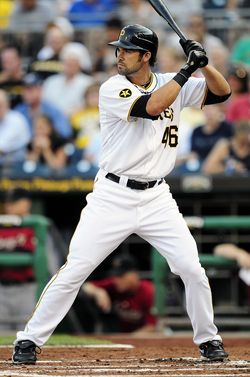 To this point, they have similar career arcs: a cameo appearances in the big leagues followed by a change of teams, a strong first full season, votes in the 2009 NL Rookie of the Year balloting and solid but unspectacular production from corner positions ever since. Parallels like that don't have to exist for the players to be relevant to one other in arbitration, but the similarities extend to their statistical production.
McGehee has a .265/.320/.426 career line with 52 home runs and 242 RBI in 1689 plate appearances across 437 games. Jones has a .254/.323/.450 career line with 60 home runs and 193 RBI in 1573 plate appearances across 419 games. McGehee's platform year included 13 home runs, 67 RBI and a .223 average, while Jones' platform season featured 16 home runs, 58 RBI and a .243 average. 
Not surprisingly, the first-time arbitration eligible teammates are positioned for similar 2012 salaries. McGehee and his representatives at Meister Sports Management asked for $2.725MM, while the Pirates offered $2.35MM (midpoint of $2.538MM). Meanwhile, Jones (pictured) and his representatives at SFX asked for $2.5MM, while the Pirates offered $2.25MM (midpoint of $2.375MM). 
McGehee, who is one year younger than Jones, has 49 more RBI for his career, including one season with 100-plus driven in (like it or not, RBI matter). Jones, a super two player, had a stronger platform season, with more home runs and doubles than McGehee and a considerably better battling line. 
The Pirates teammates are obvious comparables, but many other players are also relevant to the discussion. Should a hearing or two take place, recent first-time eligible position players such as Seth Smith ($2.415MM), Colby Rasmus ($2.7MM), Ian Stewart ($2.229MM) and David Murphy ($2.4MM) could figure in to discussions as well.
Photo courtesy Icon SMI.