Phil Hughes is still only 25 years old, but the Yankees' right-hander has ridden the career roller coaster since making his debut in 2007. He knows what it's like to be a highly touted prospect, to deal with injury, to be a dominant setup man, a quality starter, an All-Star, a World Champion, and a disappointment. The 2012 season figures to be the most important season of his career.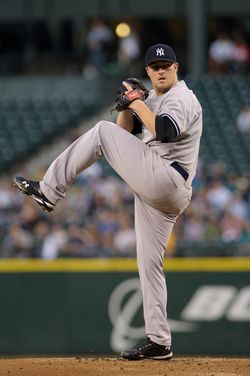 After helping the Yankees to the 2009 World Series as Mariano Rivera's setup man, Hughes moved into the team's rotation in 2010 and rewarded them with an 18-8 record. That record had more to do with all the terrific run support he received, though the advanced metrics indicate that his performance was almost exactly league average. His 4.19 ERA was backed up by a 4.25 FIP. League average isn't too shabby for a 23-year-old in the AL East.
Because he had worked primarily as a reliever in 2009, Hughes threw 80 1/3 more innings in 2010 than he had the year before. He also showed up to camp overweight in 2011. The combination of being out of shape and having a big workload increase led to shoulder issues. Hughes missed the majority of last season and wasn't particularly effective when he was on the mound, pitching to a 5.79 ERA (4.58 FIP) in 74 2/3 innings. His fastball velocity was gone and his breaking ball had no bite.
After making $2.7MM as a first-time arbitration-eligible player last year, Hughes got a very slight raise to $3.2MM this year. He rededicated himself to conditioning this offseason and came to camp in much better shape, showing renewed life on his fastball and break on his curveball. He came back like the 2010 version of himself, and the Yankees rewarded him with a rotation spot thanks in part to Michael Pineda's sore shoulder.
That said, no one will care how Hughes looked in Spring Training during his first start of the season this weekend. He has to show that he's back to being an effective starter, because another disaster season like 2011 could very end with him being non-tendered in December. Hughes is scheduled to become a free agent after next season, when he'll still be just 27. An effective season this year and next could lead to a significant payday, so Hughes stands to gain or lose quite a bit in 2012.
Photo courtesy of US Presswire.