It happens every spring. Pitchers nurse shoulders, backs and elbows to health in preparation for the season. But there are no guarantees for any injured pitcher, regardless of his resume. 
"You've got to know what your body can and can't do," John Smoltz told me in a recent interview. "Not every pitcher's going to be perfectly healthy their whole career, so there has to be some degree of discomfort that you have to pitch through. Once you learn how to do that, you're able to overcome more."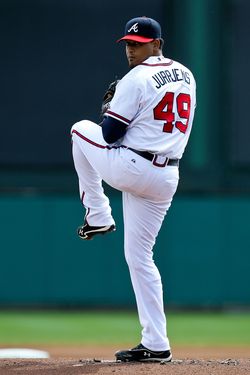 Smoltz speaks from experience. He recovered from Tommy John surgery to reinvent himself as a dominant closer and worked through shoulder problems to strike out nearly a batter per inning as a 42-year-old. Now an analyst with MLB Network, he recently caught up with a number of high-profile pitchers returning from injuries for his role on MLB Tonight.  
When Smoltz signed with the 2009 Cardinals, Adam Wainwright was at his peak, in the midst of a season that would see him post a 2.63 ERA in a league-leading 233 innings. Two and a half years later, Wainwright's returning from ligament replacement surgery and expectations are lofty. 
"That's where Tommy John surgery is a little misunderstood," Smoltz said. "Adam basically is looked upon this year I think unfairly as a big cog to replace the departure of Albert Pujols and now possibly the delay of Chris Carpenter. That's an unfair situation for him to go in, since he needs the same kind of time and grace that everybody does returning from Tommy John."
Regaining full strength following Tommy John surgery took more than a year for Smoltz, who missed the 2000 season recovering from the operation. But he acknowledges recovery times vary from pitcher to pitcher and anticipates a strong season from Wainwright. 
"Can he go back to the Cy Young type numbers? I don't know," Smoltz said. "I think it's a little unfair [to expect that] the first year. But I certainly can see him doing easily some of the things that we've expected him to do in that first year."
Smoltz believes Marlins right-hander Josh Johnson will rebound from a disappointing 2011 season. In fact, Johnson may have benefitted from his team's cautious approach late last season. He didn't pitch after May 16th last year, and Smoltz suggested the Marlins could have rushed him back under different circumstances.
"That's a luxury," he said. "I expect that everything is where it needs to be and that he's going to go out there and, unfortunately for the hitters, probably dominate."
Smoltz last played for the Braves four years ago, but he spent two decades in Atlanta, so he knows the organization as well as anyone. He says former teammates Tim Hudson (back) and Jair Jurrjens (knee) must make most of their starts to have successful seasons. The Braves will be relying on their starters, since a repeat performance from their relievers may be unrealistic. 
"There's no way the bullpen can do what they did last year with the amount of times they were used," Smoltz said. "I think the starting pitching has got to find a way to pitch some much-needed innings over the course of the season." 
A few months ago, the Braves seemed to have an abundance of starting pitching, and Mike Minor seemed expendable. Now that Julio Teheran has been sent to the minor leagues and Arodys Vizcaino is out for the season, Minor's a key component of the Braves' pitching staff. "Sometimes the best trades you make are the ones you don't make," Smoltz noted. 
Mets fans who wish their team had never traded for Johan Santana might agree with that sentiment whole-heartedly. But there's optimism that the Mets will see some return from the $24MM left-hander in 2012. Smoltz says the two-time Cy Young Award winner seems just as motivated as the 26-year-old Jurrjens. 
"They both have the urgency to want to pitch, but it's different," he said. "You've got a guy in Johan Santana with all of the hardware, big contract. He wants to get out there and compete. I've heard nothing but unbelievable things."
Cy Young Awards are a motivator for pitchers coming back from injury, but contracts also lurk in the background. Even Smoltz, a future Hall of Famer, wasn't able to generate interest based on his resume alone during his playing days. Successfully returning from an injury can make all the difference when it's time for a new contract.
"In sports you're as good as your last impression," Smoltz says. 
For these pitchers, the 2012 season represents the opportunity to create new impressions and erase old ones. 
John Smoltz will be a game analyst for the MLB Network Showcase schedule this season beginning on Friday, April 20 featuring the Red Sox v. Yankees at 3pm ET. MLB Network will feature a package of live 30 games featuring all 30 Clubs beginning on Thursday, April 5 between the Dodgers & Padres. Photo courtesy of US Presswire.