Two years and three months ago, Dallas Braden was on top of the baseball world. He had just thrown 19th perfect game in baseball history on Mother's Day with his grandmother in the stands. The left-hander finished the season with a 3.50 ERA in 30 starts and 192 2/3 innings, further cementing his place in the Athletics' rotation.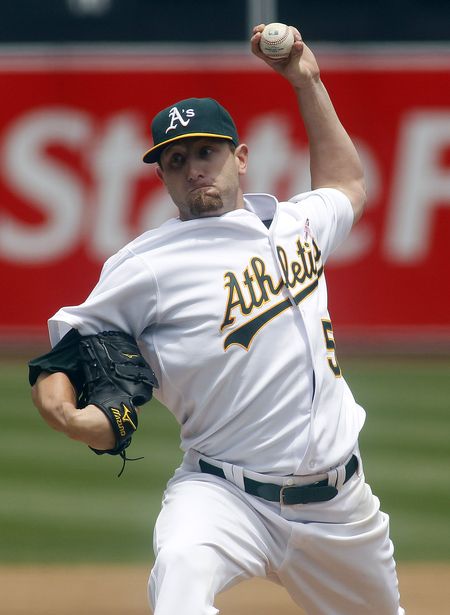 Braden, now 29, has made just three starts since the end of that season. He allowed seven runs in 18 innings across three starts last April, and has been on the shelf with shoulder problems ever since. Braden had surgery to repair a torn capsule one year and one week after his perfect game, and was expected to be ready in time to return to the team early this season.
Instead, the shoulder continues to give Braden problems and as Susan Slusser of The San Francisco Chronicle recently reported, he will have another procedure soon. This one will be exploratory but will cost him the rest of the season nonetheless. Fellow starting pitchers like Chien-Ming Wang, Johan Santana, and Brandon Webb have had shoulder capsule surgery in recent years with mixed comeback results.
Unlike those three, Braden is not a power pitcher. Even before the surgery his fastball averaged a little less than 88 mph, the 15th lowest average fastball velocity among the 156 pitchers who threw at least 400 innings from 2007-2011. Braden was a classic finesse left-hander who relied on his fastball and changeup to keep hitters off balance, so perhaps a potential loss of velocity due to the surgeries will have minimal impact on his effectiveness going forward.
Either way, the Athletics have to decide if their 24th round pick in the 2004 draft is worth the investment post-surgery very soon. Braden will earn $3.35MM without throwing a pitch this season, and will be eligible for arbitration for the third and final time this winter. He doesn't figure to get any kind of raise – he didn't a raise from 2011-2012 – however that remains a hefty investment for low-budget A's.
Oakland has enviable rotation depth going forward with Tommy Milone, Jarrod Parker, and Dan Straily all in their pre-arbitration years, plus Brett Anderson potentially under contract through 2014. They could decide that sinking more money into Braden isn't a wise investment considering the potential for zero return, so a non-tender in December looks like a very real possibility for the southpaw.
Photo courtesy of US Presswire.