SUNDAY: The Giants officially announced the extension, which, according to Henry Schulman of the San Francisco Chronicle, will pay Pence $16MM in 2014 and $18.5MM in each of the remaining four years with no signing bonus.
SATURDAY: The Giants have signed Hunter Pence to a five-year extension, reports John Shea of the San Francisco Chronicle (on Twitter). San Francisco has guaranteed $90MM and granted a no-trade clause to keep its right fielder from reaching free agency, CBSSports.com's Jon Heyman reports, confirming his earlier tweet. Pence is represented by the Beverly Hills Sports Council.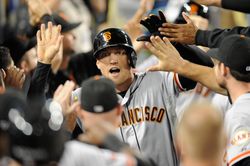 The 30-year-old Pence was set to hit the market as one of the top available free agents, but will instead stay in San Francisco for the foreseeable future. With just two games left to play, Pence sports a .282/.339/.481 line to go with 26 long balls and 22 steals. The durable Pence has yet to miss a contest this year, and has never played less than 154 games in a season since establishing himself as a full-timer. In the aggregate, he was worth a career-best 4.2 bWAR and 5.3 fWAR on the season.
With an $18MM average annual value over five years, Pence slots in between two fellow California right-fielders that recently signed up for half-decade stints. Pence's contract bests the extension signed by the Dodgers' Andre Ethier by a mil a year, but falls $5MM per year short of Josh Hamilton's free agent contract with the Angels. 
Coming just one day before the end of the regular season, the Pence contract should function as an important marker on the upcoming free agent market. In particular, with Pence being taken out of the picture for $90MM, Shin-Soo Choo's case for a $100MM+ deal sounds a lot more plausible.  Some questioned Scott Boras' proclamation that Choo, who has never been an All-Star, would be a nine-figure player, but you won't find many people laughing at that notion today. The deal should also help out Red Sox outfielder Jacoby Ellsbury, who is currently ranked No. 2 on Tim Dierkes' power rankings for 2014 free agents.
For his career, Pence owns a .285/.339/.475 slash line over the course of seven seasons with the Astros, Phillies, and Giants.
Zach Links and Edward Creech contributed to this post.  Photo courtesy of USA Today Sports Images.